5月 7, 2020 by Angelique Chmielewski


With more time spent at home we've begun to truly appreciate the preparation tools that perform well in the kitchen with no fuss. Makanai by Conte, the multi-use series of stainless steel bowls, strainers and lids, is an example of this – a testament to outstanding small scale production that functions through a network of designers, researchers and specialists from the region of Tsubame, devoted to crafting the best.

When we travel to Japan, visiting studios and learning about manufacturing processes is one of the joys of our job and makes the products we use at home appreciably more enjoyable. We wanted to share these two videos produced by Conte that highlight this feeling of witnessing a product go from factory to home with success. It's no wonder the collection has won so many design awards over the years.





You can find the full Makanai series in a variety of sizes here.
---
4月 25, 2020 by Dani Sujin Lee
For most of us hunkered down at home during these trying times, not being able to eat out means more home cooking experiments. As much as I've enjoyed exploring more elaborate dishes, I've also had those days when I just want a simple recipe (that is still healthy) with a few staple ingredients. This childhood breakfast favourite of mine, soft-boiled soy eggs, is the perfect recipe for those days. Quick and easy, yet incredibly rich and delicious!
INGREDIENTS
* = recommended but not necessary
– 4 eggs
– 1 cup soy sauce
– 1/4 cup sugar (or sweetener of your choice – agave syrup is a great substitute)
– 1/2 cup water
– 1/4 slice of a lemon (or 1 tablespoon of lemon juice)
– 1/4 diced onion
– 1/2 scallion scape
– sesame seeds*
– chili flakes (or chopped jalapeño)*
DIRECTIONS
1. Prepare your eggs to the hardness of your preference – soft-boiled is recommended, but hard-boiled eggs will keep in the fridge longer, which is what we chose to do in this case.
2. In a bowl, add soy sauce, sugar, water, lemon juice, a sprinkle of chili flakes and sesame seeds. Mix until sugar dissolves. I like adding chili flakes or jalapeños to balance the sweetness and for added depth in flavour.
3. Add diced onions and chopped scallions to the sauce mixture. Stir.
4. In a mason jar (or any food storing container you have), add the peeled boiled eggs and the sauce mixture. Make sure all parts of the eggs are soaked in the sauce. If they are not, stir the eggs throughout the day to help them marinate evenly.
5. Store the "egg jar" in the fridge. It will be ready to eat in 3 hours, and up to 3 days.
6. Enjoy the eggs alone or on top of steamed rice. A drizzle of sesame oil and shredded seaweed goes great on top.
Enjoy!
Ceramic bowls featured in this recipe, in order of appearance: Fruit Bowl by Dani Sujin Lee, Silver Petal Bowl by Masanobu Ando, Bowl with Handles by Masanobu Ando
---
4月 7, 2020 by Stevenson Aung
We felt now is as good a time as any to dig a bit deeper into our archives to find comfort in some of the inspiring sites from our travels we've kept aside and have been meaning to share for a while. We've traveled to Japan more times than we can count yet there are still so many moments and places that leave us feeling marveled. One such experience was our stay at House of Light created by James Turrell – a house that is at once an accommodation, a meditation house and a private art installation. Now more than ever, while we all keep to our homes, are we appreciating the beautiful attempts of artists and designers around the world to create places for us to live where outdoors and indoors coexist.
House of Light is located just outside Tōkamachi. It was a trek from the small rural town train station, so we bolted there as soon as possible to maximize our time in the art space. The house was intended to accommodate three small groups, but the rain that particular day delayed the train system and resulted in the other two groups rescheduling their reservation. So, we got to experience the entire place to ourselves.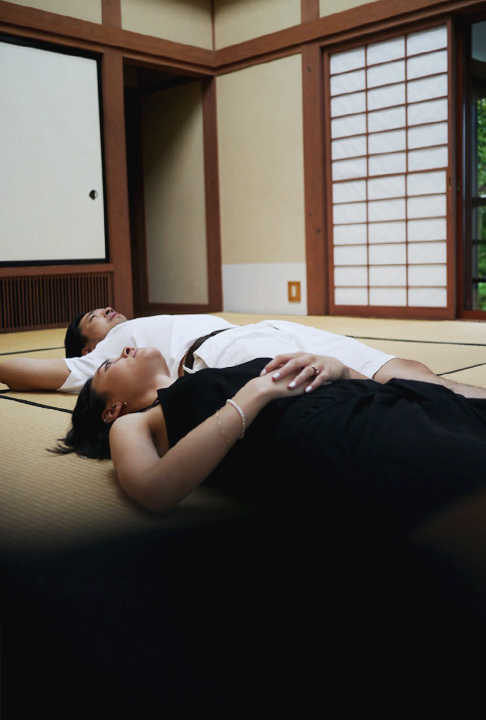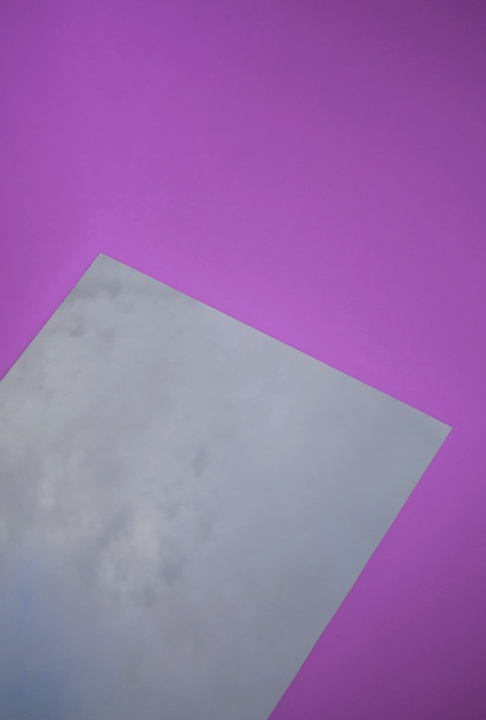 The Skyspace is located in one room of the house but there is a very lovely kitchen area, bathhouse with its own light installation and a balcony that runs the circumference of the house. Guests have the choice of spreading out their futon anywhere for the night so we chose to sleep directly under the Skyspace and watch the light shows from the comforts of our bed.
The house is designed with a retractable ceiling that covers the Skyspace in the case of heavy rain. The guests of the residence are expected to take care of the work. That responsibility essentially fell on us. When we sensed a drizzle from above, we immediately had to hit a button that closes a retractable roof otherwise the tatami floor beneath it would get soaked!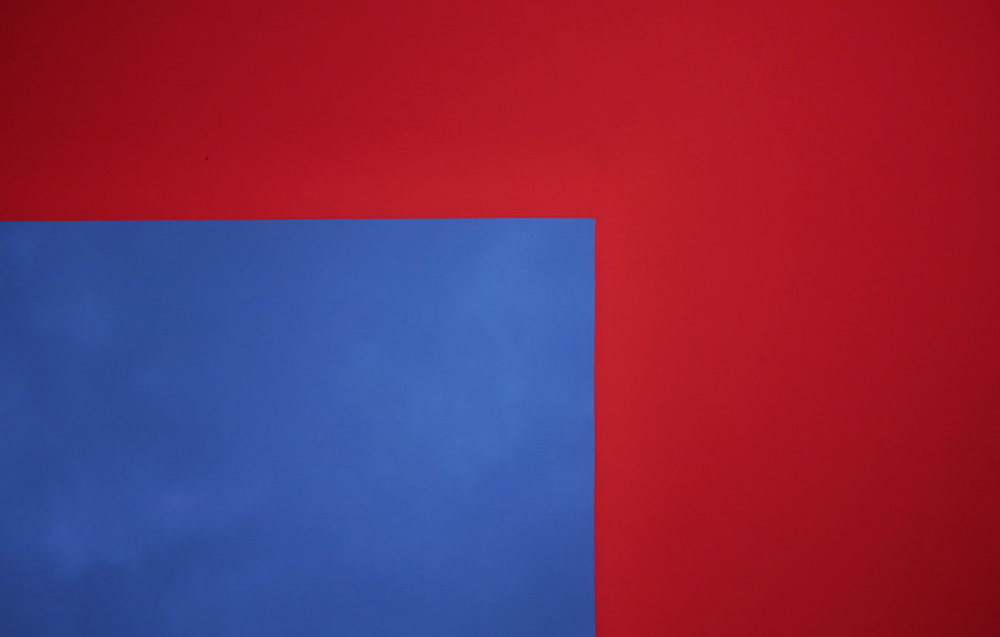 James Turrell's intention, as with many of his other Skyspaces is the experience of light… light from the water, light from the sky above and through the intense colours of his installation. When you're in the space, it's almost impossible not to feel one with nature, as the chilled air washes over you from the cutout above. The square aperture is entrancing, making you hypnotized and focused. We stared up for hours and took mental and physical snapshots of our favorite colour combinations. Each of us interpreting colour wavelength uniquely, which made for an individualized sensory experience. Colour has a physicality and power when you are in the space. Sometimes calming. Sometimes stimulating. 

House of Light was out of the ordinary even when compared to the numerous Turrell installations around the world we have seen. It has the same captivating light show, the same power to bring us to a place of reflection, the same fusion of nature and nothingness – the difference, was that this was the first time we were able to sleep under one.
---
11月 8, 2019 by Angelique Chmielewski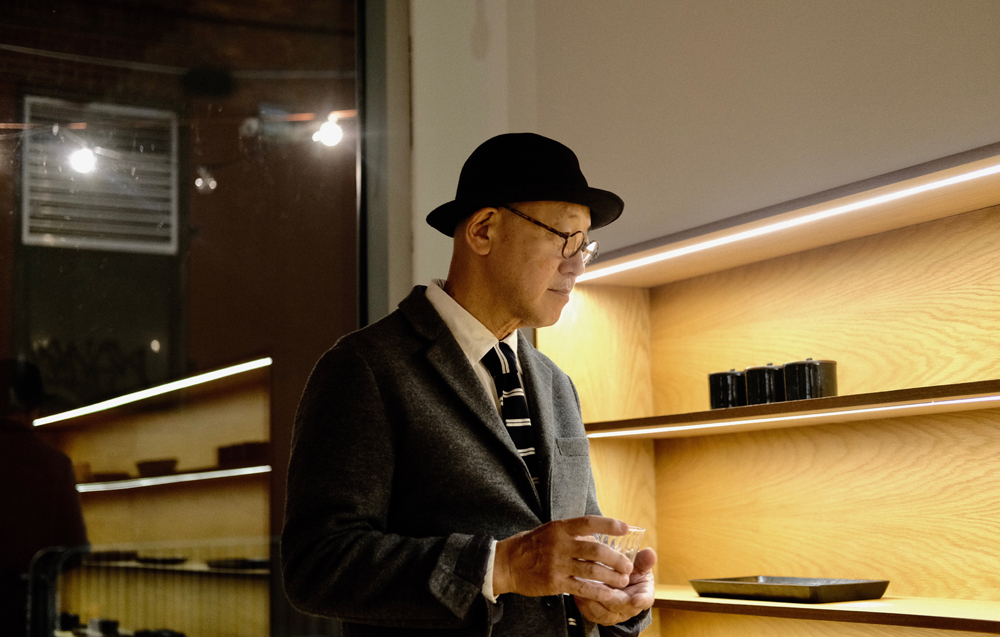 Two weeks ago, we held A Deeper Dark, an exhibition of works by Ryuji Mitani, that for the duration of the event, brought our gallery a special allure that only the beautiful works of Mitani-san can bring. Named after the pieces by the artisan that express aspects of "darkness", A Deeper Dark showed the depth that dark-toned woods and black urushi lacquer can have on wooden tableware. By looking at these images, we hope you can imagine the beautiful collection – with its texture, warmth and surrounding atmosphere of the exhibition.
The opening reception was wonderful! After we completed the installation, Mitani-san and his wife, Junko-san, and our team gathered together for a small toast before opening the doors. It was nice to see the same people who came to our first exhibition with Mitani-san two years ago, Blurring Boundaries, back to see the evolution of the artisan's craft. The full range of his practice is so vast that we wanted to split our curation into two parts. This time we focused on the dark works and in 2021 we'll be presenting Part Two with a focus on "lightness".
People were eager to view the collection, but the moment Ryuji Mitani spoke up to give a speech he had prepared, the room fell silent. It's rare for Mitani-san to speak in public but always so interesting to hear his perspective. He mentioned that he is happy to have exhibitions regularly at Nalata Nalata since it makes him feel closer to the people of New York. After speaking to attendees, I realized that what resonated most was when Mitani-san said the following in regard to the current Japanese craft philosophy, "The Japanese way of thinking is based on a nature-focused perspective which people learned from natural disasters like typhoons and earthquakes. We learned that humans are part of nature and human existence and power are small and weak compared to nature. We found out that obeying nature instead of oppressing nature is the best way to gain benefit from it".

In many ways it was apparent in this collection that Mitani-san has been embracing nature in his works. He lets the grain of the wood shine beneath the lacquer, but there was also a selection of wall art and sculptures that invite us to consider imperfection inherent in nature and decay, like a wall-hanging work we displayed at the entrance. Made of ceramic and a found piece of tin near the artisan's studio, the work displays the fragile textures and tones in these materials that make them so beautiful to behold as they age.
Ultimately, the exhibition was a celebration of Ryuji Mitani's craft: many of his signature pieces such as the Butter Box, Salad Bowl, Noir Bowl, Usuzumi Plate, Pasta Fork, Flat Tea Scoop and Plum Blossom Dish, a personal favorite for its symbolism; and many other favorites were available. Our new collaborative work was inspired by the exhibition concept, the "Noir Ice Cream Cup" a close relative to our original collaboration, the "White Ice Cream Cup" from two years ago. The black version offers such a beautiful contrast to the creamy tones of ice cream. We sold out of the collaboration immediately again this year, but Mitani-san will be shipping a small number in the upcoming months that we will release online.
Refreshments were provided by Kashiya Kokonotsu, a confectionary artist based in Japan. She had prepared delicate monaka and fillings in Japan and our friends Aya and Junko-san assembled them prior to the opening. There were two types, almost too magnificent to eat. Firstly "Adzuki Monaka" with adzuki beans from Tamba, sugar and butter, along with a second type, "Chestnut Monaka" with white adzuki beans and chestnut from Kumamoto.
Mitani-san was inspired by folk craft techniques with one particularly stunning vessel we've never seen from him before. He repurposed an antique yard of hemp to hand form the shape in a wooden oblong mold and allowed it to dry like papier-mâché. Hemp, a traditional textile often found in Japanese homes as New Year's decorations or flowing noren fabric dividers can have properties similar to wood when lacquered and left to harden. We loved the way he embraced a weathered material to transform it into a beautiful, functional piece.

Mitani-san's signature Noir faceted pieces exemplify what makes his lacquer work renowned. Lacquer is a finish that is hard to control, requiring great attention to temperature and humidity in order to keep the surface dust-free and smooth to the touch. His decisive choice of stroke direction when applying lacquer creates dancing reflections on rhythmically carved facets.
At the end of the opening we had time to unwind before going for a celebratory dinner. This time we actually remembered to take our Extra Place alley team photo (although we are missing a couple key people here). Thank you so much to all who were involved in this exhibition! It was our most memorable yet as we were able to share it with a roomful of so many friends and fellow fans of Mitani-san's works. Thank you to Mitani-san, Junko-san, Aya Nihei, Atsushi Miwa, Vicky Wong, Hazuki Uno, Dani Sujin Lee, Paul Lewis, Volele Talleyrand, Studio Newwork, Armando Rafael Moutela, Flore Tallerand, Joshua Skirtich, Yina Shan, John Medley and Gary XiaoHou for going above and beyond! Writing this recap, Steve and I are fondly reminiscing on the planning stages of this exhibition as so many people came through to pull it together despite a lot of last-minute changes!
We captured moments on camera throughout the reception, but it was so crowded we wanted to also remember the pieces via images in daylight conditions where the pieces can shine. The works always look so magical with sunlight reflecting off their textured surfaces.
Each exhibition we have at the gallery is unique and we try to emphasize the works by building new fixtures and displays that highlight the best qualities of the pieces. Mitani-san's works have such intricate interior surfaces, like his deep bowls and trays, that they are best viewed from a higher vantage point, so we brought in our lower fixtures. We thought we were all set, when unexpectedly we received a very large carved "Noir Centerpiece Bowl" in the mail that Mitani-san had shipped. It was stunning but we realized that we didn't have the appropriate table to display such a large and beautiful piece.
Steve ended up designing a new elevated fixture with a white-washed top surface and enlisted his Pratt alumni friends John Medley and Gary XiaoHou to help build just in the nick of time! When the elevated table arrived in the space, it fit like a glove and was the perfect complement to the most beautiful bowl we've ever seen!
We were also very inspired by the way Mitani-san displayed his plates and bowls upright on a shelf during a studio visit, so Steve asked John to help build a wall hanging display cabinet he designed.
Like the Noir Ice Cream Cup, we sold out of the special edition Yellow and White Cup. Mitani-san told us that this was the first exhibition where he is trying out new colours of lacquer after over four decades of only working with black and white. We think it's a success and we can't wait to see more yellow lacquer in Part Two! Its easy to imagine how the color of coffee would be nicely complimented in the white well of the cup. The mountain cherry also highlights everything we love about autumn — from its textured wooden surface, to the earthy tones of its lacquer and the warmth that permeates its walls when enjoyed with hot coffee or tea.
We included many vats and trays made of Jindainire wood for this exhibition. These unadorned works not only showcase the meticulousness with which Mitani carves his pieces, they also highlight the material beauty of Jindainire wood. Also known as "God's Elm", it emerges from being buried. Like a phoenix, the wood rises from the ash underground to develop unique patterns in its grain and transforms itself into something beautiful.
Mitani-san collaborated with his friend Masaki Kanamori to create Salt Cellars. Enamel is often perceived nowadays as mass manufactured, but Kanamori is an enamel artist who makes his works entirely by hand. When you feel the piece and see it with your eyes in person the texture and saturation of the enamelware truly feels handmade. Mitani-san's smooth black walnut wood lid is the perfect match.

Encountering artworks by Mitani-san leave us enchanted by their shapes and whimsical presence. We have come to understand the pieces through his stories that make them lively. The triad of three human forms in the "Vitruvian Man" pose or the series of six finely carved and lacquered rods can easily be overlooked but never cease to fill our imaginations with bliss.

We were pleased to introduce Mitani'-sans recent exploration in ceramics with sculptures and bowls, like the Ceramic Boat Vessel. The clay in these pieces has been hand dug by him from the ground near his studio. Similar to his wooden pieces, the artisan leaves traces of his hand in forming the pieces to celebrate the natural warmth of clay. They are lightly lacquered after firing.
During our week with Mitani-san, we were given the opportunity to have in-depth conversations with him to understand him better and the philosophy behind each work. In his presence, I was often reminded of something he said during a recent interview conducted by Aya Nihei, that "I'm useless at marketing, I only make stuff I like and hopefully people will too". This collection in particular with all of the exploratory works revealed to me that not only is Mitani-san a master wood craftsman, but moreover, he is an artist, genuinely expressing himself in hopes that others may relate, regardless of the medium or form. It was such a joy to see that, after all these decades working with wood, Mitani-san is delving into colour, clay, sculpture, painting, hemp and found objects – afterall making art should be pleasurable and exploratory. That instinct for all kinds of art seems relevant but particularly reveals the innate artist within Ryuji Mitani.
Photos by Volele Talleyrand
---
10月 25, 2019 by Aya Nihei

日本語 (Japanese)
木工作家の三谷龍二さんと、とあるご縁で仲良くさせてもらうことになって数年が経つ。折に触れ、三谷さんから話しを聞き、三谷さんという人を少しずつ知るようになって、ちょっとおかしな経歴と人生を歩んできた、奇傑な人であることがわかった。
ここでは、そんな三谷龍二さんという人物と、その歩みをみなさんにお話ししたいと思う。私が三谷さんの作品をあれこれ語るよりも、そのほうがよっぽど面白いし、三谷さんに親しみを持ってもらえるだろうし、三谷さんのものづくりを深く知ることにもなると思うから。そんな勝手な使命をもって、さあ、三谷龍二物語のはじまり、はじまり。
1952年、福井県福井市に生まれた三谷龍二さん。
その独自の歩みの始まりは、19歳の時、木の器とは縁もゆかりもない、劇団という場所から始まる。といっても、俳優を志していたわけではなく、たまたま友人に誘われ参加した京都の前衛的な劇団で、宣伝用のポスターを制作するのが主な役割だった。
「そのうちに芝居にも出ないかと言われてね。最初の舞台は、オスカー・ワイルドの『サロメ』だったね」。
ポスター制作の傍ら、何作か配役をもらい芝居にも出たが、「滑舌が悪くて役者には向いてなかった」と笑う。
「それに、なんていうか劇団っていうのは、ふわふわした世界だから。もっと自分の手で何か物を作ることをしてみたくてね。手に職をつける、というような。演劇は集団の行為でしょう、一人で何かを、ということもしてみたかった」と、6年続いた劇団生活に幕を閉じた。
さて、何をしよう。
三谷青年は考えた。劇団でのポスター制作の経験から、「グラフィックデザインはできる気がしていたんだよ。でも、ふとグラフィックデザイナーになっている未来の自分を想像したら、なんかこう、いけすかない感じがしたんだよね(笑)。今でいうチャラ男っていうのかな、そういう男になる気がしてさ」。なんとも想像力豊かな予見により、別の道を模索することに。
「身ひとつになって、商売の基本形だったり、経済の基本形に立ち返り、何かをしてみたかった。漁業もいいかなと思って、漁業をやってる知り合いに電話して聞いたんだよ。漁師に興味があるんだ、泳げないんだけど、ってね。そしたらやめたほうがいいって言われたよ(笑)」。
自分の身ひとつで何ができるか? 
そんな問いを抱えながら道を模索する中で、たまたま立ち寄った地元福井の画材屋で、彫刻刀が目に留まり購入した。
「今思えば、それが木工に携わることになった最初のきっかけだろうね」。
特段理由もなく購入した彫刻刀を携え、福井から長野の茅野へ移動。日雇いで道路工事をしながら、何を作るでもなく、その辺にある木切れを彫刻刀で削り、余暇を過ごす日々を送った。
知り合いを訪ね、長野の松本へ出向いた時のこと。偶然通りがかった駅前の土産屋で、木彫りのお面に出会う。道祖神をモチーフにした、ちょっとコミカルな表情のお面は、松本の民芸品だった。三谷青年は、閃いた。
「そうだ、お面を売る行商をしよう!」
身ひとつで物を売り歩く行商は、まさに商売の基本形。探していた答えが見つかったようだった。
早速お面を仕入れ、一路東京へ。何のバックボーンもコネもないまま、住宅街をまわって、お面の訪問販売をスタートした。地方から出てきた青年が、一軒一軒をまわり、木彫りのお面を売り歩く。その姿は、とてつもなく怪しい……。
「でも、1日の売り上げは、だいたいお面3個、5000円ぐらい」という意外な売上高。「そこはね、ちょっと芝居が入っていたと思うんだよ」。劇団での役者の経験が、こんなところでいきてくるとは。さらに三谷さん、東京でお面を売りながら、見よう見まねでお面を作ったりもしたという。地元で購入した彫刻刀が、こんなところで活躍することになろうとは。
ある日、お面の仕入先から松本で仕事を手伝わないかと誘われ、東京を後にする。松本で職に就き、結婚。六畳一間の市営住宅で暮らし始めた。
長野県は、木材が豊富に揃う場所として知られる。なかでも松本は、湿気の少ない気候ゆえ、木材の乾燥に適し、家具作りが古くから盛んに行われていた地域。三谷さんは仕事を辞め、木工の訓練校へ通い、椅子作りを学ぶことに。自前の彫刻等で慣れ親しみつつあった木工の世界へ、いよいよ足を踏み入れた。
しばらくして、子どもが生まれた。さて困った、生活の糧を得なければ。
そこで三谷さん、木のブローチを手作りし、売ることにした。
「六畳一間で何ができるだろう、って考えたんだよね。木工家っていうのは普通、工房を借りて、機械や材料を揃えてから何かを始めるものなんだけど、僕には場所も機械もなかったから」。
牛やキツネの動物を手彫りし、着色して、手のひらにおさまる小さなブローチを作った。
「木工の学校を出た人、家具作りを学んだ人は、誰もブローチなんか作らないよね。それじゃあ自尊心を傷つけることになる。でも僕にはその自尊心がなかった。それがよかったんだな」。
自身で車を走らせ、近隣のペンションに売りに出かけたら(ここでは、東京での行商の経験がものをいう)、予想外に売れた。当時、木彫りのブローチは、ほかにはない商品だったというのが、大きな理由らしい。「貧しいとか、ひもじいとか、そういう僕の切羽詰まった感じがね、相手に伝わって同情を買ったっていうのもあるんじゃないかな(笑)」。
1981年から、約10年間、三谷さんのブローチ作りは続いた。
三谷さんが、今のような木の器を作り始めたのは、1984年頃。まだ、ブローチを制作販売していた最中のこと。
「当時、無垢材の家具が出始めてね。でも高価でなかなか買えなかった。それをもっと、自分たちの生活に引き寄せることはできないか、ということで器を作ることにしたんだよね」。
バターケース、スプーンやパン皿。暮らしの身近な場所で使える、小さな木製品を三谷さんは作り始めた。伝統工芸的な木彫りの器にありがちな和の雰囲気を脱ぎ捨て、モダンな日常に寄り添う、シンプルで垢ぬけたデザイン。パンやサラダ、パスタといった洋食が映える形、色、サイズ。そんな三谷さんの木の器は、当時かなり画期的だったはずだ。
三谷さんは言う。「目先を少し変えるだけで、魅力的なものが生まれる。その可能性は身の回りに無尽蔵にあると思う」。
例えば、丸太から角材を切りだす"木取り"は、効率よく量も取れる板目が一般的だったけれど、三谷さんは柾目を積極的に採用した。
「板目だと木目がうるさかったりする。柾目にすると、見た目のデザインがすごくすっきりするんだよね」。
仕上げも、均一で狂いがないようにと大量生産品に使われていたウレタン塗装ではなく、オイルフィニッシュに。そのほうが口にしても安心だし、何より木の質感や表情が際立ち、器自体の味わいも増すと考えた。
柾目にしてもオイルフィニッシュにしても、「量産しやすい、流通しやすいという近代のシステムに、捨てられた世界だった」と三谷さん。見放されてしまった価値を再発見し、そこに光を当てたわけだ。
同じ頃、三谷さんは思いを共有するものづくりの作家たちと共に、松本でクラフトフェアを立ち上げる。バブル絶頂期の1985年、世の中は大量生産、大量消費に明け暮れていた時代だ。
「大量生産は、本来"たくさんの人に、豊かな暮らしを提供しよう"という目的で始まったわけでしょう。それが、どこかで経済のほうへシフトしてしまって、欲しくないものまでが、大量に作られるようになってしまった。その反省から、クラフト・生活工芸が生まれたんですよね。本当に欲しいものを作ろうよ、というね」。
そのムーブメントは、当時の価値観とは相容れないように思えるけれど、「共感してくれる人も、それなりにいたんだよ。恐らく1970年代には、そういう兆しがあったと思う」と三谷さん。
1970年代といえば、1950年代から続く、高度経済成長期の末期。
「いけいけどんどんで、経済が上がり調子だった時は、みんなが同じものを買い、同じものを着た。ひとつにまとまっていたんだよね。同じ歌を歌いながら、みんなで楽しんだっていうのかな。ところが、1970年代ぐらいで、一旦、高度経済成長という目的を達成してしまった。達成したところで、人々は、それぞれが自分の生き方を見つけなくちゃならなくなった。みんなバラバラになったんだよ。模索する時代が始まったんですよね」。
そんな時代を象徴するべく、第1回目のクラフトフェアのテーマは"世界はばらばらになりすぎた。生命はもっと単純なものだ"とした。アンドレイ・タルコフスキーの映画『ノスタルジア』(1983年)から引用した言葉だ。
やがてバブルが崩壊。本格的に生き方を模索せざるを得ない世の中になり、「価値観はお金だけじゃないって考える人が増えた」と三谷さん。
その頃、生活道具や雑貨を扱うセレクトショップが次々に登場したのも、時代の表れといえるだろう。三谷さんの木の器は、そうした店で取り扱われるようになった。
バット、トレー、カップ。三谷さんの木の器は、進化を続けた。すると今度は三谷さん、使い勝手が良く、汁物に常用でき、和食にもしっくりくる器を、と漆を施すシリーズを作り始める。1995年のことだ。
樹木から採れる樹液をベースにした天然の塗料である漆は、古くより家具や食器に用いられてきた。漆を何層も塗り重ねるという大変な手間を要するが、水分や熱に強く、長持ちし、使うごとに艶が増すという経年変化も楽しめる。
「食に関する塗料となると、やはり昔から使われている漆」と考えた三谷さんが、最初に作ったのが、黒の漆シリーズ"noir"だ。
日本の黒の漆器といえば、表面がつるりとした鏡面で、光沢が強く、その高級感から敬遠されがちだったり、和テイストが前面に出すぎていて、現代の暮らしに馴染みづらかったりする。「それを日常のものにできないかと思ってね。ブラックカラーのYチェアみたいな、モダンな雰囲気だけど和食にも合う感じにできればと思って」。
和食器然としていない、控えめな艶のマットな質感。それまでにない、三谷さんならではの黒い漆シリーズが生まれた。
しばらくして、三谷さんが注目したのは、白色の漆だった。
「現代のモダンな空間では、和食だけじゃなくて、イタリアンなんかも食べるでしょう。そういう日常の器として漆器はどうあるべきかと考えてね。白だな、となったんです」。
漆器では、黒や朱色が主流だけれど、実は白い漆は、昔から日本に存在していたという。
「器には一切使われてこなかったんですよ。漆絵のなかで、せいぜい人間の肌の色として、塗られていたぐらい」。
なるほど、漆においても三谷さんは、新しい価値を再発見したわけである。
器の土台にまず黒の漆を塗ったら、その上に白の漆を重ね、紙やすりで磨き、さらに白の漆を塗り重ねる。
「塗り方も工夫してね。べたっと塗るとペンキみたいになるから、筆のタッチをつけるようにして。刷毛目をつけると、どこか絵に近い仕上がりになるんです」。
底面のみを黒漆にし、全体は白漆で仕上げた"白漆"と呼ばれるシリーズや、器の内面は白漆、外面は黒漆に塗り分けた"Hakuboku"シリーズ、さらに薄めた白漆を施し、黒漆を強調したり、あるいは水墨画のような趣に仕上げた"Usuzumi"シリーズもある。白い漆越しに黒の漆がさまざまに透けて見える独創的な漆器は、三谷さんの真骨頂といえる。
迎えた2000年代。
松本クラフトフェアは一大イベントに進化し、ライフスタイルショップがさらに増え、三谷さんの木の器も、一層人気を博していった。その所以は、三谷さんが大切にしている"生活者の目線"ではないかと思う。
「基本は、自分の暮らしで使いたいもの、自分が欲しいものを作る。それだけです。人の欲しいものはわからない。だからマーケティングなんて全くないですよ。自分が欲しいと思うものを、同じように欲しいと思ってくれる人って、たくさんはいないだろうけれど、必ずいると思うんだよね。共感してくれる人に渡れば、それで十分じゃないかなって思う」。
さて、そんな三谷さんの木の器に、シンパシーを感じた一人が私である。
私の手元には、ここ10年ぐらいで少しずつ買い集めた三谷さんの作品がある。小さな匙付きのソルトボウル、手彫りのスクエアの取り皿、轆轤で仕上げた薄くシャープなサラダボウル、白漆が施されたHakubokuのボウルなどなど。
それらが食卓で大活躍していることは言わずもがな、食事以外の時は、食器棚の中に後生大事にしまうことはせず、リビングにあるオープンシェルフに重ねて置いてあるのだけれど、その姿というか景色がまた、素晴らしいのである。
一心不乱に仕事に没頭している時、ふと棚を見やって、木の器の木目が織りなす有機的な文様や、シルエットの美しさ、自然光のなかで際立つ色の重なりなんかを眺めると、満ち足りた気持ちになる。自分の愛用品が心を慰める、というのも当然あると思うけれど、それだけではない何かが、三谷さんの作品には潜んでいる気がしてならない。
「柳宋悦の言葉にね、"手が、機械と違うのは、心とつながっているから"というのがあるんですよ。僕たちが作る生活工芸と呼ばれるものも、そういうものだと思うんだよね」。
三谷さんから以前聞いた、そんな言葉を思い出す。私が三谷さんの木の器から感じる"何か"は、作り手である三谷さんの心なのかもしれない。
機能やデザインだけではない。そんな三谷さんの木の器の真髄を、できるだけたくさんの人に味わってもらいたい。最後にそんな願いを込めて、三谷龍二物語を終わりにしたいと思う。
---
6月 9, 2019 by Angelique Chmielewski
Our time with Makoto Koizumi flashed by but was just long enough to create a capsule of warm memories. As many of you may know since we speak of it often, Koizumi-san was one of the first designers we met prior to opening the gallery. Along with many other works by him, we simply fell in love with the Tetu Kettle and observed its evolution through multiple iterations to understand how it was made and why. We have spent more than six years following the designer's career, visiting, admiring, researching, traveling and interviewing him first hand in Tokyo. It goes without saying that the exhibition, Shiro and Shiro, represented not just our inaugural show with the designer, but also an accumulation of stories and experiences we've shared throughout our encounters. It was a wonderful feeling having him on our turf for a week.
We hope you enjoy these images from the exhibition!

Koizumi-san is a designer that works with many different kinds of craftsmen. For instance products in all kinds of materials were curated for the exhibition like tin, glass, wood, ceramic and stainless. When you look at the works as a whole there are details that are still very much the essence of Koizumi-san but you can also see the handwork of all the artisans he partners closely with. This really speaks to his human centric design philosophy of working for the benefit of all the people involved, something he touches upon in his exhibition statement. That shared humanistic approach to business is something we've always liked about the Koizumi studio.

Each exhibition we collaborate on one new product with the artisan or designer but this time around we had a number of collaborative products to unveil on opening night – trays, plates, vases, clipboards and rulers to name a few. All made of indigenous Japanese wood types. Lately we've been in the mindset of sustainability. In many ways, we are trying to revamp our products and services – even the way we ship, to find eco-friendly solutions in recyclable materials. When we learned that one of the makers Koizumi-san works with has accumulated offcuts from their predominant furniture business, we thought it was a great opportunity to give new life to those pieces that would most often pile up and go unused or discarded. In this way, the waste materials are turned into something with a greater purpose.
It was not just the repurposing of materials that we loved but also the excitement of grain selection, especially with Koizumi-san's keen eye in choosing. We were thoroughly impressed while in Japan when Koizumi-san showed us his process of selecting wood grain patterns for his furniture pieces. He personally identifies the best wood grain pattern for each piece by hand drawing silhouettes as cutting guides for the artisans. We felt this acute consideration to detail from a designer when it comes to larger products can also be relevant in smaller objects. Often times within a hardwood panel lies a variety of tones and textures that the final product can look like a different wood species from one piece to the next. This became especially apparent with the Small Wood Plates for example. Similarly, selecting the right wood grain direction and colour for the Wood Trays, allowed us to maintain near limitless inspiration for the products.
On opening night we all united to add final touches to the displays. We prepped our florals – Sweet Alyssums turned out to be proportionally the perfect flowers for the Wood Vases! Ayako Kurokawa of Burrow came early to prep the refreshments and gave us a sampler of what we'd be serving that evening: White Asparagus Open-Face Sandwiches, Corn Macaron with Corn Potage Cream, Coconut Pâte de Fruit Jelly and Snowball Strawberry Shortcake Cookies! As expected, Ayako interpreted the exhibition theme beautifully making each creation uniquely inspired by Shiro and Shiro.

Many wore all white for the opening to celebrate the occasion. It was a lively night with many old and new friends who were able to meet Makoto Koizumi in person. Some even had their products like the Ori Stool autographed by the designer.
There were a variety of product lines on display from furniture to new designs including our collaborative products. The trays and vases were labeled on the bottom with their wood species in Japanese and English. There were over fifteen wood species and we truly enjoyed seeing guests being selective with the wood grains.
The opening was a blur, as were all the attempts for the obligatory team photo on Extra Place alley that night. Although we're missing the team in all our white outfits, I'm happy we managed to take one non-blurry image the next day in daylight with Koizumi-san. When I go back into our archives and find early photos of Steve and I with Makoto Koizumi in Tokyo six years ago, I can't help but feel like we've come full circle. We started the store with Koizumi-san's products and this exhibition was especially fitting because we are soon coming upon our five-year shop anniversary. It's a bit of a milestone mark for us, and one of the reasons we wanted to have an exhibition with Koizumi-san this year in the first place. It has become increasingly apparent at this stage in our company that what we do is above all people oriented and at the end of the day it's fulfilling to showcase the people that help you get to where you are.
That being said, thank you to all the wonderful people who followed our behind the scenes prep and made the trek to the exhibition especially on opening night. Also to everyone who played a role in helping us develop this exhibition – the team at Koizumi Studio, Noriyasu Moritada, Aya Nihei, Audrey Kang, Dani Sujin Lee, Owen Smith-Clark, the team at Studio Newwork, Paul Lewis (for the exhibition playlist), John Medley, the team at Burrow, Armando Rafael Moutela, Stefan Ayon, Joshua Skirtich, Yina Shan, and Ainsley Moy. Thank you!
---
6月 8, 2019 by The Team
Shiro and Shiro was our first design-focused exhibition in about a year, and we wanted the soundtrack for opening night to feel current and laid-back, much like the work of Makoto Koizumi. The collection of songs was curated by Paul Lawrence Lewis to echo the design spirit of Koizumi-san, featuring young bands who make traditional elements of music their own. Subtle vocals and mellow percussion create a sense of dreaminess inspired by the soft forms and light tones of the exhibition. Some of the song titles even seem to describe Koizumi-san's work!
Listen to the full-length playlist above, or experience it here.
---
5月 13, 2019 by Makoto Koizumi
Makoto Koizumi was born in 1960 and grew up amidst the constant movement of Tokyo. His career in design took root from an interest in woodworking and expanded to architecture, industrial design and interior design as he continually sought to enrich each facet of human life. Now, his creations are revered in Japan for their beautiful usability, emphasis on regional connection, and above all, the genuine heart that can be felt behind the work. With the sensitivity to see the possibilities that lie beyond an established structure and define both what is missing and what is extraneous, Koizumi-san has made his mark across a spectrum of industries. His designs have been hammered into tin, carved in hinoki wood, cast in nambu iron, and woven into cotton cloth. He at once collaborates with specialized individual craftsmen and legendary manufacturers. Designing with a deep comprehension of how each small part exists to form the whole, a single chopstick rest and the framework of an entire building have equal weight in his careful hands. After establishing his own design company Koizumi Studio in 1990, he has since opened a gallery out of a converted shoe factory in East Tokyo. There, Koizumi-san continues his work, drawing from a rich pool of tradition and looking ahead for a changing world. 

We are honoured to present this special guest feature written by Makoto Koizumi, on the occasion of our exhibition Shiro and Shiro.

The entry below was translated from Japanese to English.
In Japan, noncolored things were originally called 素(shiro). Over time, the lack of color, or, more specifically, color without hue became referred to as 白(shiro/white). Beyond simple definitions of colorlessness, 素(shiro) and白(shiro/white) evolved to carry their own significant nuances.
The word 白(white) is used in phrases like 潔白(innocent), 明白(obvious), or 白無垢 (all-white kimonos for wedding ceremonies), to evoke and indicate a subtext of purity. The color white (白/shiro) itself is also very important in Japanese crafts. Many artisans have followed the tradition of attempting to create whiter whites in items like paper or fabric. This importance of white extends to the Japanese national flag, where the blank white space is known to represent sacredness and purity.
On the other hand, 素(shiro) takes on its own significance. When used in phrases like 素直(honest), 質素(simplicity), or 素朴(plain), 素(shiro) embodies something/someone which is natural or unaffected, either in appearance or demeanor. This can be seen in Japanese architecture and tools where specific care is taken to show you that wood, clay, and paper are amazing materials as they naturally are. Through this definition 素(shiro) comes to represent "the state of a material being raw". In addition, 素(shiro) is used to express the shape of tools which are full of necessary functions despite their simple forms. The Japanese have long created and understood such simple/plain tools, making 素(shiro) an essential concept in Japan, and Japanese craftsmanship.
To understand these concepts, and incorporate them into my design process, I have been immersing myself in Japanese craft sites where such distinctive Japanese philosophy was born. I emphasize who I work with over what I should make, seeking out artisans with great skill, understanding of materials and spirit. It's important for me to find and work in environments where artisans can above all be proud of themselves.
Through Japanese craftsmanship, I have encountered artisans who embody and explore these Japanese philosophies, making great use of materials to achieve 白(shiro) and 素(shiro).  
Above all, I hope through this exhibition, you can discover and appreciate 白(shiro) and 素(shiro) in products made by highly skilled Japanese artisans with materials such as wood, bamboo, enamel, ceramic, and glass.
---
5月 9, 2019 by Angelique Chmielewski
Our love for Makoto Koizumi comes from a place of respect, a heavy admiration of his works that embody every aspect of what we consider good design. We've been communicating with Koizumi-san since opening the gallery years ago and yet still each conversation with him unravels insights into his large repertoire. Since our exhibition with the designer, Shiro and Shiro, is opening soon on May 17th, we wanted to share images from our latest visit to his East Tokyo based shop and studio.

On this particular visit Koizumi-san was waiting to greet us at the cannot-miss entryway of his building, an old shoe store that he began remodeling close to a decade ago. Many buildings in the neighborhood have been demolished because they were constructed with unendurable materials during the post-war period but Koizumi-san wanted to remodel instead to bring the building up to standards and preserve the history of the district. He utilized unusual materials and focused on sensory and spatial design.
We have fond memories here because the first time we met Koizumi-san to interview him for a backstory, he was in the midst of designing an extension to the building and gave us a tour, revealing old photos of what it looked like before he took possession. Despite the fact that the original Koizumi Studio office is just around the corner from this building, the acquisition of the shoe store was considered as an annex for his growing design team and gave them an opportunity to conceive a shop space on the main floor.
It's been interesting to see how the building has evolved over the years. Every visit there is a new nook or area built, characteristically in line of Koizumi-san and his working style. The interior reminds us of a kindergarten classroom with its scaling ladders, modular furniture, sweeping areas for sprawling out prototypes, and even a napping area covered with tatami mats on the uppermost level!
One aspect we found fascinating about the interior design were the aged elements. Parts of the original building were salvaged and used as structural components of the new build out. Our favourite area is a room full of antique tools that the designer has collected over the years. He wishes his products to have longevity and there is certainly timelessness worth preserving in old tools that offer an endless amount of inspiration.
After Koizumi-san updates us on the new building additions, we sit down to discuss the upcoming exhibition, honing in on materials, collections and overall concept of this particular show. He works in a variety of materials – wood, lacquer, ceramics, paper, glass, enamel, textiles, iron, tin, and bamboo – and prefers to work with smaller scale manufactures. He teams up with Japanese artisans across the country that specialize in a specific material to craft his designs while ensuring that the project is sustainable. What we value most about Koizumi-san is that he never works in a vacuum of his own, but continues traditions by carrying them forward with the modern user in mind. He transfers a similar philosophy to his studio work. Not only does the Koizumi Studio focus on one category, but they think of the wholeness of the human experience and practice what Koizumi-san calls "lifestyle design." From furniture and small household tools to interior design and large hotel buildings, the multidisciplinary designer has had his hands in a sizable amount of projects.

Favoring unique proportions and wonderful intersections of curves and angles, he imbues each design with details that stem from years of developing a signature design language. He has even created tools to solve design problems like a cube consisting of various edge radii and a ring ruler demarked with his trademark arcs. We'll have these at the exhibition to view. Unfortunately they are not for sale but we will have an exclusive collaborative tool we designed with Koizumi-san unveiling on opening night!
We love seeing all of his process sketches and prototypes. He shows us a big box of Minotake models that he's hand cut himself to perfect each form. He laughs when mentioning that there are hundreds of them!

No matter how often I enter the spaces that Koizumi-san has realized, I'm always overwhelmed with inspiration. Much like his personality, the objects he designs tend toward the playful. Above all, they simply put a smile on my face. The rooms full of collected antiques, small wooden chairs, unexpectedly placed found objects, amount to a microcosm full of curiosities, while also revealing – on closer inspection – a sense of childish delight. Hand formed wire sculptures are suspended on walls; while miniature models are laid out sparsely on the floor. Honest, solid materials prevail over complicated elements. The resulting design resounds with joy and confidence.

As I reflect on Makoto Koizumi's body of work, I am reminded of something I often forget when looking at objects that seem deceptively simple and well-designed – that holding something so utile didn't happen magically. Someone has designed it for you, thought of every aspect, all the solutions to a problem, and created a version as close as possible to that thing you need to make life a little bit happier. Designing these beautiful objects that people relate to intuitively, reinforces our humanity.
---
4月 25, 2019 by The Team
We often get asked about lesser known activities to do in Japan. The list is never-ending, but we thought this trip to an unusual museum, Takao 599 Museum, in the purlieus of Mount Takao made a wonderful day trip out of the bustle of Tokyo. Take the train from Shinjuku Station, and within an hour, you'll arrive at the foot of the lushly wooded mountain.
Mount Takao, or Takaosan in Japanese, doesn't stand particularly high at 599 meters, but the mountain is rich in natural beauty. There's plenty to see and do, including a Buddhist Temple and numerous hiking trails to the top. We suggest taking the funicular as an exciting way to experience the scenery.
Near the funicular station at the top, there is an observation deck with an expansive view over the dense sprawl of Tokyo. From this perspective, the metropolis feels like another world, mysterious and seemingly infinite.
After you've taken in your fill of the view, make your way on foot back down the mountain to discover all of the flora and fauna that make Takaosan their home. There are different trails you can take on the descent, but each one has its own surprises. You might walk among ancient cedars with textured, sculptural trunks, be greeted by over 70 species of birds flitting through the branches above you, or cross paths with a formidable dōsojin wearing an offering of a bright red knitted hat. These shrines or statues are scattered upon the mountain to guard against evil spirits.
At the base of the mountain, the exploration continues at Takao 599 Museum. This museum showcases the natural environment of Mount Takao with its incredible diversity of plant and animal life. There's a wealth of knowledge to be gained, but the exhibitions are also strikingly beautiful.
In the main exhibition hall, plant and insect specimens float in crystalline cubes of acrylic resin, preserved to astonishing detail. You can spend hours carefully examining each specimen, admiring the spectrum of color, texture and shape. Some of the displays reminded us of our favorite artisans—the preserved wildflowers made us think of 1012 Terra's pieces, and the encased pine cones brought to mind the whimsical Sola Dandelion Cubes.
The exhibition halls also include information on Mount Takao's birds and mammals, ecosystem, history, and cultural significance. The museum houses a charming café and an open park space perfect for relaxing after your hike.
A trip to Mount Takao is sure to be filled with adventure and discovery. And at the day's end, there's something wonderfully peaceful about sitting on the train, watching as the setting sun paints the clouds and the sky slowly darkens on your way back to Tokyo, where the adventure continues and continues.
---