Our first interaction with Mochizuki-san was thanks to Noriyasu who connected us so many years ago. Mochizuki-san responded to our inquiry to meet him in the form of a mailed letter in ink on rice paper. It made us realize we had completely lost sight of the value in a handwritten message. Not just for its novelty in the digital age but for its ability to convey human emotions that can't be done as easily through the convenience of instant messaging or email. It was then that we realized that Mochizuki-san had a unique way of communicating to match his distinctive style of artwork.
Mochizuki-san was born in the city of Shizuoka in 1953. It came as a delightful surprise upon our first visit to discover that his atelier and warehouse were designed by Yoshifumi Nakamura, an architect whose hut-like designs we have grown to love for their simplicity and distinct black façades.
The artist is very energetic. The moment we enter, he and his wife are quick to pull out archived paintings, works in progress, articles from the past. We are completely overwhelmed in the best way possible like we had landed on a secret treasure vault. We realized we had much more to learn about his life and career.
Mochizuki-san's career spans over five decades. In Japan, he needs little introduction as his works can be seen everywhere. There is a museum dedicated to him in Beppu and Oita, and his illustrations are on many classic award-winning book covers. It was fascinating to think that children in Japan are growing up associating literary classics like "The Great Gatsby" with his playful line drawings. Everything that he creates is unmistakably "Michiaki Mochizuki" reflecting his world of imagination or some kind of personal story. There is a strong reference to human beings, mixed with childhood nostalgia, and artistry is the glue that binds it together.
Though the line drawn between artist, craftsman, and designer can so often be blurred in our roster, when we first saw the works of Mochizuki-san, we knew he would fill a unique place in our growing representation of fine artists. He tells us he started as a craftsman and found interest in painting when he was 18. Since then, he has worked in a large variety of styles from painting to dyeing tapestries, sculpting ceramics to casting metal figurines. Always with a tactile quality that utilizes Japanese techniques rich in histories such as Tsutsugaki painting, Katazome dyeing and Katagami stenciling, to name a few. It was refreshing to see his modern interpretations of these ancient techniques and there was no better place to see the diversity than at his home where the works are sprawled across every room and in piles of sketchbooks.

As part of his practice, Mochizuki-san tells us he has done a quick drawing every day in a series of sketchbooks consecutively for the past few decades. He dates each one like a visual diary that tells a story of his day-to-day life. Steve and I were quick to hunt for the sketches done on our birthdays which immediately brought smiles to our faces.
Looking back on these visits, it brings back great memories of when we could spend quality time with our artists and designers in person but we count our lucky stars we were able to connect with them remotely in other meaningful ways. Since many of our exhibitions were postponed this year including Mochizuki-san's, we decided to collaborate on a small series of tsutsugaki paintings that the artist would create and have shipped to us. When we embarked on this project it was the peak of the pandemic in New York and we were all feeling the uncertainties that came with it. Within the solitude there were threads of commonality that seemed to help a lot of people cope like sharing recipes, watching the same shows, regular video calls with loved ones. For us, it was also something as simple as looking at the paintings by Mochizuki-san hanging in our home and the feeling of optimism they brought into our lives. Whenever I glimpsed at one, it was as if I was hard-wired to feel better just by looking at it. It was easy for us then to answer the one question Mochizuki-san asked us when we started this project…
"What would you like the works to represent?"
"Love", we responded.
We are elated to receive these works and invite you to view the six-piece collection here. Art, like love, is not easy to define, and even harder to keep alive in the midst of a pandemic. We just know that in such times, these paintings hit us in a place that alleviates the weight of it all.
---
May 7, 2020 by Angelique Chmielewski
With more time spent at home we've begun to truly appreciate the preparation tools that perform well in the kitchen with no fuss. Makanai by Conte, the multi-use series of stainless steel bowls, strainers and lids, is an example of this – a testament to outstanding small scale production that functions through a network of designers, researchers and specialists from the region of Tsubame, devoted to crafting the best.
When we travel to Japan, visiting studios and learning about manufacturing processes is one of the joys of our job and makes the products we use at home appreciably more enjoyable. We wanted to share these two videos produced by Conte that highlight this feeling of witnessing a product go from factory to home with success. It's no wonder the collection has won so many design awards over the years.
You can find the full Makanai series in a variety of sizes here.
---
April 25, 2020 by Dani Sujin Lee
For most of us hunkered down at home during these trying times, not being able to eat out means more home cooking experiments. As much as I've enjoyed exploring more elaborate dishes, I've also had those days when I just want a simple recipe (that is still healthy) with a few staple ingredients. This childhood breakfast favourite of mine, soft-boiled soy eggs, is the perfect recipe for those days. Quick and easy, yet incredibly rich and delicious!
INGREDIENTS
* = recommended but not necessary
– 4 eggs
– 1 cup soy sauce
– 1/4 cup sugar (or sweetener of your choice – agave syrup is a great substitute)
– 1/2 cup water
– 1/4 slice of a lemon (or 1 tablespoon of lemon juice)
– 1/4 diced onion
– 1/2 scallion scape
– sesame seeds*
– chili flakes (or chopped jalapeño)*
DIRECTIONS
1. Prepare your eggs to the hardness of your preference – soft-boiled is recommended, but hard-boiled eggs will keep in the fridge longer, which is what we chose to do in this case.
2. In a bowl, add soy sauce, sugar, water, lemon juice, a sprinkle of chili flakes and sesame seeds. Mix until sugar dissolves. I like adding chili flakes or jalapeños to balance the sweetness and for added depth in flavour.
3. Add diced onions and chopped scallions to the sauce mixture. Stir.
4. In a mason jar (or any food storing container you have), add the peeled boiled eggs and the sauce mixture. Make sure all parts of the eggs are soaked in the sauce. If they are not, stir the eggs throughout the day to help them marinate evenly.
5. Store the "egg jar" in the fridge. It will be ready to eat in 3 hours, and up to 3 days.
6. Enjoy the eggs alone or on top of steamed rice. A drizzle of sesame oil and shredded seaweed goes great on top.
Enjoy!
Ceramic bowls featured in this recipe, in order of appearance: Fruit Bowl by Dani Sujin Lee, Silver Petal Bowl by Masanobu Ando, Bowl with Handles by Masanobu Ando
---
April 7, 2020 by Stevenson Aung
We felt now is as good a time as any to dig a bit deeper into our archives to find comfort in some of the inspiring sites from our travels we've kept aside and have been meaning to share for a while. We've traveled to Japan more times than we can count yet there are still so many moments and places that leave us feeling marveled. One such experience was our stay at House of Light created by James Turrell – a house that is at once an accommodation, a meditation house and a private art installation. Now more than ever, while we all keep to our homes, are we appreciating the beautiful attempts of artists and designers around the world to create places for us to live where outdoors and indoors coexist.
House of Light is located just outside Tōkamachi. It was a trek from the small rural town train station, so we bolted there as soon as possible to maximize our time in the art space. The house was intended to accommodate three small groups, but the rain that particular day delayed the train system and resulted in the other two groups rescheduling their reservation. So, we got to experience the entire place to ourselves.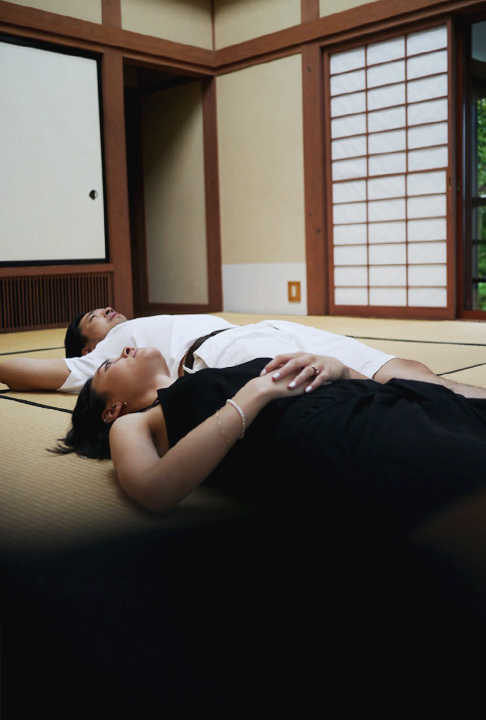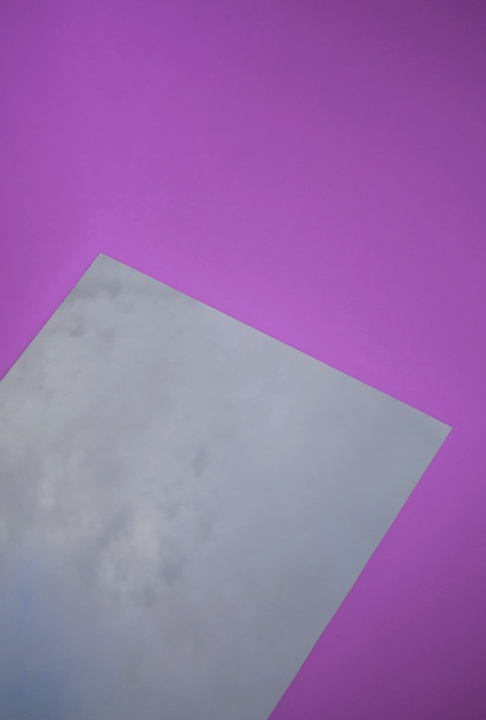 The Skyspace is located in one room of the house but there is a very lovely kitchen area, bathhouse with its own light installation and a balcony that runs the circumference of the house. Guests have the choice of spreading out their futon anywhere for the night so we chose to sleep directly under the Skyspace and watch the light shows from the comforts of our bed.
The house is designed with a retractable ceiling that covers the Skyspace in the case of heavy rain. The guests of the residence are expected to take care of the work. That responsibility essentially fell on us. When we sensed a drizzle from above, we immediately had to hit a button that closes a retractable roof otherwise the tatami floor beneath it would get soaked!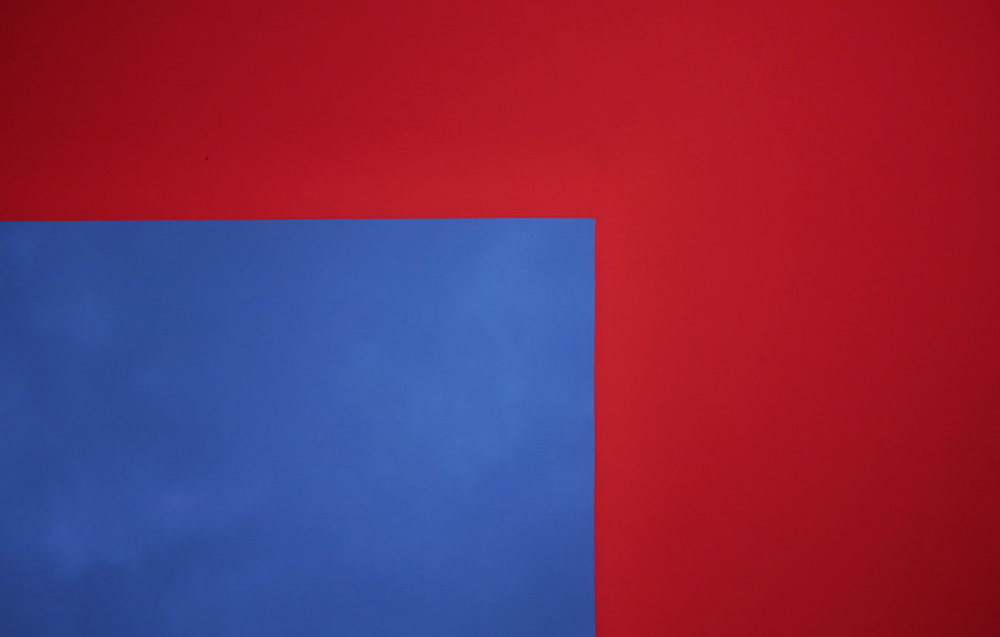 James Turrell's intention, as with many of his other Skyspaces is the experience of light… light from the water, light from the sky above and through the intense colours of his installation. When you're in the space, it's almost impossible not to feel one with nature, as the chilled air washes over you from the cutout above. The square aperture is entrancing, making you hypnotized and focused. We stared up for hours and took mental and physical snapshots of our favorite colour combinations. Each of us interpreting colour wavelength uniquely, which made for an individualized sensory experience. Colour has a physicality and power when you are in the space. Sometimes calming. Sometimes stimulating. 

House of Light was out of the ordinary even when compared to the numerous Turrell installations around the world we have seen. It has the same captivating light show, the same power to bring us to a place of reflection, the same fusion of nature and nothingness – the difference, was that this was the first time we were able to sleep under one.
---
November 8, 2019 by Angelique Chmielewski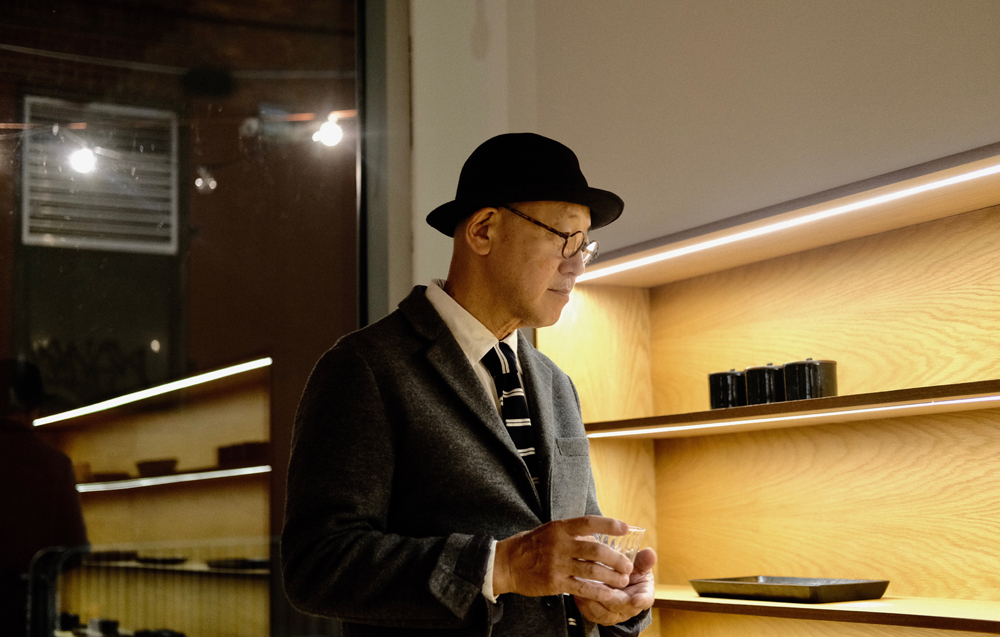 Two weeks ago, we held A Deeper Dark, an exhibition of works by Ryuji Mitani, that for the duration of the event, brought our gallery a special allure that only the beautiful works of Mitani-san can bring. Named after the pieces by the artisan that express aspects of "darkness", A Deeper Dark showed the depth that dark-toned woods and black urushi lacquer can have on wooden tableware. By looking at these images, we hope you can imagine the beautiful collection – with its texture, warmth and surrounding atmosphere of the exhibition.
The opening reception was wonderful! After we completed the installation, Mitani-san and his wife, Junko-san, and our team gathered together for a small toast before opening the doors. It was nice to see the same people who came to our first exhibition with Mitani-san two years ago, Blurring Boundaries, back to see the evolution of the artisan's craft. The full range of his practice is so vast that we wanted to split our curation into two parts. This time we focused on the dark works and in 2021 we'll be presenting Part Two with a focus on "lightness".
People were eager to view the collection, but the moment Ryuji Mitani spoke up to give a speech he had prepared, the room fell silent. It's rare for Mitani-san to speak in public but always so interesting to hear his perspective. He mentioned that he is happy to have exhibitions regularly at Nalata Nalata since it makes him feel closer to the people of New York. After speaking to attendees, I realized that what resonated most was when Mitani-san said the following in regard to the current Japanese craft philosophy, "The Japanese way of thinking is based on a nature-focused perspective which people learned from natural disasters like typhoons and earthquakes. We learned that humans are part of nature and human existence and power are small and weak compared to nature. We found out that obeying nature instead of oppressing nature is the best way to gain benefit from it".

In many ways it was apparent in this collection that Mitani-san has been embracing nature in his works. He lets the grain of the wood shine beneath the lacquer, but there was also a selection of wall art and sculptures that invite us to consider imperfection inherent in nature and decay, like a wall-hanging work we displayed at the entrance. Made of ceramic and a found piece of tin near the artisan's studio, the work displays the fragile textures and tones in these materials that make them so beautiful to behold as they age.
Ultimately, the exhibition was a celebration of Ryuji Mitani's craft: many of his signature pieces such as the Butter Box, Salad Bowl, Noir Bowl, Usuzumi Plate, Pasta Fork, Flat Tea Scoop and Plum Blossom Dish, a personal favorite for its symbolism; and many other favorites were available. Our new collaborative work was inspired by the exhibition concept, the "Noir Ice Cream Cup" a close relative to our original collaboration, the "White Ice Cream Cup" from two years ago. The black version offers such a beautiful contrast to the creamy tones of ice cream. We sold out of the collaboration immediately again this year, but Mitani-san will be shipping a small number in the upcoming months that we will release online.
Refreshments were provided by Kashiya Kokonotsu, a confectionary artist based in Japan. She had prepared delicate monaka and fillings in Japan and our friends Aya and Junko-san assembled them prior to the opening. There were two types, almost too magnificent to eat. Firstly "Adzuki Monaka" with adzuki beans from Tamba, sugar and butter, along with a second type, "Chestnut Monaka" with white adzuki beans and chestnut from Kumamoto.
Mitani-san was inspired by folk craft techniques with one particularly stunning vessel we've never seen from him before. He repurposed an antique yard of hemp to hand form the shape in a wooden oblong mold and allowed it to dry like papier-mâché. Hemp, a traditional textile often found in Japanese homes as New Year's decorations or flowing noren fabric dividers can have properties similar to wood when lacquered and left to harden. We loved the way he embraced a weathered material to transform it into a beautiful, functional piece.

Mitani-san's signature Noir faceted pieces exemplify what makes his lacquer work renowned. Lacquer is a finish that is hard to control, requiring great attention to temperature and humidity in order to keep the surface dust-free and smooth to the touch. His decisive choice of stroke direction when applying lacquer creates dancing reflections on rhythmically carved facets.
At the end of the opening we had time to unwind before going for a celebratory dinner. This time we actually remembered to take our Extra Place alley team photo (although we are missing a couple key people here). Thank you so much to all who were involved in this exhibition! It was our most memorable yet as we were able to share it with a roomful of so many friends and fellow fans of Mitani-san's works. Thank you to Mitani-san, Junko-san, Aya Nihei, Atsushi Miwa, Vicky Wong, Hazuki Uno, Dani Sujin Lee, Paul Lewis, Volele Talleyrand, Studio Newwork, Armando Rafael Moutela, Flore Tallerand, Joshua Skirtich, Yina Shan, John Medley and Gary XiaoHou for going above and beyond! Writing this recap, Steve and I are fondly reminiscing on the planning stages of this exhibition as so many people came through to pull it together despite a lot of last-minute changes!
We captured moments on camera throughout the reception, but it was so crowded we wanted to also remember the pieces via images in daylight conditions where the pieces can shine. The works always look so magical with sunlight reflecting off their textured surfaces.
Each exhibition we have at the gallery is unique and we try to emphasize the works by building new fixtures and displays that highlight the best qualities of the pieces. Mitani-san's works have such intricate interior surfaces, like his deep bowls and trays, that they are best viewed from a higher vantage point, so we brought in our lower fixtures. We thought we were all set, when unexpectedly we received a very large carved "Noir Centerpiece Bowl" in the mail that Mitani-san had shipped. It was stunning but we realized that we didn't have the appropriate table to display such a large and beautiful piece.
Steve ended up designing a new elevated fixture with a white-washed top surface and enlisted his Pratt alumni friends John Medley and Gary XiaoHou to help build just in the nick of time! When the elevated table arrived in the space, it fit like a glove and was the perfect complement to the most beautiful bowl we've ever seen!
We were also very inspired by the way Mitani-san displayed his plates and bowls upright on a shelf during a studio visit, so Steve asked John to help build a wall hanging display cabinet he designed.
Like the Noir Ice Cream Cup, we sold out of the special edition Yellow and White Cup. Mitani-san told us that this was the first exhibition where he is trying out new colours of lacquer after over four decades of only working with black and white. We think it's a success and we can't wait to see more yellow lacquer in Part Two! Its easy to imagine how the color of coffee would be nicely complimented in the white well of the cup. The mountain cherry also highlights everything we love about autumn — from its textured wooden surface, to the earthy tones of its lacquer and the warmth that permeates its walls when enjoyed with hot coffee or tea.
We included many vats and trays made of Jindainire wood for this exhibition. These unadorned works not only showcase the meticulousness with which Mitani carves his pieces, they also highlight the material beauty of Jindainire wood. Also known as "God's Elm", it emerges from being buried. Like a phoenix, the wood rises from the ash underground to develop unique patterns in its grain and transforms itself into something beautiful.
Mitani-san collaborated with his friend Masaki Kanamori to create Salt Cellars. Enamel is often perceived nowadays as mass manufactured, but Kanamori is an enamel artist who makes his works entirely by hand. When you feel the piece and see it with your eyes in person the texture and saturation of the enamelware truly feels handmade. Mitani-san's smooth black walnut wood lid is the perfect match.

Encountering artworks by Mitani-san leave us enchanted by their shapes and whimsical presence. We have come to understand the pieces through his stories that make them lively. The triad of three human forms in the "Vitruvian Man" pose or the series of six finely carved and lacquered rods can easily be overlooked but never cease to fill our imaginations with bliss.

We were pleased to introduce Mitani'-sans recent exploration in ceramics with sculptures and bowls, like the Ceramic Boat Vessel. The clay in these pieces has been hand dug by him from the ground near his studio. Similar to his wooden pieces, the artisan leaves traces of his hand in forming the pieces to celebrate the natural warmth of clay. They are lightly lacquered after firing.
During our week with Mitani-san, we were given the opportunity to have in-depth conversations with him to understand him better and the philosophy behind each work. In his presence, I was often reminded of something he said during a recent interview conducted by Aya Nihei, that "I'm useless at marketing, I only make stuff I like and hopefully people will too". This collection in particular with all of the exploratory works revealed to me that not only is Mitani-san a master wood craftsman, but moreover, he is an artist, genuinely expressing himself in hopes that others may relate, regardless of the medium or form. It was such a joy to see that, after all these decades working with wood, Mitani-san is delving into colour, clay, sculpture, painting, hemp and found objects – afterall making art should be pleasurable and exploratory. That instinct for all kinds of art seems relevant but particularly reveals the innate artist within Ryuji Mitani.
Photos by Volele Talleyrand
---
October 25, 2019 by Aya Nihei

日本語 (Japanese)
My conversations with master woodworker Ryuji Mitani across the years of our acquaintance have revealed him to me as a truly extraordinary person. His work holds both great beauty and skill, and I could write an entire thesis on its merit. However, I believe that getting to know Mitani-san, the man behind the woodworker, will be more interesting than pages of my interminable praise. I hope that after you read his story, you'll enjoy his art with new perspective. Let's start!
Mitani-san was born in Fukui city in Fukui prefecture the year of 1952. His life began to change at age 19 when he joined an avant-garde theater company in Kyoto. He joined not in hopes of becoming a great actor, but to help in designing the company's show posters. "Eventually, I was asked to act in my first play – Salome by Oscar Wilde. But my pronunciation was unclear. I realized that I wasn't really meant to be an actor [laughter]." Though he performed in several shows, he knew that it was not his path: "Being in the theater company was like being in an unrealistic world… I wanted to work on something real, to create something with my hands… Plus, I prefer to work alone." After six years, he left the company.
Then, the young Mitani-san began to think about his next step. He thought of becoming a graphic designer as it came easily to him, but it was not his preference. He wasn't sure what to do, but he had a general vision, explaining, "I just wanted to be independent and engaged in fundamental business." He dreamed of becoming a fisherman, but when he told his friend he couldn't swim, the friend advised: "Give up." One day, he happened to stop into an art supply shop in Fukui and emerged with a woodcarving knife. As Mitani-san looks back on that little purchase, he says, "That was the very first step for me to becoming a woodworker."
He started a day job in Chino working on road construction, and in his spare time, he would carve pieces of wood. During a visit to Matsumoto, he encountered something that would alter his path again – handmade wooden masks with whimsical, expressive faces based on the dōsojin, a deity said to guard over travelers. The masks were known as the folkcraft of Matsumoto, and Mitani-san was struck with an idea: "I will become a merchant and sell these masks!" Working alone selling merchandise was a basic kind of business. The idea to peddle masks became his answer.
He purchased them in bulk and headed to Tokyo. He began to sell the masks right away, with no plan, no connections, and no expectations. Against the odds, he made his way selling about three masks a day. "The sales each day totaled to around 5000 yen… acting in the theater company must have helped my acting skills as a salesman! [laughter]" And in his spare time, he continued to carve, sometimes making his own wooden masks using his merchandise as reference.
One day, the company from which Mitani-san bought the masks offered him a job in Matsumoto. He left Tokyo immediately and moved into a small, six-tatami room in a public housing complex after getting married. Matsumoto's low humidity climate makes it suitable for dry wood and lumber, and the city is well known for its production of wooden furniture and crafts. For Mitani-san, it was a portal into the world of woodworking. He enrolled in a local trade school where he began to learn the art of making wooden chairs.
When his wife gave birth to their first child, Mitani-san faced reality: to support his family, he needed to make more money. He knew he wanted to make a living from his woodwork, but he didn't have the means to buy large equipment or rent a workshop. He decided to make wooden brooches.
Mitani-san explained, "Woodworkers who've studied furniture-making in school don't think about brooches. It hurts their great pride. But I didn't have such great pride. That was good for me." He began to carve and paint pieces of wood into brooches in the shape of animals, like a cow or a fox. They were small, fitting in the palm of your hand. He then sold the brooches in his neighborhood by driving between small inns and bed-and-breakfasts. The little brooches had a charm that stood out, and sales were good. "Plus, I must have seemed pretty desperate to the owners of the inns. That's why my sales were so good [laughter]." He would continue to make and sell the brooches for another ten years.
Around the year 1984, Mitani-san began to make wooden tableware with the goal of having them be affordable for ordinary people. His butter cases, spoons, and bread plates for Western foods in simple, modern forms were designed for everyday use and differed from traditional Japanese tableware. He saw possibilities in less popular materials. He says of his philosophy, "A different perspective makes the unattractive attractive. We can find such possibilities everywhere around us." For instance, cross-grained wood was the popular choice due to its convenience for mass production. But Mitani-san preferred straight-grained wood, explaining, "The grain pattern of cross-grained wood is noisy. Straight-grained wood looks calm and refined." Urethane was commonly used as finish for its uniformity in large-scale industry, but Mitani-san preferred using a natural oil finish. It was safer for pieces like tableware, which people would touch to their mouths. And unlike a thick layer of urethane, oil finishing allows the beauty of the wood to shine.
In 1985, at the height of Japan's "bubble economy", people were devoted to mass-consumption: "Mass production started as a way to enable a luxurious life for as many people as possible, right? But it resulted in the production of so many things that people quickly stopped consuming. From the resistance to that, Seikatsu Kogei came to be." A lifestyle crafts movement seems incompatible with that era, but Mitani-san explains, "There were enough people who could sympathize with us. The disquiet probably began around the 1970s". The 1970s marked the endpoint of the period of high economic growth that began in the 1950s. "People purchased the same items and wore the same things while the economy continued to grow. You could call it a kind of unity, that the Japanese people were convivial singing the same tune. But by the 1970s, we came apart and were lost again. People needed to seek their own way of living. It was the beginning of groping in the dark." In response to the times, Mitani-san and his friends launched the very first Matsumoto Crafts Fair inspired by a quote from Tarkovsky's film Nostalgia, "Society must become united again instead of so disjointed. Just look at nature and you'll see that life is simple". Soon the bubble economy burst in the beginning of the 1990s. People who had managed to sustain the dream of the bubble economy were then forced to pursue their own life once more. Mitani-san says, "After that, more and more people began to realize that there's more to life than money." And since that very first Crafts Fair, the culture of Japan indeed shifted to value a deeper enjoyment of life. Simultaneously, home goods shops that carry artisan crafts like the wooden tableware made by Mitani-san, started to emerge in Japan.
As Mitani-san evolved, so did his work. He began to experiment with "urushi" lacquer, a lacquer made from the sap of Toxicodendron Vernicifluum, commonly known as the Chinese Lacquer Tree. Used in Japan for thousands of years, the lacquer must be applied and cured layer by layer in a laborious, complex process that not only protects the wood but also highlights the beauty in its grain.
His first urushi items were made with black urushi as part of a series titled Noir. Traditionally, black urushi-ware in Japan had a high-gloss finish. Mitani-san thought this aesthetic was too fussy and unapproachable – not suitable for the everyday modern lifestyle. Inspired by the black colored CH24 Wishbone Chair by Hans Wegner, Mitani-san began to create a new kind of urushi-finished tableware. The strokes and grooves from his hand-tools were embraced rather than hidden, and the pieces had a subtle sheen that differed entirely from the mirror finish of classic urushi-ware.
But Mitani-san wanted to explore further. Though black and red urushi-ware were commonplace, white urushi-ware was almost nonexistent. He realized, "To truly modernize the craft, the color white was the answer. White urushi had never been used for tableware, only to paint faces and bodies in lacquer art." Once again, Mitani-san saw the possibility beyond the rule. The basic process of his white urushi lacquering first requires the application of black urushi onto the wood followed by white urushi. Afterwards the piece is sanded with sandpaper and another coat of white urushi is applied. He explains his distinct process: "If I dab white urushi heavily on wood, it would look no different than plain white paint. I realized that lightly applying urushi stroke by stroke had a lovely painterly effect. The strokes of the brush were visible, but that made the surface more interesting."
Mitani-san categorized his white urushi techniques into three distinct finishes. First, the basic white urushi: He applies several layers of white. The end product is white save for the bottom, where the black urushi remains uncovered. With Hakuboku, he lacquers the inside of the vessels in white and the outside in black. In the third technique of Usuzumi, he applies a nearly translucent layer of white urushi over black as a way of highlighting the darkness below, producing a finish as complex as an ink painting.
Continuing to be guided by the philosophy of Seikatsu Kogei, Mitani-san has become renowned in Japan as a master of his craft, and his work is celebrated for its quality, beauty, and unique perspective. But still, he keeps it simple: "Basically, I make what I want to use. That's it. To be honest, I'm not good at understanding what other people want. I'm useless at marketing. My customers are those who want the same things as me. There may not be so many, but they exist. If I can provide my work to people who are kindred to me, that's enough."
Well, one of those kindred spirits happened to be me. I've been collecting his works for over a decade, and his tableware is not only used frequently on my dining table, but they are also always on display in my living room. Such beautiful pieces should not be stacked or hidden away in cabinets. I showcase them proudly on a shelf where I can enjoy the sight of them every day.
When I sit at my desk, focused on my work for hours on end, I glance at Mitani-san's pieces on my shelf. The uniqueness of the wood grain on their surfaces, the beauty of silhouette in each form, and the singularity of the layered colors in natural light makes me feel encouraged and at peace. It's true that I appreciate well-made things. But there is something special about Mitani-san's work that touches my heart.
Mitani-san once told me, "Soetsu Yanagi said that things made by human hands have a spirit that a machine could never produce, because human hands connect to the mind." I do believe that what gives Mitani-san's work its singular spirit is that connection to his remarkable mind. I hope that you too can feel that spirit. With this wish, I end Mitani-san's story.
Aya Nihei is a Nalata Nalata contributing writer. She is a longtime friend of Ryuji Mitani and an avid collector of his works.
The English translation of this article has been edited by Audrey Kang
All images courtesy of Ryuji Mitani
---
June 9, 2019 by Angelique Chmielewski
Our time with Makoto Koizumi flashed by but was just long enough to create a capsule of warm memories. As many of you may know since we speak of it often, Koizumi-san was one of the first designers we met prior to opening the gallery. Along with many other works by him, we simply fell in love with the Tetu Kettle and observed its evolution through multiple iterations to understand how it was made and why. We have spent more than six years following the designer's career, visiting, admiring, researching, traveling and interviewing him first hand in Tokyo. It goes without saying that the exhibition, Shiro and Shiro, represented not just our inaugural show with the designer, but also an accumulation of stories and experiences we've shared throughout our encounters. It was a wonderful feeling having him on our turf for a week.
We hope you enjoy these images from the exhibition!

Koizumi-san is a designer that works with many different kinds of craftsmen. For instance products in all kinds of materials were curated for the exhibition like tin, glass, wood, ceramic and stainless. When you look at the works as a whole there are details that are still very much the essence of Koizumi-san but you can also see the handwork of all the artisans he partners closely with. This really speaks to his human centric design philosophy of working for the benefit of all the people involved, something he touches upon in his exhibition statement. That shared humanistic approach to business is something we've always liked about the Koizumi studio.

Each exhibition we collaborate on one new product with the artisan or designer but this time around we had a number of collaborative products to unveil on opening night – trays, plates, vases, clipboards and rulers to name a few. All made of indigenous Japanese wood types. Lately we've been in the mindset of sustainability. In many ways, we are trying to revamp our products and services – even the way we ship, to find eco-friendly solutions in recyclable materials. When we learned that one of the makers Koizumi-san works with has accumulated offcuts from their predominant furniture business, we thought it was a great opportunity to give new life to those pieces that would most often pile up and go unused or discarded. In this way, the waste materials are turned into something with a greater purpose.
It was not just the repurposing of materials that we loved but also the excitement of grain selection, especially with Koizumi-san's keen eye in choosing. We were thoroughly impressed while in Japan when Koizumi-san showed us his process of selecting wood grain patterns for his furniture pieces. He personally identifies the best wood grain pattern for each piece by hand drawing silhouettes as cutting guides for the artisans. We felt this acute consideration to detail from a designer when it comes to larger products can also be relevant in smaller objects. Often times within a hardwood panel lies a variety of tones and textures that the final product can look like a different wood species from one piece to the next. This became especially apparent with the Small Wood Plates for example. Similarly, selecting the right wood grain direction and colour for the Wood Trays, allowed us to maintain near limitless inspiration for the products.
On opening night we all united to add final touches to the displays. We prepped our florals – Sweet Alyssums turned out to be proportionally the perfect flowers for the Wood Vases! Ayako Kurokawa of Burrow came early to prep the refreshments and gave us a sampler of what we'd be serving that evening: White Asparagus Open-Face Sandwiches, Corn Macaron with Corn Potage Cream, Coconut Pâte de Fruit Jelly and Snowball Strawberry Shortcake Cookies! As expected, Ayako interpreted the exhibition theme beautifully making each creation uniquely inspired by Shiro and Shiro.

Many wore all white for the opening to celebrate the occasion. It was a lively night with many old and new friends who were able to meet Makoto Koizumi in person. Some even had their products like the Ori Stool autographed by the designer.
There were a variety of product lines on display from furniture to new designs including our collaborative products. The trays and vases were labeled on the bottom with their wood species in Japanese and English. There were over fifteen wood species and we truly enjoyed seeing guests being selective with the wood grains.
The opening was a blur, as were all the attempts for the obligatory team photo on Extra Place alley that night. Although we're missing the team in all our white outfits, I'm happy we managed to take one non-blurry image the next day in daylight with Koizumi-san. When I go back into our archives and find early photos of Steve and I with Makoto Koizumi in Tokyo six years ago, I can't help but feel like we've come full circle. We started the store with Koizumi-san's products and this exhibition was especially fitting because we are soon coming upon our five-year shop anniversary. It's a bit of a milestone mark for us, and one of the reasons we wanted to have an exhibition with Koizumi-san this year in the first place. It has become increasingly apparent at this stage in our company that what we do is above all people oriented and at the end of the day it's fulfilling to showcase the people that help you get to where you are.
That being said, thank you to all the wonderful people who followed our behind the scenes prep and made the trek to the exhibition especially on opening night. Also to everyone who played a role in helping us develop this exhibition – the team at Koizumi Studio, Noriyasu Moritada, Aya Nihei, Audrey Kang, Dani Sujin Lee, Owen Smith-Clark, the team at Studio Newwork, Paul Lewis (for the exhibition playlist), John Medley, the team at Burrow, Armando Rafael Moutela, Stefan Ayon, Joshua Skirtich, Yina Shan, and Ainsley Moy. Thank you!
---
June 8, 2019 by The Team
Shiro and Shiro was our first design-focused exhibition in about a year, and we wanted the soundtrack for opening night to feel current and laid-back, much like the work of Makoto Koizumi. The collection of songs was curated by Paul Lawrence Lewis to echo the design spirit of Koizumi-san, featuring young bands who make traditional elements of music their own. Subtle vocals and mellow percussion create a sense of dreaminess inspired by the soft forms and light tones of the exhibition. Some of the song titles even seem to describe Koizumi-san's work!
Listen to the full-length playlist above, or experience it here.
---
May 13, 2019 by Makoto Koizumi
Makoto Koizumi was born in 1960 and grew up amidst the constant movement of Tokyo. His career in design took root from an interest in woodworking and expanded to architecture, industrial design and interior design as he continually sought to enrich each facet of human life. Now, his creations are revered in Japan for their beautiful usability, emphasis on regional connection, and above all, the genuine heart that can be felt behind the work. With the sensitivity to see the possibilities that lie beyond an established structure and define both what is missing and what is extraneous, Koizumi-san has made his mark across a spectrum of industries. His designs have been hammered into tin, carved in hinoki wood, cast in nambu iron, and woven into cotton cloth. He at once collaborates with specialized individual craftsmen and legendary manufacturers. Designing with a deep comprehension of how each small part exists to form the whole, a single chopstick rest and the framework of an entire building have equal weight in his careful hands. After establishing his own design company Koizumi Studio in 1990, he has since opened a gallery out of a converted shoe factory in East Tokyo. There, Koizumi-san continues his work, drawing from a rich pool of tradition and looking ahead for a changing world. 

We are honoured to present this special guest feature written by Makoto Koizumi, on the occasion of our exhibition Shiro and Shiro.

The entry below was translated from Japanese to English.
In Japan, noncolored things were originally called 素(shiro). Over time, the lack of color, or, more specifically, color without hue became referred to as 白(shiro/white). Beyond simple definitions of colorlessness, 素(shiro) and白(shiro/white) evolved to carry their own significant nuances.
The word 白(white) is used in phrases like 潔白(innocent), 明白(obvious), or 白無垢 (all-white kimonos for wedding ceremonies), to evoke and indicate a subtext of purity. The color white (白/shiro) itself is also very important in Japanese crafts. Many artisans have followed the tradition of attempting to create whiter whites in items like paper or fabric. This importance of white extends to the Japanese national flag, where the blank white space is known to represent sacredness and purity.
On the other hand, 素(shiro) takes on its own significance. When used in phrases like 素直(honest), 質素(simplicity), or 素朴(plain), 素(shiro) embodies something/someone which is natural or unaffected, either in appearance or demeanor. This can be seen in Japanese architecture and tools where specific care is taken to show you that wood, clay, and paper are amazing materials as they naturally are. Through this definition 素(shiro) comes to represent "the state of a material being raw". In addition, 素(shiro) is used to express the shape of tools which are full of necessary functions despite their simple forms. The Japanese have long created and understood such simple/plain tools, making 素(shiro) an essential concept in Japan, and Japanese craftsmanship.
To understand these concepts, and incorporate them into my design process, I have been immersing myself in Japanese craft sites where such distinctive Japanese philosophy was born. I emphasize who I work with over what I should make, seeking out artisans with great skill, understanding of materials and spirit. It's important for me to find and work in environments where artisans can above all be proud of themselves.
Through Japanese craftsmanship, I have encountered artisans who embody and explore these Japanese philosophies, making great use of materials to achieve 白(shiro) and 素(shiro).  
Above all, I hope through this exhibition, you can discover and appreciate 白(shiro) and 素(shiro) in products made by highly skilled Japanese artisans with materials such as wood, bamboo, enamel, ceramic, and glass.
---
May 9, 2019 by Angelique Chmielewski
Our love for Makoto Koizumi comes from a place of respect, a heavy admiration of his works that embody every aspect of what we consider good design. We've been communicating with Koizumi-san since opening the gallery years ago and yet still each conversation with him unravels insights into his large repertoire. Since our exhibition with the designer, Shiro and Shiro, is opening soon on May 17th, we wanted to share images from our latest visit to his East Tokyo based shop and studio.

On this particular visit Koizumi-san was waiting to greet us at the cannot-miss entryway of his building, an old shoe store that he began remodeling close to a decade ago. Many buildings in the neighborhood have been demolished because they were constructed with unendurable materials during the post-war period but Koizumi-san wanted to remodel instead to bring the building up to standards and preserve the history of the district. He utilized unusual materials and focused on sensory and spatial design.
We have fond memories here because the first time we met Koizumi-san to interview him for a backstory, he was in the midst of designing an extension to the building and gave us a tour, revealing old photos of what it looked like before he took possession. Despite the fact that the original Koizumi Studio office is just around the corner from this building, the acquisition of the shoe store was considered as an annex for his growing design team and gave them an opportunity to conceive a shop space on the main floor.
It's been interesting to see how the building has evolved over the years. Every visit there is a new nook or area built, characteristically in line of Koizumi-san and his working style. The interior reminds us of a kindergarten classroom with its scaling ladders, modular furniture, sweeping areas for sprawling out prototypes, and even a napping area covered with tatami mats on the uppermost level!
One aspect we found fascinating about the interior design were the aged elements. Parts of the original building were salvaged and used as structural components of the new build out. Our favourite area is a room full of antique tools that the designer has collected over the years. He wishes his products to have longevity and there is certainly timelessness worth preserving in old tools that offer an endless amount of inspiration.
After Koizumi-san updates us on the new building additions, we sit down to discuss the upcoming exhibition, honing in on materials, collections and overall concept of this particular show. He works in a variety of materials – wood, lacquer, ceramics, paper, glass, enamel, textiles, iron, tin, and bamboo – and prefers to work with smaller scale manufactures. He teams up with Japanese artisans across the country that specialize in a specific material to craft his designs while ensuring that the project is sustainable. What we value most about Koizumi-san is that he never works in a vacuum of his own, but continues traditions by carrying them forward with the modern user in mind. He transfers a similar philosophy to his studio work. Not only does the Koizumi Studio focus on one category, but they think of the wholeness of the human experience and practice what Koizumi-san calls "lifestyle design." From furniture and small household tools to interior design and large hotel buildings, the multidisciplinary designer has had his hands in a sizable amount of projects.

Favoring unique proportions and wonderful intersections of curves and angles, he imbues each design with details that stem from years of developing a signature design language. He has even created tools to solve design problems like a cube consisting of various edge radii and a ring ruler demarked with his trademark arcs. We'll have these at the exhibition to view. Unfortunately they are not for sale but we will have an exclusive collaborative tool we designed with Koizumi-san unveiling on opening night!
We love seeing all of his process sketches and prototypes. He shows us a big box of Minotake models that he's hand cut himself to perfect each form. He laughs when mentioning that there are hundreds of them!

No matter how often I enter the spaces that Koizumi-san has realized, I'm always overwhelmed with inspiration. Much like his personality, the objects he designs tend toward the playful. Above all, they simply put a smile on my face. The rooms full of collected antiques, small wooden chairs, unexpectedly placed found objects, amount to a microcosm full of curiosities, while also revealing – on closer inspection – a sense of childish delight. Hand formed wire sculptures are suspended on walls; while miniature models are laid out sparsely on the floor. Honest, solid materials prevail over complicated elements. The resulting design resounds with joy and confidence.

As I reflect on Makoto Koizumi's body of work, I am reminded of something I often forget when looking at objects that seem deceptively simple and well-designed – that holding something so utile didn't happen magically. Someone has designed it for you, thought of every aspect, all the solutions to a problem, and created a version as close as possible to that thing you need to make life a little bit happier. Designing these beautiful objects that people relate to intuitively, reinforces our humanity.
---