February 6, 2019 by Angelique Chmielewski
For Valentine's Day this year we created a gift guide pairing our items with items sold by some of our favorite downtown shops in New York. We've become friends with most of the shop owners over the years; people who, like us, share a certain obsession for one thing. We are lucky to have gleaned a lot of unique knowledge from them, and wanted to share that knowledge with you all, in the form of a downtown gift guide. We've made a map of all our favorite local places so if you're in lower Manhattan you can easily chart your journey from us to them, and hopefully find yourself a perfectly paired gift for a loved one or explore somewhere special you've never been before. Enjoy!
1. Jicon Octagonal Plates + Mochi Rin Gift Box
Mochi Rin is without a doubt our favorite mochi in the city. It's silky, and squishy, but never too soft. We've had Fujiko cater our events before and are forever grateful to her for sharing such delicious desserts. She makes all of the mochi by hand, filling them with fresh seasonal ingredients which is best enjoyed the day of. Be sure to order in advance as you'll have to pick them up at her and her husband's photo studio in Tribeca. We've eaten a lot of this mochi ourselves, and found it to be most beautifully complimented by the Jicon Octagonal Petal Dish Set.
Shop Dishes ($56) | Explore Mochi Rin (contact for pick up location)
__________
2. Masanobu Ando Flower Teacup and Saucer + Astor Wines & Spirits Hot Toddy Bourbon
It's no secret that February in New York can turn anyone into a homebody. Sometimes instead of trekking through the frigid cold to a speakeasy or cocktail bar it feels so much better to stay in and make a warm drink for you and your partner. The Hot Toddy has become our mainstay for these cozy nights at home. Mixing King's County Straight Bourbon from Astor Wines, a bit of honey, lemon juice, and hot water together in Masanobu Ando's Chrysanthemum Teacups makes for a beautiful and comforting gift. Naturally the teacups are also great for a cup of coffee the next morning. 
Shop Teacups ($105) | Explore Astor Wines & Spirits (399 Lafayette St, New York)
__________
3. Kamawanu Tenugui Cloths + Dashwood Books
Sometimes we find ourselves searching for a gift for a new partner, or friend on Valentine's day, questioning if it's too personal, or not personal enough. Miwa at Dashwood will pile fantastic rare and out of print photo books by photographers like Saul Leiter in front of you, pouring over image after image until you find the one that's just right. Our selection of Tenugui Cloths make for unique—and quick— personal furoshiki wrapping, that can later be used as a bandana or handkerchief!
Shop Tenugui (from $18) | Explore Dashwood Books (33 Bond St A, New York)
__________
4. Nalata Nalata x Pat Kim Mother of Pearl Caviar Scoop + Russ & Daughters Caviar
Occasionally we all need a little bit of luxury. Admittedly, this sentiment lingered longer than it should have for us when we discovered the caviar from Russ & Daughters. We became so hooked on it that we actually designed this Caviar utensil collection with our friend Pat Kim to eat it with. Add some other fantastic treats—we like the candied orange peels— from around the multi-generational specialty food shop and you and your partner are in for delicious indulgence.
Shop Caviar Scoop ($60) | Explore Russ & Daughters (179 E Houston St, New York)
__________
5. Nalata Nalata Wood Cup + Gasoline Alley Coffee Beans
This wooden cup and a bag of Intelligentsia coffee beans from our go-to neighborhood coffee shop, Gasoline Alley Coffee, makes for a beautiful and understated upgrade to anyone's morning routine. Even morning's spent at home will have the distinct feeling and taste of a cup of third wave New York coffee.
Shop Wood Cup ($65) | Explore Gasoline Alley Coffee (325 Lafayette St, New York)
6. Norio Tanno Tea Case + Té Company Tea
We've become obsessed with Té Company over the years. Their West Village storefront is marked only with a small teapot printed on their window. Inside is an extensive selection of tea, and incredibly knowledgeable staff. We discovered the Oriental Beauty Tea there, and cannot recommend it more.
Shop Tea Case (from $510) | Explore Té Company (163 W 10th St, New York)
7. Uchino Air Waffle Bathrobe + Great Jones Spa Gift Certificate
Great Jones Spa offers for natural and invigorating full body, and facial treatments. Their body scrubs are a fantastic gift for your partner and will leave their skin feeling silky smooth. The Air Waffle Bathrobe from Uchino is light and cozy, and a great way to extend the relaxation of the spa a little further into your partner's life.
Shop Bathrobe ($260) | Explore Great Jones Spa (29 Great Jones St, New York)
8. Shotoku Usuhari Glass Sake Set + Sakaya Sake 
Our friends Hiroko and Rick at Sakaya have something perfect for everyone. Whether a long-time connoisseur or new enthusiast of sake they'll guide you towards a perfect match for your partner's palate.
Shop Sake Set ($100) | Explore Sakaya (324 E 9th St, New York)
9. Nalata Nalata x John Medley Shaker Box + Stick With Me Caramels
The sweets from Stick With Me have become a bit of a classic for us. They're known for their hand painted bon bons but we're also a fan of their caramels. They're undoubtedly delicious and not overwhelmingly sweet. This gets a little dangerous for anyone with a sweet tooth, but we think they're well worth it. They pair beautifully with our Maple Wood Shaker Boxes which can be used and treasured long after the caramels run out.
Shop Shaker Box (from $130) | Explore Stick With Me (202A Mott St, New York)
10. Kohchosai Kosuga Mayu Bamboo Flower Basket + Adore Floral Bouquet
We've been fans of Adore ever since we first walked in. Their flowers are so vibrant and their staff so knowledgable that waking out with anything is a sure fire hit. We've started getting their bouquets arranged in Mayu Flower Baskets and can't recommend the combination enough. The basket's woven frame bring an extra element of texture to any arrangement, and can help elevate even a few stems to a new level of beauty. If you really want to go all out, and your partner is flower obsessed, a class with Junko at Ikebana Evolved is a great way to dive even deeper into flower arranging.
Shop Flower Basket (from $110) | Explore Adore Floral (357 Lafayette St, New York)
Photography | Owen Smith-Clark
Map Illustration | Derek Zheng
Special thanks to | Mochi Rin, Astor Wines & Spirits, Dashwood Books, Russ & Daughters, Gasoline Alley Coffee, Té Company, Great Jones Spa, Sakaya, Stick With Me and Adore Floral
---
January 16, 2019 by Stevenson Aung
Whenever we get the rare delivery of wooden objects from Norio Tanno, we remember exactly why we go through great lengths to procure the finest handcrafted items we can get our hands on. We take stock on the pieces and then spend a good amount of time staring at the mesmerizing details. Each piece is simply perfect. The joinery techniques, beautifully executed on a small scale like that of a business card case, are impressive with their high degree of intricacy. Opening and closing the works, as mundane as it sounds, offers immense satisfaction!
Although we try to describe products in detail, sometimes it's hard to convey when a piece has multiple layers and requires interaction to discover individual components. The tea cases are full of these kinds of hidden details. To get the full effect you'll need to see them in person but here are some close up shots and a quick video of the sophisticated woodworking techniques found in the rosewood tea case.
Each tea case is made by hand by Norio Tanno. They feature an inner hexagonal container, gentle beveled edges, multiple wood species, inlaying, matching grains, dovetail joinery, a foldable scoop and finely carved surfaces. All this is made entirely of wood. The best part is how the inner container where loose leaf tea is stored, is crafted to smoothly descend into the outer case without force. It feels almost mechanical as you watch it glide to a final resting position but it's nothing more than gravity! The only way to really describe the precision is through this 3 second video of pure magic.

The collection is made of a variety of uncommon wood types in limited editions.
View the full collection here.
---
January 5, 2019 by Angelique Chmielewski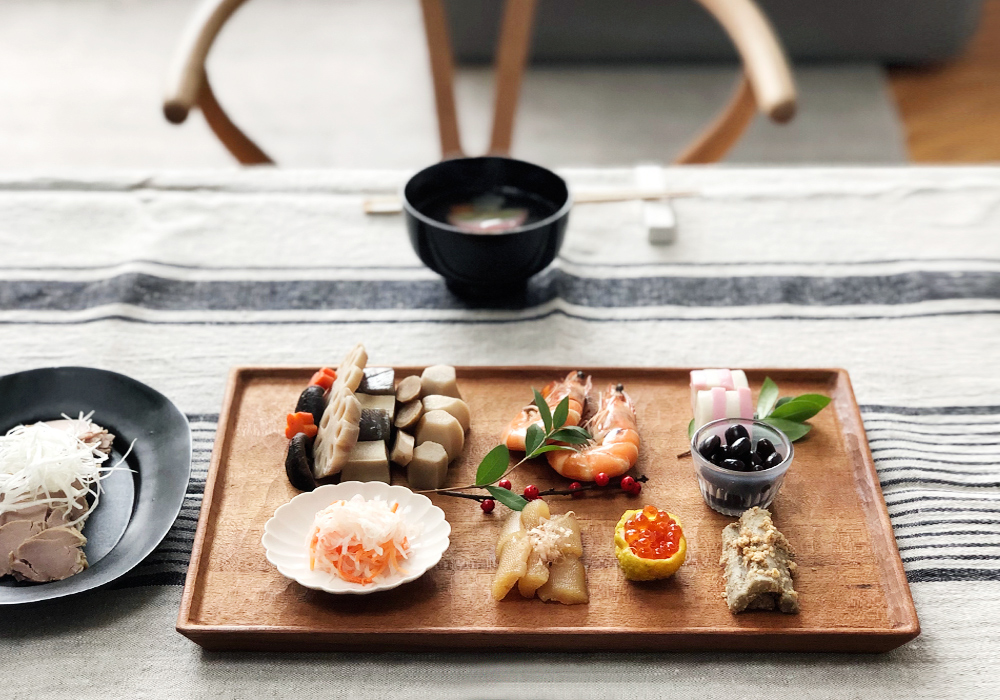 Our year started off with new adventures into the Japanese culinary world and we couldn't have had the opportunity without the hospitality of our good friend, Aya Nihei, who prepared a beautiful osechi meal to ring in the year. For those unfamiliar, osechi is a Japanese meal said to bring good fortunes for the year ahead. The meal is comprised of a variety of small dishes each with their own meaning. The dishes are traditionally prepared in tiered ju-bako boxes or in an arrangement of small bean dishes. We were enthralled by the experience and wanted to share what we've learned. 
Below you can find an illustrated anatomy of a Japanese osechi meal based on some of the more common dishes.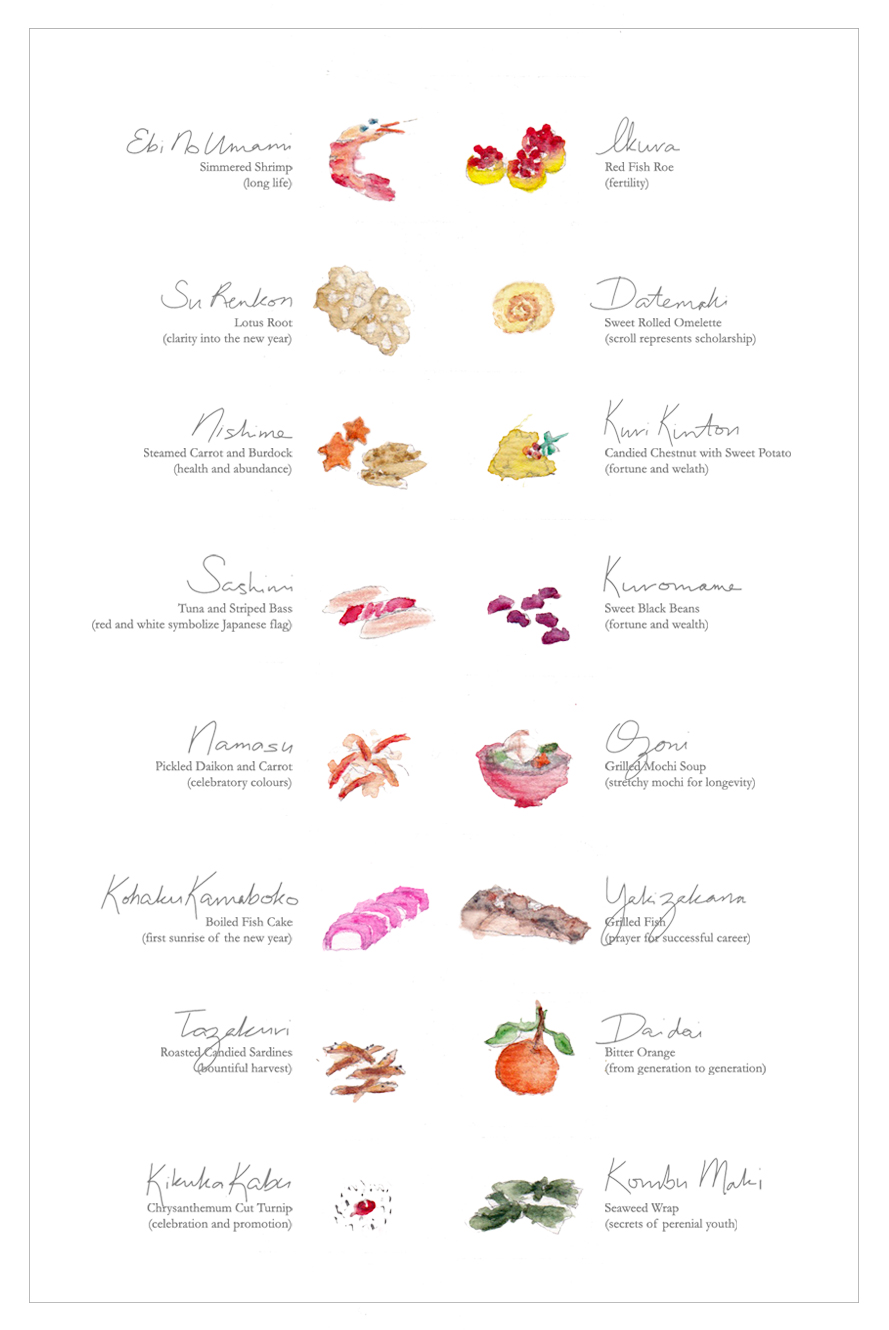 The appearance of the food usually corresponds to the associated wish. Our favourite, for example, is Ebi No Umami, steamed shrimp to represent longevity as the curled back and long antennae resemble a bearded old man. The cutouts in lotus root slices, Su Renkon, offer clarity into the New Year. Nishime, boiled vegetables usually consisting of carrots and burdock provide nutrients and good health. The color of red and white Sashimi fish look like the Japanese flag, much in the way that Namasu, pickled daikon and carrot, are like brightly coloured celebratory strips of confetti. Kohaku Kamaboko are elliptical fish cakes cut in half that look like a sunrise on the horizon. A dried sardine dish, known as Tazukuri, symbolizes abundant harvest because the fish were once sprinkled on to rice paddies as fertilizer. When a turnip is intricately cut into the shape of a chrysanthemum, the imperial seal of Japan, it is called Kikuka Kabu, symbolic of joyous occasions such as promotions. Clusters of red fish roe, or Ikura, epitomize fertility. Datemaki, rolled omelette is said to represent scholarship and learning as it looks like a scroll. Kuri Kinton, a mashed bright yellow sweet chestnut dish, directly translates to "golden dumpling made of chestnuts." The dish is plated in a heap that reminds many of a pile of gold signifying wealth and prosperity. Kuromame sweet beans derives from the word 'mame' that means hard work, leading to fortune and wealth. The stretch factor of grilled mochi in Ozoni soup, means longevity and a Yakizakana grilled fish, regardless of the type, is eaten as a prayer for a successful career. The word Daidai, a bitter citrus, means 'from generation to generation', and is a wish for children to pass on our traditions. Lastly, Kombu Maki, beautifully wrapped seaweed, evolves from the root word 'yorokobu', meaning 'happiness', which for all one knows, may very well be the secret to eternal youthfulness.
With that, we call upon all the Kombu Maki Gods so that no matter how many calendar years go by, we remain full of happiness… Happy New Year, everyone!
Photograph | Aya Nihei
Illustrations | Angélique Chmielewski
---
December 15, 2018 by Angelique Chmielewski
When we first moved to New York as students, somehow managing to find an apartment in the East Village, we quickly began to notice how the pace of the city affected every part of our natural routines. We were eating out more, and much more quickly than we did in Alberta, weaving our way through the seemingly infinite corridors of downtown restaurants. The affect the city had on how we would eat, while still remarkable, was somewhat predictable. However, the ritual we became most fascinated by, and perhaps the most indicative of The City itself was our morning coffee.
When we arrived we knew nothing of New York coffee culture. Our exposure to coffee in Canada had been ordering a Tim Horton's Double-Double back in university. Two creams, two sugars. We found ourselves becoming obsessive about coffee. So much so that when our friends and family came to visit they would inevitably comment on this routine as cultural proof that we had adopted New York's customs.
Years later, in 2015, we opened our storefront a block away from our first apartment in the city. That building had been torn down and replaced with luxury condos, much as these things go in The City. But our obsession with coffee remained. Gasoline Alley Coffee, a small coffee shop between Lafayette and Mulberry with no seats that isn't much more than a passage through a narrow block with an espresso counter became the administrator of our AM—and often PM— fix. Their specific eight ounce cup began to feel so familiar in our hands that when we would make coffee ourselves at home we wouldn't feel nearly as satisfied. That's when everything clicked.
We had always wondered why the classic "We Are Happy To Serve You" blue and white Greek coffee cup became synonymous with the image of New York. It wasn't simple nostalgia. It was something much deeper. That cup was a cultural artifact, something that would always feel familiar to anyone who had lived through a specific era of The City. We had seen it reinterpreted by artists and designers over and over again, and only now did we realize it's significance. The New York Coffee Cup was an inconspicuous signifier of one having crossed over to life in The City.
At the time of this realization we had been working with wood turning artisans in Japan. They specialized in turning mugs, cups and vessels, carved from single pieces of wood. We approached them about creating a perfect wooden analogue of our favorite paper coffee cup. They welcomed the challenge of producing such a deceptively complex form.
We went back and forth with numerous iterations, getting the walls of the cup even thinner, refining the rolled rim to the exact thickness that had become familiar on our lips, carving out the bottom a few millimeters to match the base of the original. We debated finishes and sheens; arriving at a subtle protective coating that won't stain from daily use. The end result is so uncanny that it even feels like the paper original in your hands, making a similar sound as you rotate it between your fingers.
It's difficult to comprehend that both objects started as the same natural material. One came to existence through industrial production; the other through artisanal mastery and craft. However, the wooden interpretation has a liminal aura to it. It doesn't lose any of the cultural familiarity of the disposable New York coffee cup. In fact it does the opposite. It captures the exact feeling of holding a paper cup in your hands, with one difference: it pushes back at you. When you squeeze it, it doesn't break or crumple, it bounces back and responds, just as wood does when you work with it. The wooden cup has its own lasting personality that will both be forever evocative of this moment in New York's daily cultural history, while also expressing its own as it travels through its long life with each specific owner.
We are proud to share this object to the world, and hope it will become a lasting artifact, evolving beyond our own journey through the landscapes of New York, and Japanese craft.
Wood Cup available here.
Videography: Owen Smith-Clark
---
October 20, 2018 by Stevenson Aung
Exhibitions, like our most recent, Forging Shadows, are an intersection of an artisan's career work and a curator's point of view. Each artisan's breath of work is so large and varied that a variety of exhibitions can be created with an artist. As curators it is important to be able to communicate why we make the decisions we make to best represent the collection and concept.
Takayoshi Narita's collection is composed of two materials – wrought-iron which is matte black in color, and stainless steel, which is matte silver in color. Displaying his wares and preparing for the exhibition proved to be both challenging and enjoyable. The challenge was to represent a wide enough range of items in our gallery, in solely two materials. Typically, our artists create works in one specific genre, like flatware or teaware. But Narita-san creates cookware, tableware, flatware, display items and hardware. To be able to give each group the attention it deserves, but also create a cohesive exhibition was at the forefront of our thoughts. We chose to switch our fixtures to a long, low center table to focus on all the specialty cookware selected for the exhibition, flanked by his tableware on our shelves in purely black and purely silver areas. The flatware was styled with the tableware pieces, sometimes in a contrasting manner with quiet flower vases hanging, and positioned throughout the exhibition. We thought the dynamics of the presentation would prove to be both informative and best represent his works.
Color and materials aside, what struck us immediately about Narita-san's works was the texture created by the continual heating and hammering of his metal pieces. We curated incredibly simple forms because we felt the dominant focus should be on these unique textures and we chose not to select pieces with elaborate edges or decorative elements for this reason.
Each exhibition takes a long time to coordinate because typically a solo artisan is crafting the pieces individually. Often they are making works right up until their flight to New York. The day of the opening reception is always relieving as it feels like the culmination of months of work and preparation for both the artisan and us. As tradition goes, the artisan usually comes the morning of the opening to look over the way the exhibition has been installed. We were delighted to find out that Narita-san said it was the best display of his collection he has ever seen. 
We felt a video would best showcase the process from our point of view. Here is a glimpse into the final touches of the exhibition installation leading up to when the first guests arrived on opening night.
Videography: Owen Smith-Clark
---
October 20, 2018 by Angelique Chmielewski
We had a great time during last week's Forging Shadows exhibition. Although Takayoshi Narita works in only two materials, stainless steel and wrought-iron, the textures on his works are so compelling and full of character it makes installation of the show a blast because of it. It was the first time seeing the store in all metal works. A glimpse into the installation process can be seen in this video.

When setup is complete, we always take photos of the works on display before the opening night while everything is still intact. Often it feels like the last chance we'll get to hold some of the pieces. That is especially true for this exhibition as the textures on the metal surfaces were so unique they looked vastly different from one to another. It was easy to get attached to specific ones for that reason.

The iron bowls with a blue toned urushi lacquer were the pieces most of us became attached to. The finish is created with urushi blended with bengara, a red powder pigment that when fired oxidizes to a dark navy tone. Such showstoppers, but they are going to a good home!
Narita-san's treatment on the stainless steel works are like none other we've seen. The matte, textured surfaces are achieved through hand hammering, heating and cooling, multiple times in quick succession. There is no powder coating or additional finish – very different to the polished, mirrored stainless steel we are accustomed to.
The concept behind the collaboration piece for this exhibition was about highlighting the incredible textures that Narita-san is able to achieve. We created cutlery boxes because the long uninterrupted planes showcase that effect perfectly. Two types were created – a wrought-iron cutlery box and a stainless steel cutlery box.
Some friends and family showed up early on opening night to help out. Ayako and Wataru came straight from Burrow with freshly baked bites inspired by Narita-san's frying pans – 'Sunny Side Egg Cookies' with coconut cream and mango pâte de fruit ,'Bite Sized Quiche' with caramelized onion and gruyere and 'Caviar Pancakes' with buckwheat and sour cream!
We chose to display a selection of cookware on a center table where you can really get a sense of the variety of specialty pans the artisan creates from tamagoyaki pans and sauté pans to oval lidded pans and two-handled woks.
We've been frequently using the pan Narita-san made us during our studio visit and its truly remarkable how thoughtfully designed and well crafted they are. The rivets on the frying pan that attaches the handle to the basin absorb the heat so the majority of heat doesn't transfer up the handle. More importantly it's simply a better cooking experience! Food tastes better due to the even heat distribution and high iron content, and the pans are so lightweight. It was nice seeing people come multiple times throughout the week who had made similar observations after using their pan for the first time.

If you follow our Journal, you knew this photo was coming. It's not an exhibition opening without the obligatory team photo on Extra Place alley! This time we have so many wonderful people to thank – especially Aya Nihei for her help with coordination, Owen Smith-Clark for videography and installation, the team at Studio Newwork for their beautiful print materials, Paul Lewis for the exhibition playlist, John Medley for the fixture build out, the team at Burrow for catering, Armando Rafael Moutela on product photography and Hazuki Uno for Care Manual illustrations. Also special thanks to Joshua Skirtich, Yina Shan, Daniel Chmielewski, Stefan Ayon, and Nau Kim for their assistance on opening night.
---
October 20, 2018 by Stevenson Aung
Music has always been a part of our exhibitions as sound can set the tone for an event as much as any other sense. When we experienced Takayoshi Narita's making process during our studio visit, we couldn't help but remember the sounds that filled the metal workshop as he hammered a pan into shape. Paul Lawrence Lewis curated the tracks for our exhibition, focusing on balancing heavy hitting percussions with rigid vocals, sharp notes and smooth melodies that mimic the production process of the metal works.
Listen to the full-length version above or find the playlist here.
---
September 19, 2018 by Angelique Chmielewski
We have an exhibition coming up with Takayoshi Narita of Studio Tint – a rare kind of artisan, his mastery in wrought-iron is practically a dying art. For this reason we are incredibly excited to be hosting Narita-san and bringing his works to New York. Even more excited to be sharing his process that we had the pleasure of taking in during a visit to his studio in the town of Minakami in Japan.
On this particular visit, Narita-san picks us up from the Jomō-Kogen train station dressed liked he just stepped out of the workshop. Every article represents his craft, and his devotion to it, like a true shokunin, master of his profession.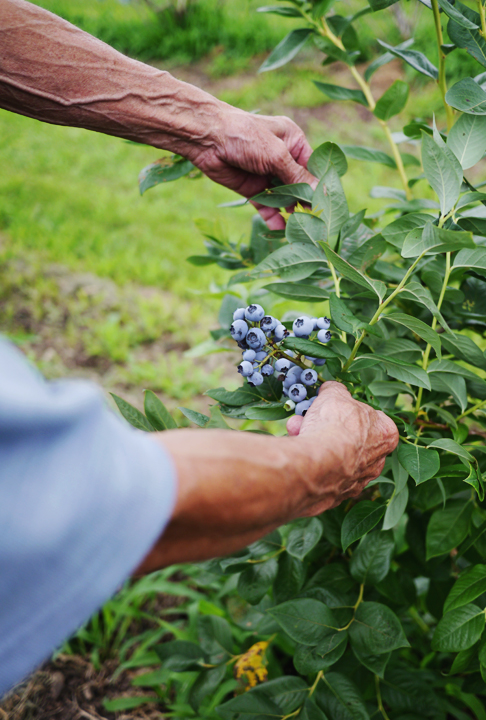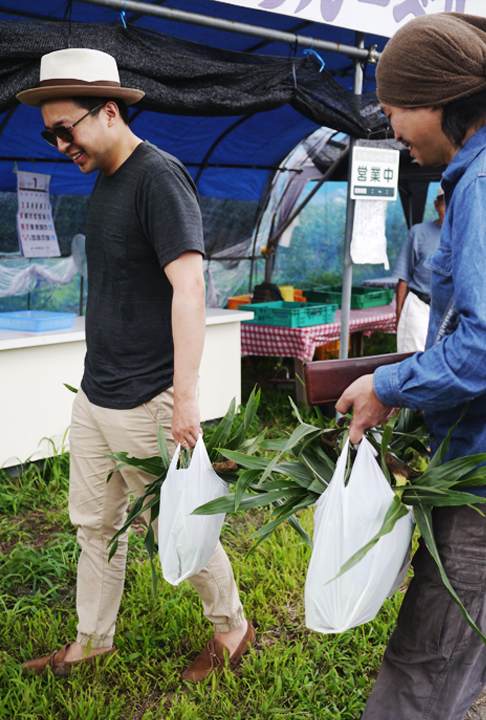 We were being invited to step into his world for a day and part of his daily routine is a stop at the local fruit and vegetable farm. This season the bounty is blueberries and corn!

Another stop on the path to his studio is a restaurant and shop called Macchie where Narita-san is a regular for lunch. The place is in a neighboring village called Takumi no Sato.
Macchie offers a beautiful selection of books and matchboxes for purchase and serves dishes on Studio Tint pieces. Narita-san built some of the furniture in the restaurant area including a custom iron fireplace.
After lunch we head to his workshop, which is hard to miss because the heavy iron door is clearly made by Narita-san. He started the studio around 20 years ago in this lush green area to be surrounded by fresh air, counter balancing the sooty nature of metalworking. When we step into the space it becomes apparent how physically intensive the craft is. The tools needed like piles of metal rods, anvils and hammers are hefty and hot air from the coal furnace immediately hits us in the face.

Between blueberry snacking and a tamago egg frying lunch break, Narita-san shows us the fabrication steps from start to finish of a single small frying pan. All the components of the piece are handcrafted so he can only make a maximum of around two per day. He demonstrates how he heat shapes and hammers the surfaces to achieve a unique texture that absorbs light and creates beautiful shadows. He also explains how he transforms the solid rod iron into cooking grade ironware, which requires continuous hand hammering and firing until the final shape is the appropriate thickness to evenly disperse high heat from a stovetop. Being quick is key to the process making it difficult to capture his movements on camera.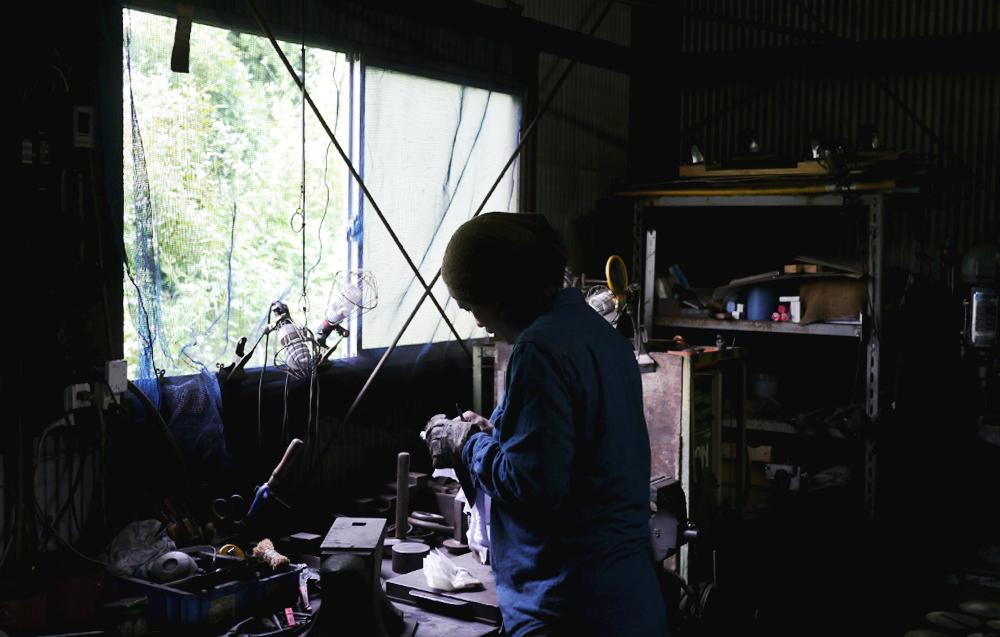 Wrought-iron is no longer produced on a commercial scale so Narita-san's operation doesn't need to be large. In fact, he produces every part by himself. Even the rivets used to attach the handle. The pieces are measured and inspected for accuracy and he is able to personally control quality.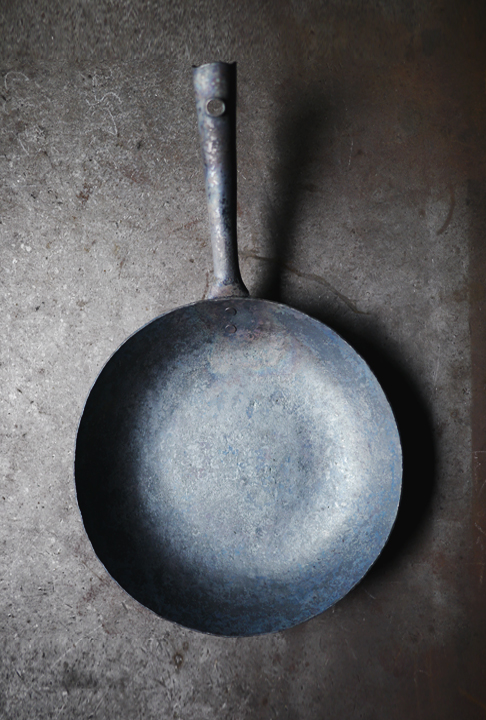 Above all, the works reveal the hand of the craftsmen, conveying a texture that cannot be commercially manufactured. A texture that is one-of-a-kind, and they all have their own personality. For us, the great handcrafted objects express feeling. When we hold them in our hands they transfer the core of the maker. It's hard to make a basic everyday object such as a frying pan into a beautiful treasured item but Narita-san is skilled at doing so. Sacrificing neither, functionality and aesthetics are perfectly balanced in his works.
At the end of the demonstration Narita-san surprised us by gifting us the pan we witnessed him make. We knew this pan was going to be with us for generations. It meant so much. Like the first pan purchase for a college freshman, it felt like a pivotal moment but this time we were graduating to an advanced grade of cookware. After living with the pan we've grown to love cooking even the simplest of things, like a fried egg, with wrought-iron. There is nothing like the durability and cooking properties of this material and no pan with proportions and a hand-hammered surface as beautiful. We proudly display our Studio Tint pan on an S-hook after each use, the only pan in our kitchen with a story that deserves recognition by all who enter our home.
---
August 17, 2018 by Angelique Chmielewski


We wanted to share this video produced by Kamawanu about the making of their tenugui cloths. Since their inception in 1987, the company has been practicing the art of chusen dyeing, a dyeing process that allows for delicate patterns to be replicated with vivid texture and color on both sides of the cloth. The labour-intensive process is depicted beautifully in this video, revealing the surprising amount of steps that go into each hand-dyed cloth.
The Kamawanu tenugui collection can be viewed here.
---
July 16, 2018 by Owen Smith-Clark


The sense of smell can be particularly evocative of memory and place. In any metropolis, cultivating a distinct mental space through scent often becomes its personal and necessary ritual. Coming home, and coloring the air with a mild but recognizable aroma can help transition one's mind from the city's unpredictable sea of stories to the familiar and constant narrative of one's own life. Over time, this smell can grow in one's memory to signify home.
Like getting dressed, or decorating a home, burning incense almost involuntarily becomes a kind of self-portrait. The simplicity of the act itself allows for innumerable variations. Naturally, one's own ritual comes to reflect their lifestyle.

As incense burns, and its smell steeps in the air, one becomes aware of the passing of time. Thin ribbons of smoke sway through a room, making an invisible imprint both on the space, and one's memory of it. The home is no longer a solid, linear, bound location but an emotional recollection, full of sensory memories blending together.
Videography: Owen Smith-Clark
View the products here.
---