June 9, 2019 by Angelique Chmielewski
Our time with Makoto Koizumi flashed by but was just long enough to create a capsule of warm memories. As many of you may know since we speak of it often, Koizumi-san was one of the first designers we met prior to opening the gallery. Along with many other works by him, we simply fell in love with the Tetu Kettle and observed its evolution through multiple iterations to understand how it was made and why. We have spent more than six years following the designer's career, visiting, admiring, researching, traveling and interviewing him first hand in Tokyo. It goes without saying that the exhibition, Shiro and Shiro, represented not just our inaugural show with the designer, but also an accumulation of stories and experiences we've shared throughout our encounters. It was a wonderful feeling having him on our turf for a week.
We hope you enjoy these images from the exhibition!

Koizumi-san is a designer that works with many different kinds of craftsmen. For instance products in all kinds of materials were curated for the exhibition like tin, glass, wood, ceramic and stainless. When you look at the works as a whole there are details that are still very much the essence of Koizumi-san but you can also see the handwork of all the artisans he partners closely with. This really speaks to his human centric design philosophy of working for the benefit of all the people involved, something he touches upon in his exhibition statement. That shared humanistic approach to business is something we've always liked about the Koizumi studio.

Each exhibition we collaborate on one new product with the artisan or designer but this time around we had a number of collaborative products to unveil on opening night – trays, plates, vases, clipboards and rulers to name a few. All made of indigenous Japanese wood types. Lately we've been in the mindset of sustainability. In many ways, we are trying to revamp our products and services – even the way we ship, to find eco-friendly solutions in recyclable materials. When we learned that one of the makers Koizumi-san works with has accumulated offcuts from their predominant furniture business, we thought it was a great opportunity to give new life to those pieces that would most often pile up and go unused or discarded. In this way, the waste materials are turned into something with a greater purpose.
It was not just the repurposing of materials that we loved but also the excitement of grain selection, especially with Koizumi-san's keen eye in choosing. We were thoroughly impressed while in Japan when Koizumi-san showed us his process of selecting wood grain patterns for his furniture pieces. He personally identifies the best wood grain pattern for each piece by hand drawing silhouettes as cutting guides for the artisans. We felt this acute consideration to detail from a designer when it comes to larger products can also be relevant in smaller objects. Often times within a hardwood panel lies a variety of tones and textures that the final product can look like a different wood species from one piece to the next. This became especially apparent with the Small Wood Plates for example. Similarly, selecting the right wood grain direction and colour for the Wood Trays, allowed us to maintain near limitless inspiration for the products.
On opening night we all united to add final touches to the displays. We prepped our florals – Sweet Alyssums turned out to be proportionally the perfect flowers for the Wood Vases! Ayako Kurokawa of Burrow came early to prep the refreshments and gave us a sampler of what we'd be serving that evening: White Asparagus Open-Face Sandwiches, Corn Macaron with Corn Potage Cream, Coconut Pâte de Fruit Jelly and Snowball Strawberry Shortcake Cookies! As expected, Ayako interpreted the exhibition theme beautifully making each creation uniquely inspired by Shiro and Shiro.

Many wore all white for the opening to celebrate the occasion. It was a lively night with many old and new friends who were able to meet Makoto Koizumi in person. Some even had their products like the Ori Stool autographed by the designer.
There were a variety of product lines on display from furniture to new designs including our collaborative products. The trays and vases were labeled on the bottom with their wood species in Japanese and English. There were over fifteen wood species and we truly enjoyed seeing guests being selective with the wood grains.
The opening was a blur, as were all the attempts for the obligatory team photo on Extra Place alley that night. Although we're missing the team in all our white outfits, I'm happy we managed to take one non-blurry image the next day in daylight with Koizumi-san. When I go back into our archives and find early photos of Steve and I with Makoto Koizumi in Tokyo six years ago, I can't help but feel like we've come full circle. We started the store with Koizumi-san's products and this exhibition was especially fitting because we are soon coming upon our five-year shop anniversary. It's a bit of a milestone mark for us, and one of the reasons we wanted to have an exhibition with Koizumi-san this year in the first place. It has become increasingly apparent at this stage in our company that what we do is above all people oriented and at the end of the day it's fulfilling to showcase the people that help you get to where you are.
That being said, thank you to all the wonderful people who followed our behind the scenes prep and made the trek to the exhibition especially on opening night. Also to everyone who played a role in helping us develop this exhibition – the team at Koizumi Studio, Noriyasu Moritada, Aya Nihei, Audrey Kang, Dani Sujin Lee, Owen Smith-Clark, the team at Studio Newwork, Paul Lewis (for the exhibition playlist), John Medley, the team at Burrow, Armando Rafael Moutela, Stefan Ayon, Joshua Skirtich, Yina Shan, and Ainsley Moy. Thank you!
---
June 8, 2019 by The Team
Shiro and Shiro was our first design-focused exhibition in about a year, and we wanted the soundtrack for opening night to feel current and laid-back, much like the work of Makoto Koizumi. The collection of songs was curated by Paul Lawrence Lewis to echo the design spirit of Koizumi-san, featuring young bands who make traditional elements of music their own. Subtle vocals and mellow percussion create a sense of dreaminess inspired by the soft forms and light tones of the exhibition. Some of the song titles even seem to describe Koizumi-san's work!
Listen to the full-length playlist above, or experience it here.
---
May 13, 2019 by Makoto Koizumi
Makoto Koizumi was born in 1960 and grew up amidst the constant movement of Tokyo. His career in design took root from an interest in woodworking and expanded to architecture, industrial design and interior design as he continually sought to enrich each facet of human life. Now, his creations are revered in Japan for their beautiful usability, emphasis on regional connection, and above all, the genuine heart that can be felt behind the work. With the sensitivity to see the possibilities that lie beyond an established structure and define both what is missing and what is extraneous, Koizumi-san has made his mark across a spectrum of industries. His designs have been hammered into tin, carved in hinoki wood, cast in nambu iron, and woven into cotton cloth. He at once collaborates with specialized individual craftsmen and legendary manufacturers. Designing with a deep comprehension of how each small part exists to form the whole, a single chopstick rest and the framework of an entire building have equal weight in his careful hands. After establishing his own design company Koizumi Studio in 1990, he has since opened a gallery out of a converted shoe factory in East Tokyo. There, Koizumi-san continues his work, drawing from a rich pool of tradition and looking ahead for a changing world. 

We are honoured to present this special guest feature written by Makoto Koizumi, on the occasion of our exhibition Shiro and Shiro.

The entry below was translated from Japanese to English.
In Japan, noncolored things were originally called 素(shiro). Over time, the lack of color, or, more specifically, color without hue became referred to as 白(shiro/white). Beyond simple definitions of colorlessness, 素(shiro) and白(shiro/white) evolved to carry their own significant nuances.
The word 白(white) is used in phrases like 潔白(innocent), 明白(obvious), or 白無垢 (all-white kimonos for wedding ceremonies), to evoke and indicate a subtext of purity. The color white (白/shiro) itself is also very important in Japanese crafts. Many artisans have followed the tradition of attempting to create whiter whites in items like paper or fabric. This importance of white extends to the Japanese national flag, where the blank white space is known to represent sacredness and purity.
On the other hand, 素(shiro) takes on its own significance. When used in phrases like 素直(honest), 質素(simplicity), or 素朴(plain), 素(shiro) embodies something/someone which is natural or unaffected, either in appearance or demeanor. This can be seen in Japanese architecture and tools where specific care is taken to show you that wood, clay, and paper are amazing materials as they naturally are. Through this definition 素(shiro) comes to represent "the state of a material being raw". In addition, 素(shiro) is used to express the shape of tools which are full of necessary functions despite their simple forms. The Japanese have long created and understood such simple/plain tools, making 素(shiro) an essential concept in Japan, and Japanese craftsmanship.
To understand these concepts, and incorporate them into my design process, I have been immersing myself in Japanese craft sites where such distinctive Japanese philosophy was born. I emphasize who I work with over what I should make, seeking out artisans with great skill, understanding of materials and spirit. It's important for me to find and work in environments where artisans can above all be proud of themselves.
Through Japanese craftsmanship, I have encountered artisans who embody and explore these Japanese philosophies, making great use of materials to achieve 白(shiro) and 素(shiro).  
Above all, I hope through this exhibition, you can discover and appreciate 白(shiro) and 素(shiro) in products made by highly skilled Japanese artisans with materials such as wood, bamboo, enamel, ceramic, and glass.
---
May 9, 2019 by Angelique Chmielewski
Our love for Makoto Koizumi comes from a place of respect, a heavy admiration of his works that embody every aspect of what we consider good design. We've been communicating with Koizumi-san since opening the gallery years ago and yet still each conversation with him unravels insights into his large repertoire. Since our exhibition with the designer, Shiro and Shiro, is opening soon on May 17th, we wanted to share images from our latest visit to his East Tokyo based shop and studio.

On this particular visit Koizumi-san was waiting to greet us at the cannot-miss entryway of his building, an old shoe store that he began remodeling close to a decade ago. Many buildings in the neighborhood have been demolished because they were constructed with unendurable materials during the post-war period but Koizumi-san wanted to remodel instead to bring the building up to standards and preserve the history of the district. He utilized unusual materials and focused on sensory and spatial design.
We have fond memories here because the first time we met Koizumi-san to interview him for a backstory, he was in the midst of designing an extension to the building and gave us a tour, revealing old photos of what it looked like before he took possession. Despite the fact that the original Koizumi Studio office is just around the corner from this building, the acquisition of the shoe store was considered as an annex for his growing design team and gave them an opportunity to conceive a shop space on the main floor.
It's been interesting to see how the building has evolved over the years. Every visit there is a new nook or area built, characteristically in line of Koizumi-san and his working style. The interior reminds us of a kindergarten classroom with its scaling ladders, modular furniture, sweeping areas for sprawling out prototypes, and even a napping area covered with tatami mats on the uppermost level!
One aspect we found fascinating about the interior design were the aged elements. Parts of the original building were salvaged and used as structural components of the new build out. Our favourite area is a room full of antique tools that the designer has collected over the years. He wishes his products to have longevity and there is certainly timelessness worth preserving in old tools that offer an endless amount of inspiration.
After Koizumi-san updates us on the new building additions, we sit down to discuss the upcoming exhibition, honing in on materials, collections and overall concept of this particular show. He works in a variety of materials – wood, lacquer, ceramics, paper, glass, enamel, textiles, iron, tin, and bamboo – and prefers to work with smaller scale manufactures. He teams up with Japanese artisans across the country that specialize in a specific material to craft his designs while ensuring that the project is sustainable. What we value most about Koizumi-san is that he never works in a vacuum of his own, but continues traditions by carrying them forward with the modern user in mind. He transfers a similar philosophy to his studio work. Not only does the Koizumi Studio focus on one category, but they think of the wholeness of the human experience and practice what Koizumi-san calls "lifestyle design." From furniture and small household tools to interior design and large hotel buildings, the multidisciplinary designer has had his hands in a sizable amount of projects.

Favoring unique proportions and wonderful intersections of curves and angles, he imbues each design with details that stem from years of developing a signature design language. He has even created tools to solve design problems like a cube consisting of various edge radii and a ring ruler demarked with his trademark arcs. We'll have these at the exhibition to view. Unfortunately they are not for sale but we will have an exclusive collaborative tool we designed with Koizumi-san unveiling on opening night!
We love seeing all of his process sketches and prototypes. He shows us a big box of Minotake models that he's hand cut himself to perfect each form. He laughs when mentioning that there are hundreds of them!

No matter how often I enter the spaces that Koizumi-san has realized, I'm always overwhelmed with inspiration. Much like his personality, the objects he designs tend toward the playful. Above all, they simply put a smile on my face. The rooms full of collected antiques, small wooden chairs, unexpectedly placed found objects, amount to a microcosm full of curiosities, while also revealing – on closer inspection – a sense of childish delight. Hand formed wire sculptures are suspended on walls; while miniature models are laid out sparsely on the floor. Honest, solid materials prevail over complicated elements. The resulting design resounds with joy and confidence.

As I reflect on Makoto Koizumi's body of work, I am reminded of something I often forget when looking at objects that seem deceptively simple and well-designed – that holding something so utile didn't happen magically. Someone has designed it for you, thought of every aspect, all the solutions to a problem, and created a version as close as possible to that thing you need to make life a little bit happier. Designing these beautiful objects that people relate to intuitively, reinforces our humanity.
---
April 25, 2019 by The Team
We often get asked about lesser known activities to do in Japan. The list is never-ending, but we thought this trip to an unusual museum, Takao 599 Museum, in the purlieus of Mount Takao made a wonderful day trip out of the bustle of Tokyo. Take the train from Shinjuku Station, and within an hour, you'll arrive at the foot of the lushly wooded mountain.
Mount Takao, or Takaosan in Japanese, doesn't stand particularly high at 599 meters, but the mountain is rich in natural beauty. There's plenty to see and do, including a Buddhist Temple and numerous hiking trails to the top. We suggest taking the funicular as an exciting way to experience the scenery.
Near the funicular station at the top, there is an observation deck with an expansive view over the dense sprawl of Tokyo. From this perspective, the metropolis feels like another world, mysterious and seemingly infinite.
After you've taken in your fill of the view, make your way on foot back down the mountain to discover all of the flora and fauna that make Takaosan their home. There are different trails you can take on the descent, but each one has its own surprises. You might walk among ancient cedars with textured, sculptural trunks, be greeted by over 70 species of birds flitting through the branches above you, or cross paths with a formidable dōsojin wearing an offering of a bright red knitted hat. These shrines or statues are scattered upon the mountain to guard against evil spirits.
At the base of the mountain, the exploration continues at Takao 599 Museum. This museum showcases the natural environment of Mount Takao with its incredible diversity of plant and animal life. There's a wealth of knowledge to be gained, but the exhibitions are also strikingly beautiful.
In the main exhibition hall, plant and insect specimens float in crystalline cubes of acrylic resin, preserved to astonishing detail. You can spend hours carefully examining each specimen, admiring the spectrum of color, texture and shape. Some of the displays reminded us of our favorite artisans—the preserved wildflowers made us think of 1012 Terra's pieces, and the encased pine cones brought to mind the whimsical Sola Dandelion Cubes.
The exhibition halls also include information on Mount Takao's birds and mammals, ecosystem, history, and cultural significance. The museum houses a charming café and an open park space perfect for relaxing after your hike.
A trip to Mount Takao is sure to be filled with adventure and discovery. And at the day's end, there's something wonderfully peaceful about sitting on the train, watching as the setting sun paints the clouds and the sky slowly darkens on your way back to Tokyo, where the adventure continues and continues.
---
March 30, 2019 by The Team
On a cold day in late winter, we took the Metro North to one of our favorite museums Dia: Beacon, to see the exhibition of Robert Ryman's work and honor his life and recent passing. Ever since we moved to New York, we've made a trip to the museum every season. When we went with our friend and collaborator Masanobu Ando, we noticed that he was most drawn to pieces that related to his work in form and texture. Quickly, we realized how much of the work in Dia: Beacon connects both visually and conceptually to the work created by the artisans we exhibit.
That day, we set our sights on three painters: Robert Ryman, Mary Corse, and Anne Truitt. All of them work almost exclusively in a white palate, to a profoundly physical degree.
We began in the company of Robert Ryman's paintings. On the exhibition card, he describes his process: "There is never a question of what to paint, but only how to paint." The description continues, "For Ryman, the 'how' of painting has always been about what he describes as 'getting the paint across'—meaning, literally getting the paint across the surface." This idea was most evident in his Untitled (1960) painting. Heavy, short brush strokes of thick paint created a woven mat of white atop a blue and tan canvas. Instantly, we drew the connection between his method of painting and the method of applying glaze to ceramic works, or urushi lacquer to wood works. The weight of a decisive stroke of paint, glaze, or lacquer quite literally gets across an object's surface and into the eyes or hands of the person experiencing that object.
Mary Corse's work has been resonating in the back of our minds for a long time. We were first introduced to her paintings and sculptures at her retrospective at the Whitney last year. The visual depth of her work struck us and recalibrated our understanding of which colors and tonalities can create the illusion of infinity. Before seeing her work, we understood the significance of dark tones outlined in Junichirō Tanizaki's In Praise of Shadows, but had yet to apply the same line of thinking to white tones. In his essay, Tanizaki describes the shifting tonal depth of dark lacquerware that can only be observed in dark spaces. The same is true for light tones in Mary Corse's work. However, instead of shifting an object in one's hands, an observer must shift their position in relation to the painting to reveal the nuance of textures and tones that take her works to a surprising dimension. The exhibition at Dia: Beacon is lit entirely with natural light, further deepening the nuance of her work. The experience becomes not only dependent on viewing position, but also time of day.
In an adjacent gallery, we faced Anne Truitt's sculptures and paintings. She worked with a different but still limited palate of colors and materials. On the exhibition card, she explains, "I have struggled all my life to get the maximum meaning in the simplest possible form." Many of the artisans we exhibit share that intention. Designer Makoto Koizumi in particular pursues the simplest possible form in his work, aiming to create objects that signify the very essence of their own function. The function of Truitt's work, however, comes entirely from being observed. Her sculpture White: One was particularly interesting. Towards the bottom of the sculpture, she painted a lighter band of cool white, creating the illusion that the vertical body was reflecting its base. Against the white walls of the museum, the edges seemed to fade, becoming one with the space. The tension created by differing tones of the same white color made us consider the layered significances and different motivations of the color white in Japanese crafts.
On the train ride back along the Hudson, the setting sun skirted across the partly frozen river, casting cool light through the train's windows. As we looked out, we could see how broad the spectrum of white in nature was. We thought about the same ride this morning, and how different the colors were then. A smattering of grays, blues, greens and browns had made up our view. But now, the glare of the sun, the snow, and the ice each produced their own unique whites. Examining white paintings all day had trained us to pick out the shade of coolness in the ice, or the slightly darker undertone of soil coloring the snow. We found ourselves appreciating the view not for being monochromatic, but for the faint differences in the colors of everything around us, coming together to form a unified composition of innumerable white tones.
---
February 6, 2019 by Angelique Chmielewski
For Valentine's Day this year we created a gift guide pairing our items with items sold by some of our favorite downtown shops in New York. We've become friends with most of the shop owners over the years; people who, like us, share a certain obsession for one thing. We are lucky to have gleaned a lot of unique knowledge from them, and wanted to share that knowledge with you all, in the form of a downtown gift guide. We've made a map of all our favorite local places so if you're in lower Manhattan you can easily chart your journey from us to them, and hopefully find yourself a perfectly paired gift for a loved one or explore somewhere special you've never been before. Enjoy!
1. Jicon Octagonal Plates + Mochi Rin Gift Box
Mochi Rin is without a doubt our favorite mochi in the city. It's silky, and squishy, but never too soft. We've had Fujiko cater our events before and are forever grateful to her for sharing such delicious desserts. She makes all of the mochi by hand, filling them with fresh seasonal ingredients which is best enjoyed the day of. Be sure to order in advance as you'll have to pick them up at her and her husband's photo studio in Tribeca. We've eaten a lot of this mochi ourselves, and found it to be most beautifully complimented by the Jicon Octagonal Petal Dish Set.
Shop Dishes ($56) | Explore Mochi Rin (contact for pick up location)
__________
2. Masanobu Ando Flower Teacup and Saucer + Astor Wines & Spirits Hot Toddy Bourbon
It's no secret that February in New York can turn anyone into a homebody. Sometimes instead of trekking through the frigid cold to a speakeasy or cocktail bar it feels so much better to stay in and make a warm drink for you and your partner. The Hot Toddy has become our mainstay for these cozy nights at home. Mixing King's County Straight Bourbon from Astor Wines, a bit of honey, lemon juice, and hot water together in Masanobu Ando's Chrysanthemum Teacups makes for a beautiful and comforting gift. Naturally the teacups are also great for a cup of coffee the next morning.
Shop Teacups ($105) | Explore Astor Wines & Spirits (399 Lafayette St, New York)
__________
3. Kamawanu Tenugui Cloths + Dashwood Books
Sometimes we find ourselves searching for a gift for a new partner, or friend on Valentine's day, questioning if it's too personal, or not personal enough. Miwa at Dashwood will pile fantastic rare and out of print photo books by photographers like Saul Leiter in front of you, pouring over image after image until you find the one that's just right. Our selection of Tenugui Cloths make for unique—and quick— personal furoshiki wrapping, that can later be used as a bandana or handkerchief!
Shop Tenugui (from $18) | Explore Dashwood Books (33 Bond St A, New York)
__________
4. Nalata Nalata x Pat Kim Mother of Pearl Caviar Scoop + Russ & Daughters Caviar
Occasionally we all need a little bit of luxury. Admittedly, this sentiment lingered longer than it should have for us when we discovered the caviar from Russ & Daughters. We became so hooked on it that we actually designed this Caviar utensil collection with our friend Pat Kim to eat it with. Add some other fantastic treats—we like the candied orange peels— from around the multi-generational specialty food shop and you and your partner are in for delicious indulgence.
Shop Caviar Scoop ($60) | Explore Russ & Daughters (179 E Houston St, New York)
__________
5. Nalata Nalata Wood Cup + Gasoline Alley Coffee Beans
This wooden cup and a bag of Intelligentsia coffee beans from our go-to neighborhood coffee shop, Gasoline Alley Coffee, makes for a beautiful and understated upgrade to anyone's morning routine. Even morning's spent at home will have the distinct feeling and taste of a cup of third wave New York coffee.
Shop Wood Cup ($65) | Explore Gasoline Alley Coffee (325 Lafayette St, New York)
6. Norio Tanno Tea Case + Té Company Tea
We've become obsessed with Té Company over the years. Their West Village storefront is marked only with a small teapot printed on their window. Inside is an extensive selection of tea, and incredibly knowledgeable staff. We discovered the Oriental Beauty Tea there, and cannot recommend it more.
Shop Tea Case (from $510) | Explore Té Company (163 W 10th St, New York)
7. Uchino Air Waffle Bathrobe + Great Jones Spa Gift Certificate
Great Jones Spa offers for natural and invigorating full body, and facial treatments. Their body scrubs are a fantastic gift for your partner and will leave their skin feeling silky smooth. The Air Waffle Bathrobe from Uchino is light and cozy, and a great way to extend the relaxation of the spa a little further into your partner's life.
Shop Bathrobe ($260) | Explore Great Jones Spa (29 Great Jones St, New York)
8. Shotoku Usuhari Glass Sake Set + Sakaya Sake
Our friends Hiroko and Rick at Sakaya have something perfect for everyone. Whether a long-time connoisseur or new enthusiast of sake they'll guide you towards a perfect match for your partner's palate.
Shop Sake Set ($100) | Explore Sakaya (324 E 9th St, New York)
9. Nalata Nalata x John Medley Shaker Box + Stick With Me Caramels
The sweets from Stick With Me have become a bit of a classic for us. They're known for their hand painted bon bons but we're also a fan of their caramels. They're undoubtedly delicious and not overwhelmingly sweet. This gets a little dangerous for anyone with a sweet tooth, but we think they're well worth it. They pair beautifully with our Maple Wood Shaker Boxes which can be used and treasured long after the caramels run out.
Shop Shaker Box (from $130) | Explore Stick With Me (202A Mott St, New York)
10. Kohchosai Kosuga Mayu Bamboo Flower Basket + Adore Floral Bouquet
We've been fans of Adore ever since we first walked in. Their flowers are so vibrant and their staff so knowledgable that waking out with anything is a sure fire hit. We've started getting their bouquets arranged in Mayu Flower Baskets and can't recommend the combination enough. The basket's woven frame bring an extra element of texture to any arrangement, and can help elevate even a few stems to a new level of beauty. If you really want to go all out, and your partner is flower obsessed, a class with Junko at Ikebana Evolved is a great way to dive even deeper into flower arranging.
Shop Flower Basket (from $110) | Explore Adore Floral (357 Lafayette St, New York)
Photography | Owen Smith-Clark
Map Illustration | Derek Zheng
Special thanks to | Mochi Rin, Astor Wines & Spirits, Dashwood Books, Russ & Daughters, Gasoline Alley Coffee, Té Company, Great Jones Spa, Sakaya, Stick With Me and Adore Floral
---
January 16, 2019 by Stevenson Aung
Whenever we get the rare delivery of wooden objects from Norio Tanno, we remember exactly why we go through great lengths to procure the finest handcrafted items we can get our hands on. We take stock on the pieces and then spend a good amount of time staring at the mesmerizing details. Each piece is simply perfect. The joinery techniques, beautifully executed on a small scale like that of a business card case, are impressive with their high degree of intricacy. Opening and closing the works, as mundane as it sounds, offers immense satisfaction!
Although we try to describe products in detail, sometimes it's hard to convey when a piece has multiple layers and requires interaction to discover individual components. The tea cases are full of these kinds of hidden details. To get the full effect you'll need to see them in person but here are some close up shots and a quick video of the sophisticated woodworking techniques found in the rosewood tea case.
Each tea case is made by hand by Norio Tanno. They feature an inner hexagonal container, gentle beveled edges, multiple wood species, inlaying, matching grains, dovetail joinery, a foldable scoop and finely carved surfaces. All this is made entirely of wood. The best part is how the inner container where loose leaf tea is stored, is crafted to smoothly descend into the outer case without force. It feels almost mechanical as you watch it glide to a final resting position but it's nothing more than gravity! The only way to really describe the precision is through this 3 second video of pure magic.

The collection is made of a variety of uncommon wood types in limited editions.
View the full collection here.
---
January 5, 2019 by Angelique Chmielewski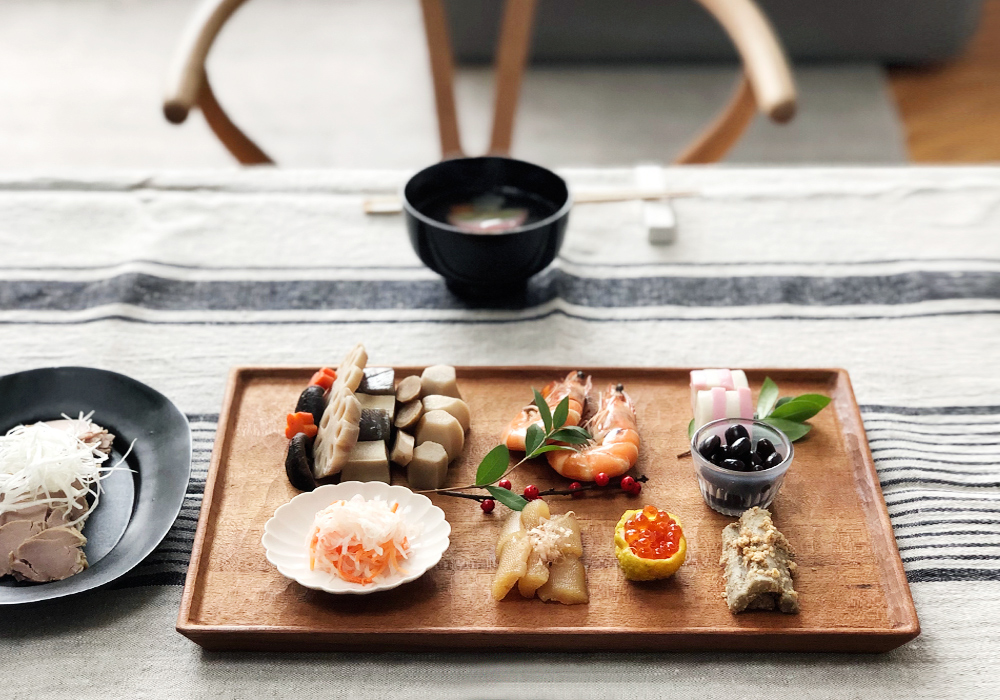 Our year started off with new adventures into the Japanese culinary world and we couldn't have had the opportunity without the hospitality of our good friend, Aya Nihei, who prepared a beautiful osechi meal to ring in the year. For those unfamiliar, osechi is a Japanese meal said to bring good fortunes for the year ahead. The meal is comprised of a variety of small dishes each with their own meaning. The dishes are traditionally prepared in tiered ju-bako boxes or in an arrangement of small bean dishes. We were enthralled by the experience and wanted to share what we've learned. 
Below you can find an illustrated anatomy of a Japanese osechi meal based on some of the more common dishes.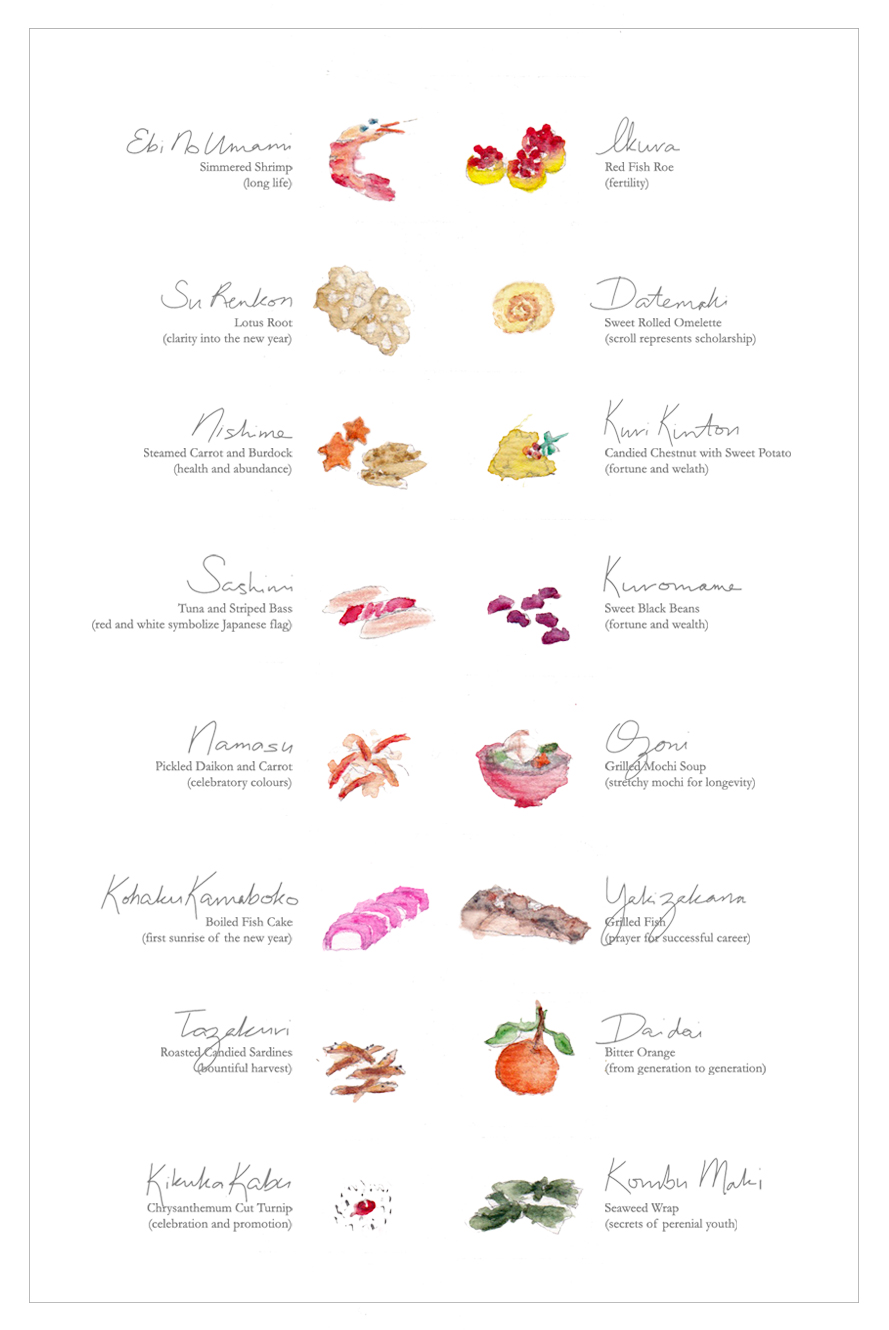 The appearance of the food usually corresponds to the associated wish. Our favourite, for example, is Ebi No Umami, steamed shrimp to represent longevity as the curled back and long antennae resemble a bearded old man. The cutouts in lotus root slices, Su Renkon, offer clarity into the New Year. Nishime, boiled vegetables usually consisting of carrots and burdock provide nutrients and good health. The color of red and white Sashimi fish look like the Japanese flag, much in the way that Namasu, pickled daikon and carrot, are like brightly coloured celebratory strips of confetti. Kohaku Kamaboko are elliptical fish cakes cut in half that look like a sunrise on the horizon. A dried sardine dish, known as Tazukuri, symbolizes abundant harvest because the fish were once sprinkled on to rice paddies as fertilizer. When a turnip is intricately cut into the shape of a chrysanthemum, the imperial seal of Japan, it is called Kikuka Kabu, symbolic of joyous occasions such as promotions. Clusters of red fish roe, or Ikura, epitomize fertility. Datemaki, rolled omelette is said to represent scholarship and learning as it looks like a scroll. Kuri Kinton, a mashed bright yellow sweet chestnut dish, directly translates to "golden dumpling made of chestnuts." The dish is plated in a heap that reminds many of a pile of gold signifying wealth and prosperity. Kuromame sweet beans derives from the word 'mame' that means hard work, leading to fortune and wealth. The stretch factor of grilled mochi in Ozoni soup, means longevity and a Yakizakana grilled fish, regardless of the type, is eaten as a prayer for a successful career. The word Daidai, a bitter citrus, means 'from generation to generation', and is a wish for children to pass on our traditions. Lastly, Kombu Maki, beautifully wrapped seaweed, evolves from the root word 'yorokobu', meaning 'happiness', which for all one knows, may very well be the secret to eternal youthfulness.
With that, we call upon all the Kombu Maki Gods so that no matter how many calendar years go by, we remain full of happiness… Happy New Year, everyone!
Photograph | Aya Nihei
Illustrations | Angélique Chmielewski
---
December 15, 2018 by Angelique Chmielewski
When we first moved to New York as students, somehow managing to find an apartment in the East Village, we quickly began to notice how the pace of the city affected every part of our natural routines. We were eating out more, and much more quickly than we did in Alberta, weaving our way through the seemingly infinite corridors of downtown restaurants. The affect the city had on how we would eat, while still remarkable, was somewhat predictable. However, the ritual we became most fascinated by, and perhaps the most indicative of The City itself was our morning coffee.
When we arrived we knew nothing of New York coffee culture. Our exposure to coffee in Canada had been ordering a Tim Horton's Double-Double back in university. Two creams, two sugars. We found ourselves becoming obsessive about coffee. So much so that when our friends and family came to visit they would inevitably comment on this routine as cultural proof that we had adopted New York's customs.
Years later, in 2015, we opened our storefront a block away from our first apartment in the city. That building had been torn down and replaced with luxury condos, much as these things go in The City. But our obsession with coffee remained. Gasoline Alley Coffee, a small coffee shop between Lafayette and Mulberry with no seats that isn't much more than a passage through a narrow block with an espresso counter became the administrator of our AM—and often PM— fix. Their specific eight ounce cup began to feel so familiar in our hands that when we would make coffee ourselves at home we wouldn't feel nearly as satisfied. That's when everything clicked.
We had always wondered why the classic "We Are Happy To Serve You" blue and white Greek coffee cup became synonymous with the image of New York. It wasn't simple nostalgia. It was something much deeper. That cup was a cultural artifact, something that would always feel familiar to anyone who had lived through a specific era of The City. We had seen it reinterpreted by artists and designers over and over again, and only now did we realize it's significance. The New York Coffee Cup was an inconspicuous signifier of one having crossed over to life in The City.
At the time of this realization we had been working with wood turning artisans in Japan. They specialized in turning mugs, cups and vessels, carved from single pieces of wood. We approached them about creating a perfect wooden analogue of our favorite paper coffee cup. They welcomed the challenge of producing such a deceptively complex form.
We went back and forth with numerous iterations, getting the walls of the cup even thinner, refining the rolled rim to the exact thickness that had become familiar on our lips, carving out the bottom a few millimeters to match the base of the original. We debated finishes and sheens; arriving at a subtle protective coating that won't stain from daily use. The end result is so uncanny that it even feels like the paper original in your hands, making a similar sound as you rotate it between your fingers.
It's difficult to comprehend that both objects started as the same natural material. One came to existence through industrial production; the other through artisanal mastery and craft. However, the wooden interpretation has a liminal aura to it. It doesn't lose any of the cultural familiarity of the disposable New York coffee cup. In fact it does the opposite. It captures the exact feeling of holding a paper cup in your hands, with one difference: it pushes back at you. When you squeeze it, it doesn't break or crumple, it bounces back and responds, just as wood does when you work with it. The wooden cup has its own lasting personality that will both be forever evocative of this moment in New York's daily cultural history, while also expressing its own as it travels through its long life with each specific owner.
We are proud to share this object to the world, and hope it will become a lasting artifact, evolving beyond our own journey through the landscapes of New York, and Japanese craft.
Wood Cup available here.
Videography: Owen Smith-Clark
---