Naoshima – The "Art Island"
We recently got back from Japan and have been trying to adjust to the time difference for a good two weeks but I guess after a certain extent you can no longer use jet lag as an excuse for things like staying up all night to binge watch shows and waking up at noon. Point being – our internal clocks are finally back on track and we're excited to share some snippets from our latest trip to the land of the rising sun.
As some may notice, our trips to Japan are happening more and more frequently but usually one of us stays behind to manage the home front. Rarely do Steve and I have the chance to travel together so when we do, we try to make the most of it by incorporating a few days for pure rest and relaxation. We wanted to make it easy on ourselves this time around and decided on a trip to Naoshima Island.
To get there you have to board a ferry off the port of Uno city about six hours southwest of Tokyo. The ferry ride is short and once you're on the island some of the most prominent works of contemporary art like the "Red Pumpkin" by Yayoi Kusama quickly greet you.
Naoshima is a great getaway destination since every activity is low-key. "Laidback" is in the island air; everything's within bike-able distance, the streets are desolate and planning activities in advance isn't really necessary, unless you plan on staying at the impressive Benesse House complex designed by Tadao Ando. In which case, book far, far in advance. That we clearly did not do. Instead, we found a cozy last minute Japanese style ryokan in the Honmura district and took each of the three days we were there, as they came… writing postcards, eating and drinking olive soda in between looking at art.
Set against Mother Nature's backdrop, Naoshima is renown for having a dense collection of galleries and installations by contemporary artists and designers like Walter De Maria, Lee Ufan and James Turell. A couple of these works can be found at the labyrinth-like Chichu Art Museum designed by Tadao Ando or the Benesse House Museum, but there are other attractions that are just as magnificent, like the 'Art House Project' in the old castle district of Honmura.
The Art House project is a group of abandoned traditional houses that were restored into art installations. Tatsuo Miyajima's "Sea of Time '98" was enchanting. The 200-year-old house was transformed into an installation with LED timers that rest in a shallow pool of water. Each timer was set at a different pace by a resident of the island. A quiet and calm atmosphere envelops the space making it the perfect place for contemplation.
The Haisha House used to be the home and office of a dentist, now completely re-imagined by artist Shinto Ohtake. Using an eclectic mix of materials and objects, the house expresses the attempt of recalling a dream from a small memory.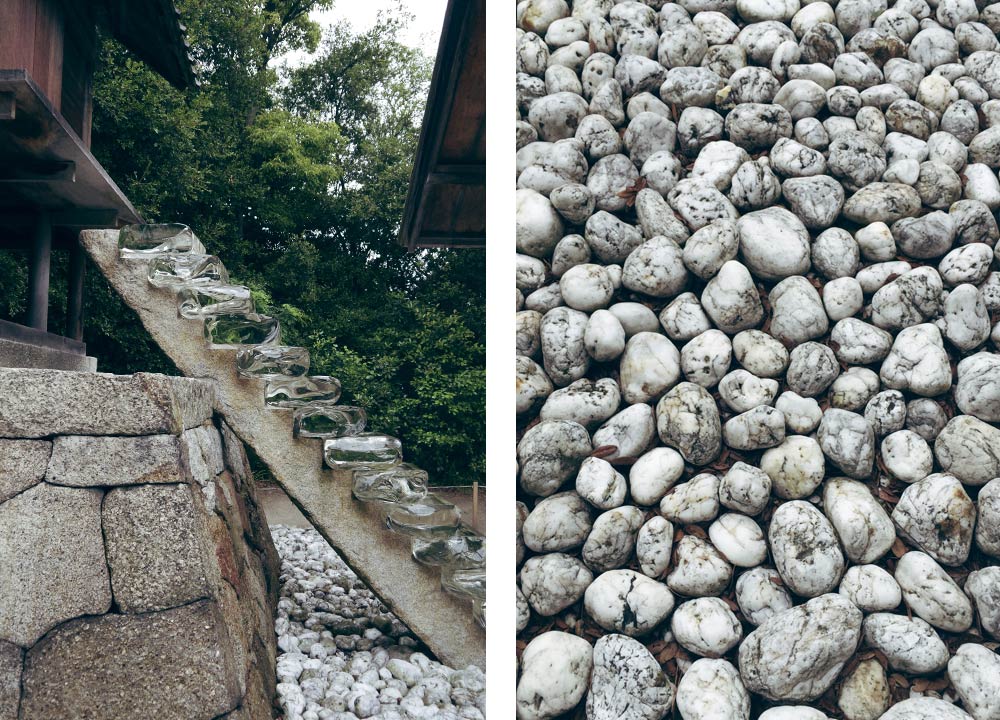 Of the seven houses, the Go'o Jinja, a restored Edo period shrine by Hiroshi Sugimoto was a personal favourite. With its glass staircase that connects to an underground tunnel, it was a beautiful reflection on the boundaries between heaven and earth. It was also so interesting to see Sugimoto's works outside of photography.
Many of Hiroshi Sugimoto's works were found throughout the island, some in the Benesse House complex and others as site-specific work propped up on the side of a cliff! If you were stranded on a deserted island, what would be the one thing you'd have with you? Considering the amount of time Steve can spend staring at one of them, I think his answer would be, a Sugimoto photograph. More specifically one from his time-lapse "Seascapes" series.
Beyond the art sites, the village itself had its own charms. We loved the narrow streets of Honmura and all the tiny cafés hidden within dark-stained wood paneled homes. Some of which were decorated in cotton cord illustrations.
One out of the three days was spent on neighboring island, Teshima. It was about twenty minutes from Naoshima on a rickety boat. Once you land on Teshima there's the option to rent a motorized bicycle to climb steep hills to the art sites. One of them being Teshima's art museum, designed by SANAA co-founder, Ryue Nishizawa. As required at many of the art sites, we swap our shoes for cushy slippers and spend the next hour silent, in a white concrete dome staring at the structure and the one piece of artwork it holds, the Matrix by sculptor Rei Naito. Little droplets of water trickle around the space slowly, yet there is something powerful in their movement. 
There were so many other great pit stops in addition to the domed museum. We stopped to shoot some hoops at the "No One Wins" installation and also saw "Les Archives du Coeur" by Christian Boltanski. The latter was housed in a small building with an ocean view. We listened to people's heartbeats from all around the world from their permanent database and tried to make distinctions.
On our way back to catch the last ferry, we managed to sneak in one last art site. Along with changing our perception of the colour red, the Yokoo House, by Yuko Nagayama also changed our perception of our "couple photos" and it was thereafter that we decided to invest in a selfie stick.
Thinking back on our trip to Naoshima, I realize how extremely valuable it was. When art and nature are in complete harmony, it can bring you to a place of peace and introspection. As much as it was a physically relaxing trip, it was also one that found us rejuvenated mentally. Naoshima is a magical place.