September 19, 2018 by Angelique Chmielewski
We have an exhibition coming up with Takayoshi Narita of Studio Tint – a rare kind of artisan, his mastery in wrought-iron is practically a dying art. For this reason we are incredibly excited to be hosting Narita-san and bringing his works to New York. Even more excited to be sharing his process that we had the pleasure of taking in during a visit to his studio in the town of Minakami in Japan.
On this particular visit, Narita-san picks us up from the Jomō-Kogen train station dressed liked he just stepped out of the workshop. Every article represents his craft, and his devotion to it, like a true shokunin, master of his profession.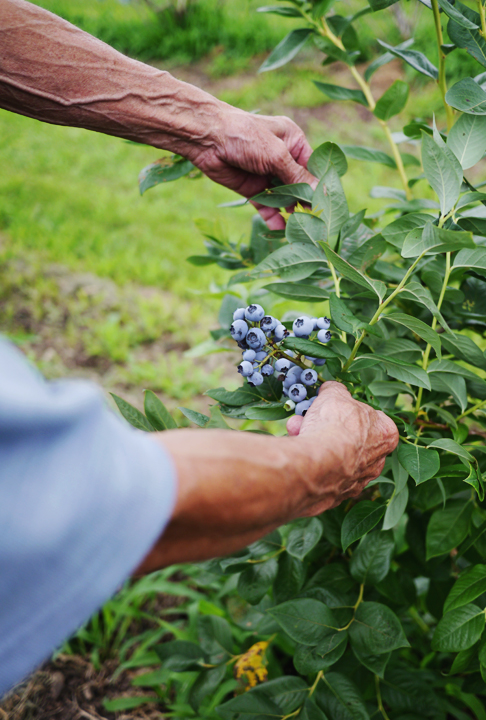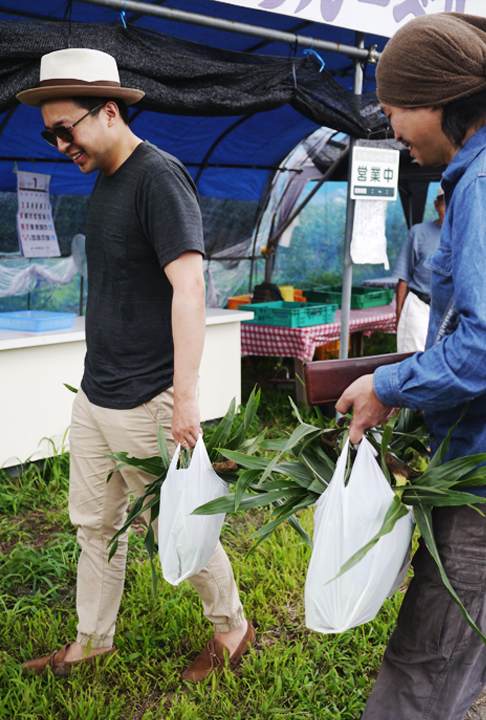 We were being invited to step into his world for a day and part of his daily routine is a stop at the local fruit and vegetable farm. This season the bounty is blueberries and corn!

Another stop on the path to his studio is a restaurant and shop called Macchie where Narita-san is a regular for lunch. The place is in a neighboring village called Takumi no Sato.
Macchie offers a beautiful selection of books and matchboxes for purchase and serves dishes on Studio Tint pieces. Narita-san built some of the furniture in the restaurant area including a custom iron fireplace.
After lunch we head to his workshop, which is hard to miss because the heavy iron door is clearly made by Narita-san. He started the studio around 20 years ago in this lush green area to be surrounded by fresh air, counter balancing the sooty nature of metalworking. When we step into the space it becomes apparent how physically intensive the craft is. The tools needed like piles of metal rods, anvils and hammers are hefty and hot air from the coal furnace immediately hits us in the face.

Between blueberry snacking and a tamago egg frying lunch break, Narita-san shows us the fabrication steps from start to finish of a single small frying pan. All the components of the piece are handcrafted so he can only make a maximum of around two per day. He demonstrates how he heat shapes and hammers the surfaces to achieve a unique texture that absorbs light and creates beautiful shadows. He also explains how he transforms the solid rod iron into cooking grade ironware, which requires continuous hand hammering and firing until the final shape is the appropriate thickness to evenly disperse high heat from a stovetop. Being quick is key to the process making it difficult to capture his movements on camera.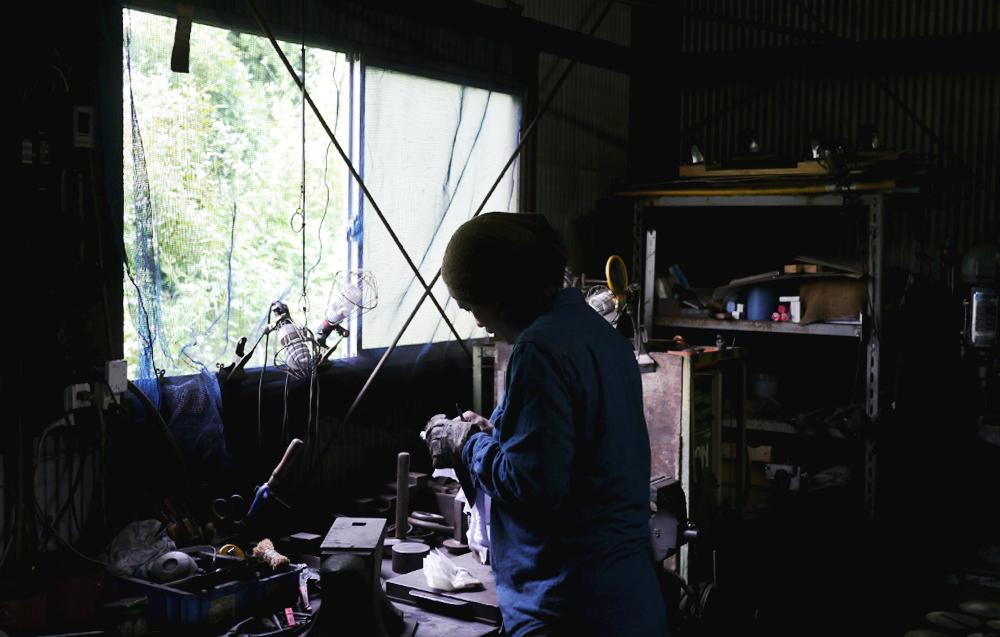 Wrought-iron is no longer produced on a commercial scale so Narita-san's operation doesn't need to be large. In fact, he produces every part by himself. Even the rivets used to attach the handle. The pieces are measured and inspected for accuracy and he is able to personally control quality.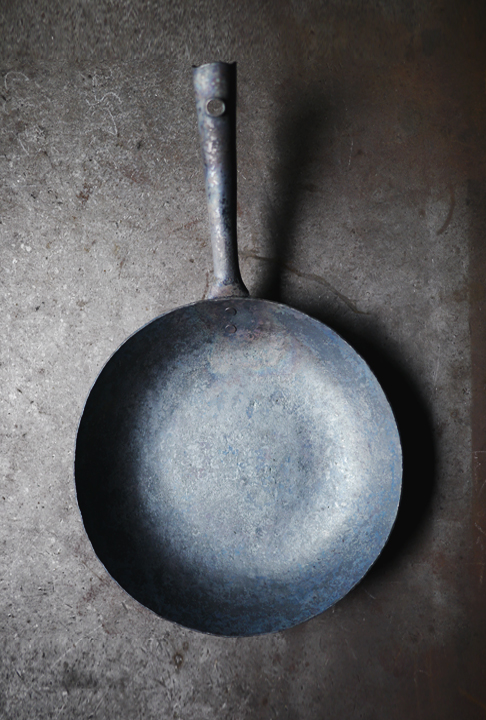 Above all, the works reveal the hand of the craftsmen, conveying a texture that cannot be commercially manufactured. A texture that is one-of-a-kind, and they all have their own personality. For us, the great handcrafted objects express feeling. When we hold them in our hands they transfer the core of the maker. It's hard to make a basic everyday object such as a frying pan into a beautiful treasured item but Narita-san is skilled at doing so. Sacrificing neither, functionality and aesthetics are perfectly balanced in his works.
At the end of the demonstration Narita-san surprised us by gifting us the pan we witnessed him make. We knew this pan was going to be with us for generations. It meant so much. Like the first pan purchase for a college freshman, it felt like a pivotal moment but this time we were graduating to an advanced grade of cookware. After living with the pan we've grown to love cooking even the simplest of things, like a fried egg, with wrought-iron. There is nothing like the durability and cooking properties of this material and no pan with proportions and a hand-hammered surface as beautiful. We proudly display our Studio Tint pan on an S-hook after each use, the only pan in our kitchen with a story that deserves recognition by all who enter our home.
---
August 17, 2018 by Angelique Chmielewski


We wanted to share this video produced by Kamawanu about the making of their tenugui cloths. Since their inception in 1987, the company has been practicing the art of chusen dyeing, a dyeing process that allows for delicate patterns to be replicated with vivid texture and color on both sides of the cloth. The labour-intensive process is depicted beautifully in this video, revealing the surprising amount of steps that go into each hand-dyed cloth.
The Kamawanu tenugui collection can be viewed here.
---
July 16, 2018 by Owen Smith-Clark


The sense of smell can be particularly evocative of memory and place. In any metropolis, cultivating a distinct mental space through scent often becomes its personal and necessary ritual. Coming home, and coloring the air with a mild but recognizable aroma can help transition one's mind from the city's unpredictable sea of stories to the familiar and constant narrative of one's own life. Over time, this smell can grow in one's memory to signify home.
Like getting dressed, or decorating a home, burning incense almost involuntarily becomes a kind of self-portrait. The simplicity of the act itself allows for innumerable variations. Naturally, one's own ritual comes to reflect their lifestyle.

As incense burns, and its smell steeps in the air, one becomes aware of the passing of time. Thin ribbons of smoke sway through a room, making an invisible imprint both on the space, and one's memory of it. The home is no longer a solid, linear, bound location but an emotional recollection, full of sensory memories blending together.
Videography: Owen Smith-Clark
View the products here.
---
July 6, 2018 by Angelique Chmielewski

Like all silver items, Masanobu Ando's silver overglaze ceramic tableware takes on a unique patina over time, reflecting its use. The glaze will react to the sulfur in the air, yellowing, darkening, and eventually turning black, in a process called sulfide staining. For some, this aging process is as beautiful as the item itself. While others may wish to maintain the item's original luster throughout its life. If you find yourself missing the original glow of one of your silver overglaze pieces, or wanting to remove some unwanted marks from it's surface, the simple instructions below will guide you through the process.

Cleaning Masanobu Ando's silver overglaze tableware doesn't require any special tools or chemicals. All you need is some toothpaste and a soft cloth.

First, identify the marks you wish to polish out. These areas will require more attention than the rest of the surface.

Squeeze a healthy amount of toothpaste into a soft cloth and begin polishing the most affected areas.

Starting in the center of the patinated areas, polish in small circles, at a medium-hard pressure—like kneading out a piecrust.

Move outward, evenly covering the surface. The cloth will begin to absorb the toothpaste, feel free to apply more as needed.

Rinse the item in lukewarm water.
You will have to repeat the process multiple times to fully restore the item, but believe us its worth it. The item will still maintain some subtle marks of its natural age.

After the final rinse, dry the item with a soft, clean cloth, and allow to air dry overnight.

If you would like to clean the glaze more permanently, a small amount of specialty silver polish applied in the same manner will quickly remove any marks and stains from your item. But be aware, after using silver polish the glaze will be reluctant to patina for a very long time.

A note on food:
Ando-san's plates and tableware make for beautiful serving items, especially for hors d'oeuvres and other small appetizers. However, the overglaze reacts more extremely to some foods than others. Vinegar, lemon juice, onions, mustard, and especially eggs will speed up the staining process dramatically.
The White Silver Oval Tray pictured in this care manual can be found here.
---
June 4, 2018 by Stevenson Aung
As tradition goes, Paul Lawrence Lewis curated the tracks for our recent exhibition. Paul leaned into Masanobu Ando's collection of CDs discovered during his studio visit to create a playlist that includes seven songs of classic rock and seven contemporary reactions to those songs. Ultimately creating two playlists that interact and intersect. Hope you enjoy.
Listen to the full-length version above or download it here.
---
June 4, 2018 by Stevenson Aung
The end of our Masanobu Ando exhibition, Shaping the Void, has come and gone. One thing we can all agree on is that the show was one of our best. Here are some highlights from our time with Ando-san and moments from the exhibition.

When Ando-san arrived in New York, one of the first things he did was add finishing touches to some of the works. The more delicate elements like the copper handle on the Silver Teapot were transported from Japan separately and assembled on the spot.
Ando-san also practices the art of flower arranging and prepared all the arrangements for the exhibition during the morning of opening night. The large sculptural hanging vases that hung throughout the store were nice examples of Ando-san's background as a sculptor.
Our collaboration series with Ando-san also highlighted his more sculptural tendencies. Inspired by his series of 3-D cube outlines entitled "Air of Box" we worked with Ando-san to create the counterpart, 'Box of Air'. We have always reveled in the way Japanese architecture blends indoors and outdoors and decided to explore this idea. Since 'Air of Box' is meant to depict the sacred space within a Japanese home, our collaboration piece is the opposite – a hollow ceramic box that represents the outside world.
Ando-san is known for several different types of glazes, mostly for his matte whites and metallic silvers. His common metals are resonates of silver platinum and pewter but sometimes include gold. The finished wares are food safe and can be used with hot or cold liquids and food. They can be washed like everyday pottery and much like silver jewelry retain their luster the more they are used.

As someone who is just getting into the comprehensive world of tea, thinking back on our Masanobu Ando exhibition the best part had to have been the abundance of teaware. Everything from teacups and teapots were available and even pieces for what we'd consider more advanced tea drinkers like water disposal containers, teapot warmers, tea funnels, and drainers.
Chawan, vessels used for preparing and drinking tea, are often considered a potter's masterpiece hence they are some of the hardest works to create. The goal is to make the perfect vessel for enjoying a cup of matcha tea – many elements are considered like good balance, weight, angle of the lip and the shape of the foot. They need to be in good harmony but more importantly feel intuitive to the maker and user. In this way chawan's are very poetic in nature and to create them is challenging. It was interesting to see which chawan people gravitated towards of the three that were in the exhibition – silver, black or gold.
One of our favourite things at the exhibition was the traveling tea set Ando-san had assembled. The sets include tools and equipment needed to prep and serve three people. The pieces all fit within a small leather case like a puzzle and include custom made textiles for protecting and carrying.
When opening night rolled around, the traveling tea set was what Ando-san used during his tea ceremony demonstration. The audience watched as three participants (Justin, Amy and Peter), drank a few rounds of tea with Ando-san. His ceremony combines Chinese and Japanese traditions with some of his own rituals for a truly unique experience. What we appreciate the most is the casualness. Whether it is alone at home, on a business trip or at the park, one can enjoy the small rituals of tea in an uncomplicated way.
Ayako Kurokawa of Burrow prepared Roasted Green Tea and Short Bread Strawberry Caramel cookies for the tea pairing. For the rest of the night we had our favourite local mochis flowing by Fujiko of Mochi Rin. She took the exhibition concept and ran with it creating marbleized sweet and savoury mochi!
We kept the dining table setup from the tea ceremony for the duration of the show. The new rich brown, oak dining table and dining chairs by Ibazen combined beautifully with Ando-san's works that have a weathered rustic feel. The playlist Paul Lawrence Lewis created for the exhibition also played throughout the week. We turned it into a CD that Ando-san could add to his large collection at Momogusa. Listen to the playlist here.
Our obligatory Extra Place alley team photo is missing a bunch of people this time but you know who you are! Thank you to everyone who helped out during the exhibition! It takes a lot of hands and help every time we put up a show and are so grateful for everyone who rolls through. In particular thank you to Ando-san and his assistants, Aya Nihei, Owen Smith-Clark, Paul Lawrence Lewis, the team at Studio Newwork, Armando Rafael Moutela, Nau Kim, Ingmar Chen, Joshua Skirtich, Ayako and Wataru and their team at Burrow and Fujiko of Mochi Rin.
---
May 24, 2018 by Angelique Chmielewski



Between all the groundwork and long nights, the periods of the year we spend in preparation for exhibition openings are our best. Ideas between team members and collaborators are flowing and adrenaline levels run high. From the moment the delivery truck drops off packages containing the exhibition collection at our studio's doorstep to the final placement of an object on our gallery shelves, the energy spent getting an exhibition installed in the weeks before the opening are all in the name of craft obsession. The most exciting feeling can be summed up in the moment we open a package sent from Japan and pull out the exhibition works for the first time.
The experience is described in this short video that captures the journey of the Silver Teapot by Masanobu Ando, from the moment it was unwrapped in our Brooklyn studios to when it was placed in our gallery in Manhattan awaiting the arrival of it's maker to place the final touch – a copper handle.
Videography and Production: Owen Smith-Clark
---
May 16, 2018 by Angelique Chmielewski

There's something naturally appealing about walking into a green forest and even more so when it guides you down a path to a place that is just as wildly inspirational.

The place I'm writing about is Gallerie Momogusa – the gallery and café of Masanobu Ando and Akiko Ando, his wife, propped in the middle of lush green woods in Tajimi, Japan. This was the setting that welcomed us as we entered a very special day in the life of the lauded ceramic artisan.

Gallerie Momogusa opened in 1998 after Ando-san found a traditional tea ceremony house from the 19th century and converted it to a gallery. The remarkable remodel of the teahouse is a topic onto itself but once inside the gallery, it's hard for pottery lovers like us to concentrate on anything but the tables and tables full of beautiful ceramic works. We also loved perusing through a massive shelf of classic rock and funk CDs Masanobu Ando has been collecting.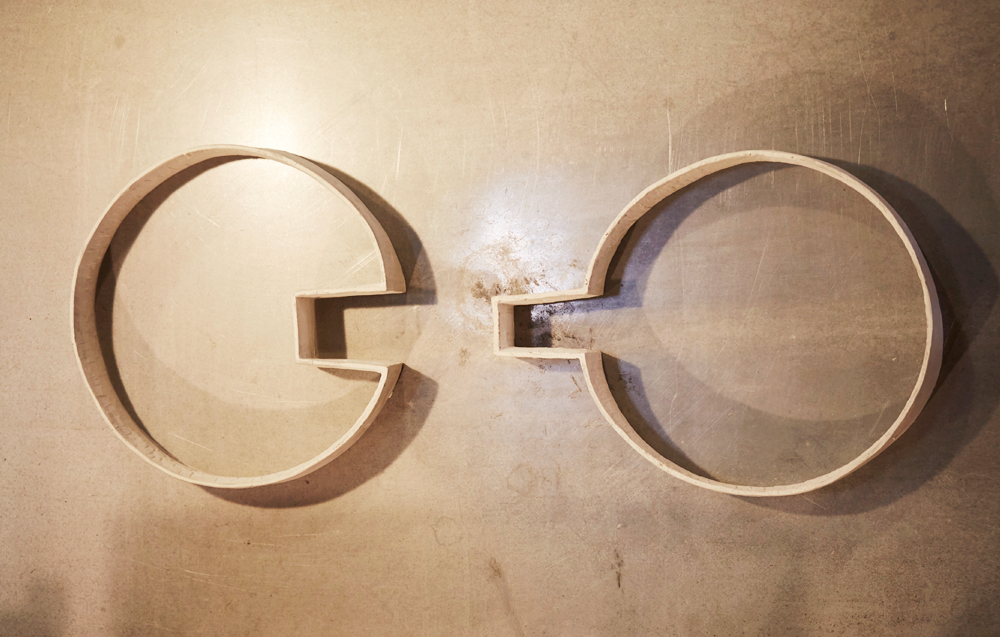 Some works are sculptural in nature while others represent Ando-san's more functional wares. Still both exist to give us a full scope of his career in ceramics over the past few decades. They also make clear to us that his goal is not just to produce tableware but also to express his philosophy of life, which the artisan touches upon in his exhibition statement for our upcoming show, Shaping the Void.

As our exhibition draws near, this visit feels more relevant than ever as it was the first time Ando-san showed us one of his tea ceremony setups in his tea room. Since we'll be preparing a Chinese tea ceremony demonstration on opening night, images from this visit to Gallerie Momogusa reminds us of all the components that are involved in a traditional tea ceremony. For example, water selection and temperature, necessary tools, ambiance and technique. All these elements have to come together to create a harmonious experience. The nuanced manner in which Tea Masters combine the elements is what makes each ceremony uniquely their own.

After exploring the many rooms at Gallerie Momogusa including Akiko Ando's textiles and apparel room, and the café, we pile into Ando-san's Mercedes Turbo Wagon and he drives us to his studio where all the magic happens.

At the studio, we meet Ando-san's dog Chico, see some of his tools, large-scale works in progress, and check out his office, again full of hundreds of CDs – there Ando-san spends long hours exploring new ideas for vessels while listening to one of many album options. For our visit, Ando-san turns up the speakers full blast to James Taylor and talks to us in depth about his techniques and his career – which we will soon share in a separate interview conducted by our writer and contributor, Aya Nihei.

With the exhibition around the corner, we cannot wait to welcome Ando-san to New York to show a growing base of collectors and enthusiasts outside of Japan such a beautiful collection in person. When I think about what Ando-san's ceramics does, its about achieving pieces one can cherish in everyday moments – the perfect teacup for gatherings, a favourite dish for morning cereal, or a charming fruit bowl for the dining room table – there is no better medium then ceramics to accomplish this feeling and no one who does it quite as meaningfully as Masanobu Ando.
Photos by Armando Rafael Moutela
---
May 4, 2018 by Masanobu Ando


Masanobu Ando, born 1957, started his career creating contemporary art and studying Buddhism. Following this period, he channeled his influence derived from Zen culture into his works and began creating functional objects for daily life. In 1988, he remodeled an original Japanese ceremonial teahouse into a gallery called Gallerie Momogusa. Our time spent with the artisan has been valuable in understanding his approach to craftsmanship, affirming that within the void lies a profound world to be discovered.

We are honoured to present this special guest feature written by Masanobu Ando, on the occasion of our exhibition Shaping the Void.

The entry below was translated from Japanese to English.
My first visit to New York was 1985. I was aspiring to be a contemporary artist. I remember it was at the MoMA museum that I encountered Japanese Mingei works, Netsuke (carved wooden buttons used to hang items from kimono sashes) from the Edo era, and vessels by Rosanjin Kitaōji. This discovery made me feel a bit relieved from the pressures of being an artist. I started to think about what the definition of art is for the Japanese and there were two noteworthy observations for me – that crafts rather than fine art were being represented as Japanese art and that they were not made for being admired, but rather for being used.
After the country opened from seclusion to the Western world in 1845, the Japanese began adopting Western culture. Meanwhile, the Japanese government promoted export handicrafts, aimed for being admired. The Japanese government encouraged craft artisans to manufacture world-class works comparable to fine art. Not only Western culture but entire belief systems were imported to Japan so the hierarchy that regarded fine arts as superior to craft works was also adopted. It resulted in a twisted cultural structure in Japan; handicrafts held a low position in representing Japan's cultural heritage. Since then, the craft industry rivaled the fine art industry and the original belief that crafts should be made to be used was about to be forgotten.
When I started to make ceramic works, I felt something was wrong with this situation in Japan. My interest shifted towards creating vessels for daily life, without any support by the government or ambitions to rise within the hierarchy. I tried not to create for self-expression but instead with intuition that derived from my Japanese DNA. Another motive was to find a middle ground between high-priced and mass-produced tableware because I could hardly find handcrafted pieces that I could cherish in my everyday life.
I started to create tableware in the late 20th century. At the same time, Japanese artisans who worked with different mediums as me but with similar philosophies began to appear. Eventually the phenomenon became a movement called Seikatsu Kogei. There is no categorization, no hierarchy in Seikatsu Kogei. By the 21st century the concept emerged all over the world and it seems like it is still spreading widely. The goal of artisans with the Seikatsu Kogei philosophy is to create crafts that are eco-friendly and sustainable that also give a sense of joy to the maker, user, and seller. Instead of applying unnecessary decorative elements to ceramics, we keep blank spaces within sculptures and vessels to inspire the user's way of interaction with the piece.
The appearance of a ceramic plate can differ according to what kind of food is being served on it and how it is plated. When you come in contact with vessels handcrafted by artisans, senses awaken and things that were invisible come alive. If we can define the experience as art, then there are no boundaries between fine arts and crafts. I hope my works, the shapes and voids will inspire your imagination to infinite possibilities.
Works by Masanobu Ando featured in these images will be available during the exhibition.
Photography by Armando Rafael Moutela.
---
April 14, 2018 by Angelique Chmielewski

I cannot graciously highlight my excitement towards our latest print series with Matthew Johnson without first explaining the path which brought us to working with this talented photographer. Matthew is originally from the San Francisco Bay Area – the East Bay, between Oakland and San Jose. He made his way to the East Coast to get a sense of the unique culture of New York – a city he describes as a "rite of passage". It was around this time that we first met Matthew during a photoshoot for Cereal magazine at our storefront. Straight away we appreciated his sensitivity in each frame he captured and have been following his career path as a photographer ever since. We've traveled to Japan with Matthew (photo essays from an especially memorable trip can be found in a two part series here and here) and dived into numerous video projects.

The most valuable aspect of our collaboration has been the friendship we've developed over the years as we work alongside him and witness his personal life evolve simultaneously. Since our first encounter, Matthew has married his then girlfriend, Amy, rescued an adorable dog named Rye, and has moved to Hudson to embark on an exciting new retail venture of his own called Say Collie. We headed North one afternoon to catch up with our friend and see what's new at his home and studio.

Matthew's home is an inspiring mix of his wife's interior found objects and wall art – many of which are his own photographs, and the works of other artists we admirer like Nicole Patel.

If the lens is where the mind meets the world for the photographer, then Matthew's lens is out to tell a story. Each image has a narrative quality that undoubtedly stems from his background as a writer. His ability to create images that have a tacit familiarity yet stand out as something important to show the world is a rare gift.

Light is central to all photographs but especially in Matthew's as it is his way of creating shapes. Accordingly his photos never feel like random snapshots. His use of light is intentional and his way of capturing an incredible black and white tonal range, especially in 35mm film, has always amazed us.
Whenever we look at the print series Matthew created throughout our journeys in Japan, it slows us down a moment to decipher the time and place. The photographs achieve a sense of timelessness in that manner – there is something so special about them but as I continue to search for the words to capture Matthew's language in photography, I can't find anything that will do it justice. So I'll let the images speak for themselves.
View Matthew Johnson's limited edition fine art photography series here.
---