Takayoshi Narita of Studio Tint | Studio Visit
We have an exhibition coming up with Takayoshi Narita of Studio Tint – a rare kind of artisan, his mastery in wrought-iron is practically a dying art. For this reason we are incredibly excited to be hosting Narita-san and bringing his works to New York. Even more excited to be sharing his process that we had the pleasure of taking in during a visit to his studio in the town of Minakami in Japan.
On this particular visit, Narita-san picks us up from the Jomō-Kogen train station dressed liked he just stepped out of the workshop. Every article represents his craft, and his devotion to it, like a true shokunin, master of his profession.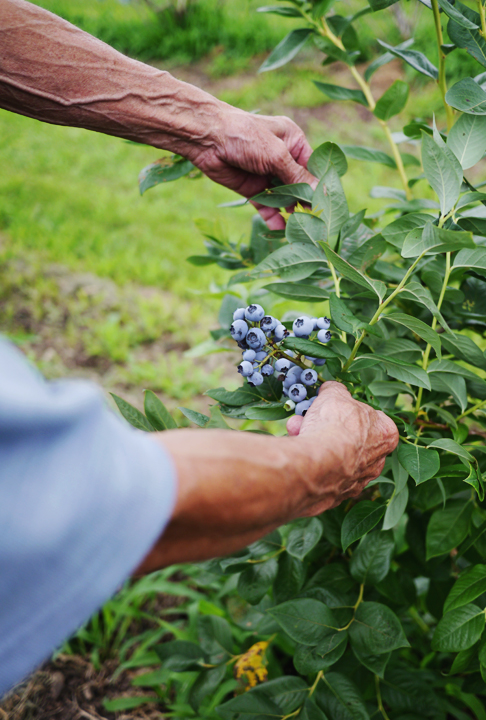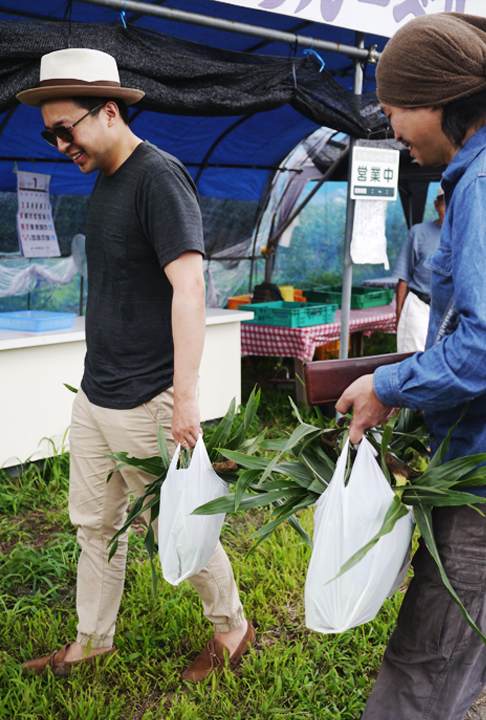 We were being invited to step into his world for a day and part of his daily routine is a stop at the local fruit and vegetable farm. This season the bounty is blueberries and corn!

Another stop on the path to his studio is a restaurant and shop called Macchie where Narita-san is a regular for lunch. The place is in a neighboring village called Takumi no Sato.
Macchie offers a beautiful selection of books and matchboxes for purchase and serves dishes on Studio Tint pieces. Narita-san built some of the furniture in the restaurant area including a custom iron fireplace.
After lunch we head to his workshop, which is hard to miss because the heavy iron door is clearly made by Narita-san. He started the studio around 20 years ago in this lush green area to be surrounded by fresh air, counter balancing the sooty nature of metalworking. When we step into the space it becomes apparent how physically intensive the craft is. The tools needed like piles of metal rods, anvils and hammers are hefty and hot air from the coal furnace immediately hits us in the face.

Between blueberry snacking and a tamago egg frying lunch break, Narita-san shows us the fabrication steps from start to finish of a single small frying pan. All the components of the piece are handcrafted so he can only make a maximum of around two per day. He demonstrates how he heat shapes and hammers the surfaces to achieve a unique texture that absorbs light and creates beautiful shadows. He also explains how he transforms the solid rod iron into cooking grade ironware, which requires continuous hand hammering and firing until the final shape is the appropriate thickness to evenly disperse high heat from a stovetop. Being quick is key to the process making it difficult to capture his movements on camera.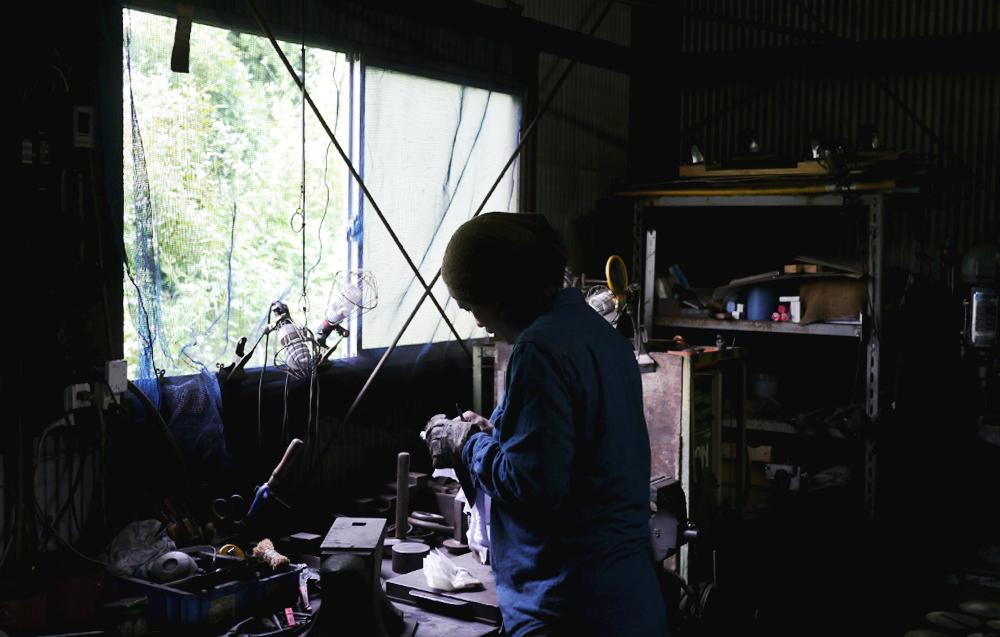 Wrought-iron is no longer produced on a commercial scale so Narita-san's operation doesn't need to be large. In fact, he produces every part by himself. Even the rivets used to attach the handle. The pieces are measured and inspected for accuracy and he is able to personally control quality.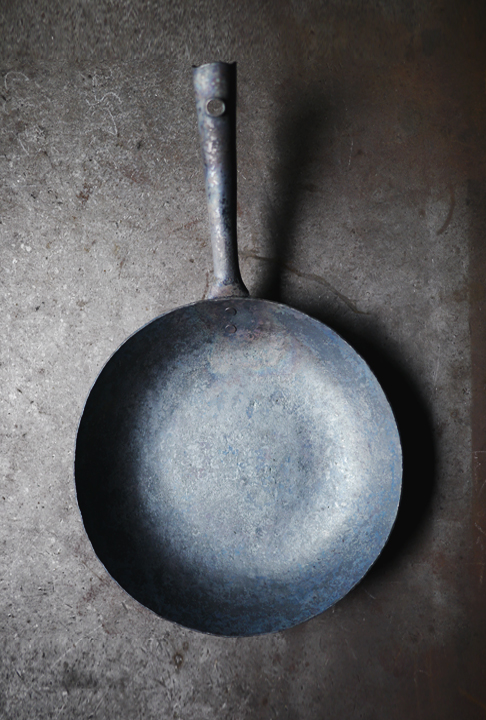 Above all, the works reveal the hand of the craftsmen, conveying a texture that cannot be commercially manufactured. A texture that is one-of-a-kind, and they all have their own personality. For us, the great handcrafted objects express feeling. When we hold them in our hands they transfer the core of the maker. It's hard to make a basic everyday object such as a frying pan into a beautiful treasured item but Narita-san is skilled at doing so. Sacrificing neither, functionality and aesthetics are perfectly balanced in his works.
At the end of the demonstration Narita-san surprised us by gifting us the pan we witnessed him make. We knew this pan was going to be with us for generations. It meant so much. Like the first pan purchase for a college freshman, it felt like a pivotal moment but this time we were graduating to an advanced grade of cookware. After living with the pan we've grown to love cooking even the simplest of things, like a fried egg, with wrought-iron. There is nothing like the durability and cooking properties of this material and no pan with proportions and a hand-hammered surface as beautiful. We proudly display our Studio Tint pan on an S-hook after each use, the only pan in our kitchen with a story that deserves recognition by all who enter our home.