A Deeper Dark | Ryuji Mitani Exhibition Recap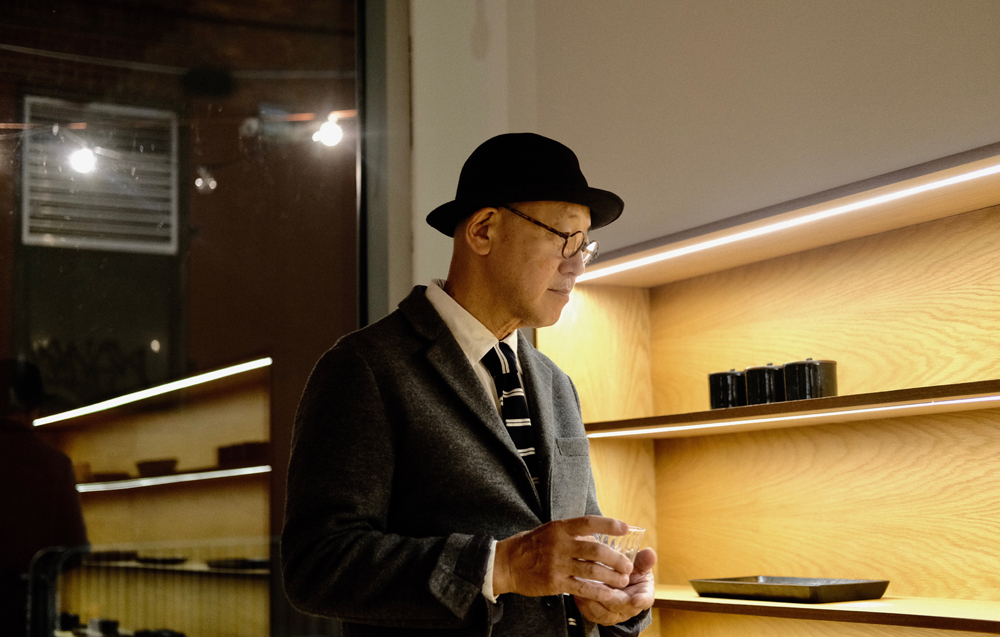 Two weeks ago, we held A Deeper Dark, an exhibition of works by Ryuji Mitani, that for the duration of the event, brought our gallery a special allure that only the beautiful works of Mitani-san can bring. Named after the pieces by the artisan that express aspects of "darkness", A Deeper Dark showed the depth that dark-toned woods and black urushi lacquer can have on wooden tableware. By looking at these images, we hope you can imagine the beautiful collection – with its texture, warmth and surrounding atmosphere of the exhibition.
The opening reception was wonderful! After we completed the installation, Mitani-san and his wife, Junko-san, and our team gathered together for a small toast before opening the doors. It was nice to see the same people who came to our first exhibition with Mitani-san two years ago, Blurring Boundaries, back to see the evolution of the artisan's craft. The full range of his practice is so vast that we wanted to split our curation into two parts. This time we focused on the dark works and in 2021 we'll be presenting Part Two with a focus on "lightness".
People were eager to view the collection, but the moment Ryuji Mitani spoke up to give a speech he had prepared, the room fell silent. It's rare for Mitani-san to speak in public but always so interesting to hear his perspective. He mentioned that he is happy to have exhibitions regularly at Nalata Nalata since it makes him feel closer to the people of New York. After speaking to attendees, I realized that what resonated most was when Mitani-san said the following in regard to the current Japanese craft philosophy, "The Japanese way of thinking is based on a nature-focused perspective which people learned from natural disasters like typhoons and earthquakes. We learned that humans are part of nature and human existence and power are small and weak compared to nature. We found out that obeying nature instead of oppressing nature is the best way to gain benefit from it".

In many ways it was apparent in this collection that Mitani-san has been embracing nature in his works. He lets the grain of the wood shine beneath the lacquer, but there was also a selection of wall art and sculptures that invite us to consider imperfection inherent in nature and decay, like a wall-hanging work we displayed at the entrance. Made of ceramic and a found piece of tin near the artisan's studio, the work displays the fragile textures and tones in these materials that make them so beautiful to behold as they age.
Ultimately, the exhibition was a celebration of Ryuji Mitani's craft: many of his signature pieces such as the Butter Box, Salad Bowl, Noir Bowl, Usuzumi Plate, Pasta Fork, Flat Tea Scoop and Plum Blossom Dish, a personal favorite for its symbolism; and many other favorites were available. Our new collaborative work was inspired by the exhibition concept, the "Noir Ice Cream Cup" a close relative to our original collaboration, the "White Ice Cream Cup" from two years ago. The black version offers such a beautiful contrast to the creamy tones of ice cream. We sold out of the collaboration immediately again this year, but Mitani-san will be shipping a small number in the upcoming months that we will release online.
Refreshments were provided by Kashiya Kokonotsu, a confectionary artist based in Japan. She had prepared delicate monaka and fillings in Japan and our friends Aya and Junko-san assembled them prior to the opening. There were two types, almost too magnificent to eat. Firstly "Adzuki Monaka" with adzuki beans from Tamba, sugar and butter, along with a second type, "Chestnut Monaka" with white adzuki beans and chestnut from Kumamoto.
Mitani-san was inspired by folk craft techniques with one particularly stunning vessel we've never seen from him before. He repurposed an antique yard of hemp to hand form the shape in a wooden oblong mold and allowed it to dry like papier-mâché. Hemp, a traditional textile often found in Japanese homes as New Year's decorations or flowing noren fabric dividers can have properties similar to wood when lacquered and left to harden. We loved the way he embraced a weathered material to transform it into a beautiful, functional piece.

Mitani-san's signature Noir faceted pieces exemplify what makes his lacquer work renowned. Lacquer is a finish that is hard to control, requiring great attention to temperature and humidity in order to keep the surface dust-free and smooth to the touch. His decisive choice of stroke direction when applying lacquer creates dancing reflections on rhythmically carved facets.
At the end of the opening we had time to unwind before going for a celebratory dinner. This time we actually remembered to take our Extra Place alley team photo (although we are missing a couple key people here). Thank you so much to all who were involved in this exhibition! It was our most memorable yet as we were able to share it with a roomful of so many friends and fellow fans of Mitani-san's works. Thank you to Mitani-san, Junko-san, Aya Nihei, Atsushi Miwa, Vicky Wong, Hazuki Uno, Dani Sujin Lee, Paul Lewis, Volele Talleyrand, Studio Newwork, Armando Rafael Moutela, Flore Tallerand, Joshua Skirtich, Yina Shan, John Medley and Gary XiaoHou for going above and beyond! Writing this recap, Steve and I are fondly reminiscing on the planning stages of this exhibition as so many people came through to pull it together despite a lot of last-minute changes!
We captured moments on camera throughout the reception, but it was so crowded we wanted to also remember the pieces via images in daylight conditions where the pieces can shine. The works always look so magical with sunlight reflecting off their textured surfaces.
Each exhibition we have at the gallery is unique and we try to emphasize the works by building new fixtures and displays that highlight the best qualities of the pieces. Mitani-san's works have such intricate interior surfaces, like his deep bowls and trays, that they are best viewed from a higher vantage point, so we brought in our lower fixtures. We thought we were all set, when unexpectedly we received a very large carved "Noir Centerpiece Bowl" in the mail that Mitani-san had shipped. It was stunning but we realized that we didn't have the appropriate table to display such a large and beautiful piece.
Steve ended up designing a new elevated fixture with a white-washed top surface and enlisted his Pratt alumni friends John Medley and Gary XiaoHou to help build just in the nick of time! When the elevated table arrived in the space, it fit like a glove and was the perfect complement to the most beautiful bowl we've ever seen!
We were also very inspired by the way Mitani-san displayed his plates and bowls upright on a shelf during a studio visit, so Steve asked John to help build a wall hanging display cabinet he designed.
Like the Noir Ice Cream Cup, we sold out of the special edition Yellow and White Cup. Mitani-san told us that this was the first exhibition where he is trying out new colours of lacquer after over four decades of only working with black and white. We think it's a success and we can't wait to see more yellow lacquer in Part Two! Its easy to imagine how the color of coffee would be nicely complimented in the white well of the cup. The mountain cherry also highlights everything we love about autumn — from its textured wooden surface, to the earthy tones of its lacquer and the warmth that permeates its walls when enjoyed with hot coffee or tea.
We included many vats and trays made of Jindainire wood for this exhibition. These unadorned works not only showcase the meticulousness with which Mitani carves his pieces, they also highlight the material beauty of Jindainire wood. Also known as "God's Elm", it emerges from being buried. Like a phoenix, the wood rises from the ash underground to develop unique patterns in its grain and transforms itself into something beautiful.
Mitani-san collaborated with his friend Masaki Kanamori to create Salt Cellars. Enamel is often perceived nowadays as mass manufactured, but Kanamori is an enamel artist who makes his works entirely by hand. When you feel the piece and see it with your eyes in person the texture and saturation of the enamelware truly feels handmade. Mitani-san's smooth black walnut wood lid is the perfect match.

Encountering artworks by Mitani-san leave us enchanted by their shapes and whimsical presence. We have come to understand the pieces through his stories that make them lively. The triad of three human forms in the "Vitruvian Man" pose or the series of six finely carved and lacquered rods can easily be overlooked but never cease to fill our imaginations with bliss.

We were pleased to introduce Mitani'-sans recent exploration in ceramics with sculptures and bowls, like the Ceramic Boat Vessel. The clay in these pieces has been hand dug by him from the ground near his studio. Similar to his wooden pieces, the artisan leaves traces of his hand in forming the pieces to celebrate the natural warmth of clay. They are lightly lacquered after firing.
During our week with Mitani-san, we were given the opportunity to have in-depth conversations with him to understand him better and the philosophy behind each work. In his presence, I was often reminded of something he said during a recent interview conducted by Aya Nihei, that "I'm useless at marketing, I only make stuff I like and hopefully people will too". This collection in particular with all of the exploratory works revealed to me that not only is Mitani-san a master wood craftsman, but moreover, he is an artist, genuinely expressing himself in hopes that others may relate, regardless of the medium or form. It was such a joy to see that, after all these decades working with wood, Mitani-san is delving into colour, clay, sculpture, painting, hemp and found objects – afterall making art should be pleasurable and exploratory. That instinct for all kinds of art seems relevant but particularly reveals the innate artist within Ryuji Mitani.
Photos by Volele Talleyrand