NYC Design Week 2015
There are always so many great design events going on this time of the year with NYCxDESIGN in full force. In between our own 'In Boxes' exhibition, Angy and I had a chance to visit a few of our friends showcasing new work and also see pieces by new designers. 
At the Standard East Village hotel, just around the corner from our shop, was Irish brand, Superfolk making prints live for guests to see the process. For those that aren't familiar, Gearóid and Jo Anne of Superfolk make prints and homewares inspired by the natural environment of Ireland. We really like the handmade quality of their products but we were delighted to see that they also made prints of different sea and plant vegetation of their homeland. Their printing style is very much associated with Japanese traditional wood block prints and they even used washi paper as a base. Jo Anne showed us the whole process and gave us a print to take home! They also make their own tools, which was so pleasing to see!
Collective Fair in Tribeca was another great event. As guests strolled into the venue, light designer and artist Ingo Maurer's works greeted them. We're big fans of Ingo Maurer and love checking out the showroom in SoHo to see classic pieces. Although older works like the Porca Miseria light were shown at Collective Fair, it was great to see the new lights and the Toto bulb with ears in person. 
As we strolled the fair, we were immediately drawn to the fiber and cast concrete seating series by Dana Barnes Studio called Endolith Casts. They were so compelling with their soft and hard elements existing together to reference lichen growth.
There was also an area called the Secret Garden that was filled with pieces from the Noguchi museum. Objects like the Akari lamp were present along with rock, obsidian and driftwood sculptures that were shaped from the rivers he got them from, all pieces that showcase Isamu Noguchi's interest with natural rock formations.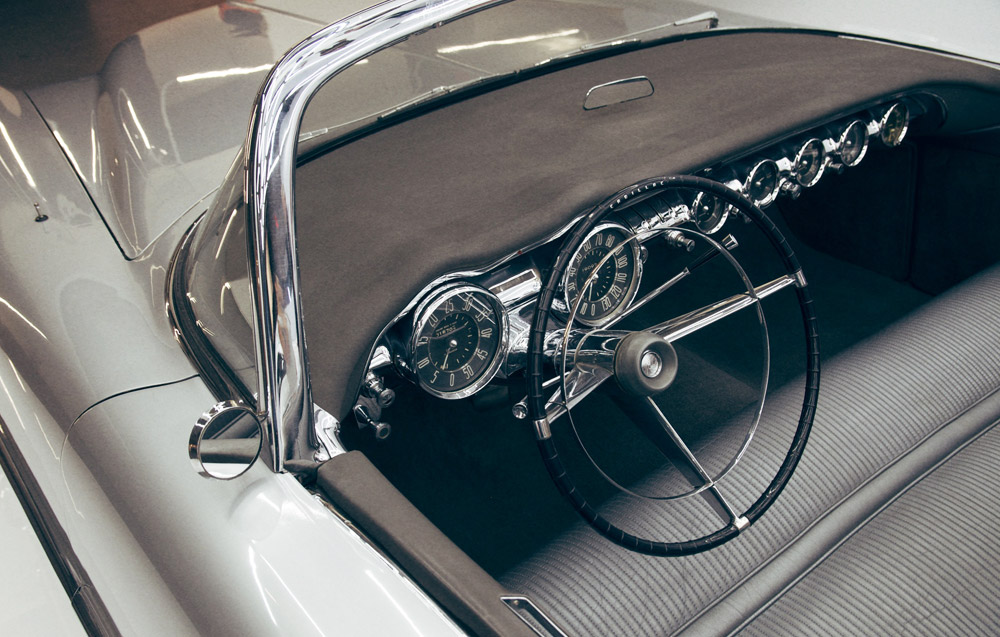 We also caught a glimpse of a 1953 Cadillac LeMans, named for the 24hr LeMans race in France. The fiberglass-bodied convertible is one of only four ever built! It was in perfect condition! 
It was great to see the car in the middle of the pavilion because it reminded us that industrial design is about so much around us and sometimes we forget that also involves transportation.
Just off the main Collective Fair grounds was the satellite Sight Unseen show. With only several designers on sight, it was a nice way to see their new works intimately. Some works being from Doug Johnston, Mimi Jung and Egg Collective.
We've only seen Doug Johnston's commercial works but it was interesting to see his more sculpture-based pieces, which included wall hangings. The cord pieces have so much dimensionality with beautiful exploration in colour gradients.
A step from Doug was Mimi Jung. Mimi showcased her wall-hung weavings at Sight Unseen last year. We found it so compelling that she went from almost two dimensional-like wall pieces into the third dimension with sculptural pieces that were more about the space that they created. 
They had incredible spatial exploration and detail. Like Doug, there were colour gradients seen in her works but Mimi's was created through the density of the weave – The denser the threads, the darker the area. The cylindrical piece called Black Interior that allowed viewers to walk into was especially appealing with its semi-permeable areas.
Right beside Mimi were our friends at Egg Collective whom we always have the pleasure of running into! They had a small installation with their new customizable Russell Dining Table on display. We've always been big fans of this design trio and were so happy to hear they were the winners of the American Design Honors Program, the inaugural award created by furniture company Bernhardt Design and Wanted. Congrats Crystal, Stephanie and Hillary!
Next up was Sight Unseen Offsight, conveniently held near the Javitz this year. The event, now in it's second year, occupied two floors and had works by some of our friends and many other up and coming local designers from New York and also Canada.
American Design Club and Roll & Hill sponsored a candleholder competition called Curse The Darkness. Designers from Brooklyn, Mahattan and overseas submitted works to be considered for the win. Our friend James Killinger's two-part candleholder called "Cache" was a standout and the runner up. The base was made of marble, conveniently used to store matches, and topped off with a brass lid.
Gradients seemed to be the theme in a lot of work we liked this year. Calico used the effect to produce gradient wallpaper that came in a variety of tones, all exquisite but we particularly liked the Aurora Heaven style that was a pale peach that bled beautifully into purple.
The Principals had an interactive piece on display. Viewers entered the space and attached a device to their finger that read blood pressure and signaled a light to blink according to the person's heartbeat.
On the second floor Pat Kim showcased a table and new cabinet with his signature zigzag texture on the doors. Object and Totem's works were on the shelves with their interesting forms and texture.
It's always great to see a good friend's newest works! Brendan Mullins from San Francisco based studio Whyte showcased a fittingly all white wood wall hanging that was impeccably crafted. The three dimensional perspective frames were compiled together to look almost two-dimensional from afar.
It was a pleasure meeting Christopher Specce who makes incredible household ladders. His collection includes folding stepladders and climbing ladders.
At another event, Chanel had us focused on the N°5 perfume during design week as a way to celebrate their iconic bottle.  When the perfume was launched in 1921, it was packaged in a shockingly modern bottle, uncharacteristically simple for the era. The event was an interactive installation that explained the history of the fragrance. There was a video screen of submerged jasmine flowers in water that, as you waved your hand across, would spread to reveal facts about the bottle. There were also sensorial installations that replicated the complex notes of the perfume with music and a room that released the subtle scent of the fragrance at the end of the installation.
This year at ICFF our first stop was at the booth of our good friend from Canada, fellow Edmontonian Jordan, of Tomnuk Design.  Jordan was a finalist of this year's ICFF Studio Program held in collaboration with Bernhardt Design.
The spot is given to only eleven designers chosen from concepts submitted from all around the world. Needless to say, it was an extraordinary opportunity to display his winning submission – The Divide Lighting series. We especially loved how the lights looked different from various angles as they rotated and the beautiful matte black version.
It was also great to see other works by Canadian designers like Christian Woo from Vancouver and one of our favourite stops every year, Molo Design, also from Vancouver.
A lot of great wall coverings this year! Everything from the gradients at Calico to 3-D versions and even one for the Elvis fans.
The tacks, rulers and stationary items designed by Willbaugh stood out along with the beautiful bath collection by Cielo. The sinks are offered in a great colour series and we immediately wanted that bathtub bench for our new home.
Speaking of items we wanted for ourselves… When we saw the new Emeco chairs designed by Jasper Morrison, we knew those were the chairs we've been hunting for for our dining room. The wood filled reclaimed polypropylene seat combines with ash legs so elegantly. Now it's just a matter of choosing out of the four beautiful colours.
We were pretty impressed by the "pink fortress" Apparatus Studio created to showcase their lighting fixtures. The horsehair wall sconces and hanging lights were out of this world!
Lastly we made our way to Wanted, which was held both in Brooklyn and Manhattan this year. At the Terminal, Wanted's Manhattan location, we saw the winning work by Egg Collective that we mentioned earlier. 
We also saw noteworthy pieces like a shelving system made with Dror's signature QuaDror structural form and the Passivation Tables by Everything Elevated. 
Tokyo's creativity was expressed in a special wing at Wanted dedicated to Tokyo based designers. A mix of technology, kawaii, traditional Edo and contemporary converged all in one room, and we expected nothing less for such a unique city. We especially liked the homage to Ukiyoe woodblock prints with Ross Lovegrove's special edition print and the Lumibaby mini light designed by Eriko Kasahara, an adorable "mini companion" with a softly glowing head, and the amezaiku works of Shinri Tezuka.
Shinri's candies were one of the more fascinating displays we saw during design week! The workmanship and skills he's developed are truly unique – A testament to why we love design week and design week in New York City especially. It's a city where people from all over the world and types of industries are able to come together to showcase their special talents, highlight iconic designs and unveil their newest works. 
Recaps of previous years' NYCxDESIGN weeks available below: